In September 2014, WWE announced a five-year extension in the television deal with Indian distribution partner Ten Sports. This was an important piece of WWE's ambitious strategy to secure new agreements with guaranteed money to their largest television markets: the United States (NBCU), United Kingdom (BSkyB), Canada (Rogers) and Middle East (OSN). All of these were critical "key tv rights agreements" that WWE needed in order to guarantee year-over-year growth in the television rights regardless of any declines in television viewership or ratings.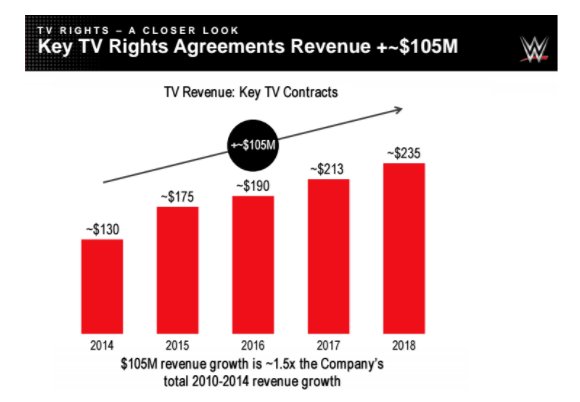 WWE has been on Indian TV for 15 years and working with the same partner Ten Sports since 2002. WWE renewed the relationship in 2005, 2008 and 2014.
Furthermore, while WWE disappointed the marketplace when with their 2014 announcement that their domestic television deal would only increase by about 1.4x, the Ten Sports deal is twice the previous deal with strong annual escalators. By the final year of the deal (2019), revenues on the Indian TV deal will likely rival WWE's largest international television rights agreement in the UK. The traditional media market in India remains rich and competitive. The "cord-cutting" / "cord-never" narrative is taking a very different path in this country.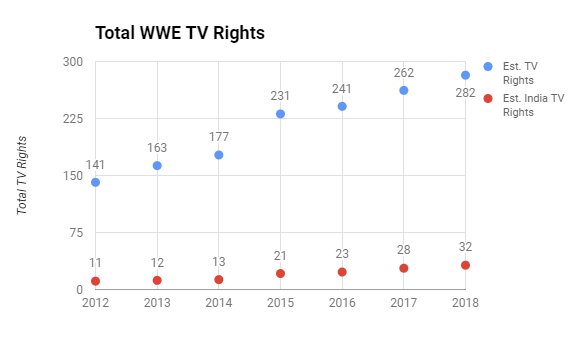 While the number of WWE live events has skyrocketed over the past two decades, WWE rarely ever visited India. In 2002, WWE ran three shows in India which was the company's first tour in that country since 1996. Unfortunately, several of the wrestlers got sick during the tour which may have played a role in the long delay in returning to the country. For years, there was little movement on the India front. WWE opened a Mumbai office in 2011. However, the press release which announced the 2015-2019 television deal with Ten Sports promised "bring(ing) WWE live events back to India in 2015" though it wasn't until January 2016 that WWE actually made good on the promise by running another two shows in New Delhi.
Following Great Khali's WWE tenure (2006-2014), WWE began recruiting Indian athletes in 2015 when they signed Kabaddi veteran Lovepreet Sangha and Kushti grappling star Satender Ved Pal. In April of this year, WWE held a recruiting session in Dubai to focus on Indian & Middle Eastern talent.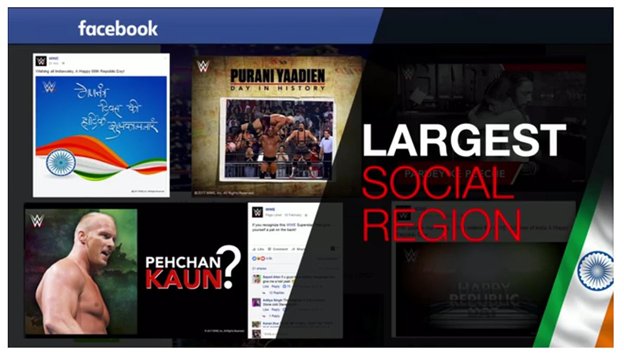 At the Business Partner Summit (BPS) held during WrestleMania 2017 weekend, WWE executive vice president of International, Ed Wells, shared that India is considered WWE's "largest social region" and that "in India alone, 13 million fans are watching Raw every week." At the 2016 BPS, then VP of International, Gerrit Meier discussed how bringing localized WWE programming to Zee-TV (in Hindi) would "grow the region to 120 million households". This year, Wells said that the mentioned that the show had "doubled the local audience" and a similar model was being created for OSN (Middle East) and Fox Sports Latin America (Mexico).
As recently last week, at the Needham Emerging Technology Conference, WWE CFO and Chief Strategy Officer George Barrios reiterated, "The place where our content is viewed most on traditional TV, for example, is in India; so our highest average weekly viewership is in India."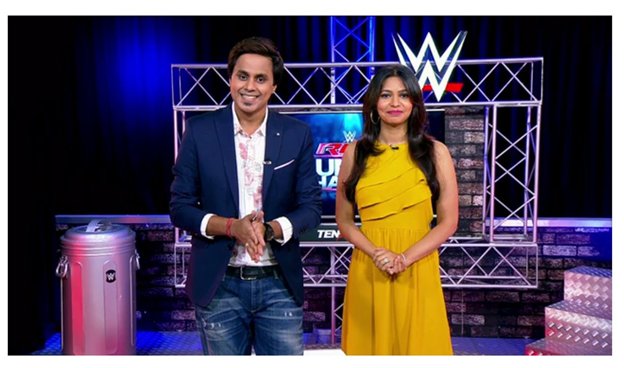 This came on the heels of comments that Barrios made at the beginning of the month during the Q1 2017 conference call when specifically asked if the push of Jinder Mahal was impacting Indian viewership:
Eric Katz

We noticed when you're Indian wrestlers on the roster is getting a big push, I'm wondering if you're see any changes in viewership in India since that push? And is that really something strategic or am I reading too much into that topic?

George Barrios

Well, I think as you could imagine, WWE superstars are WWE superstars in every country in the world; so John Cena is popular in India and the Middle East and Latin America and the U.S. However, we're all human beings and there's a certain level of ethnocentrism and when a local character is really popular, it kind of pushes up in that country maybe a little bit more but we love the story line and drive kind of who is hot or not, both the one specific geography but it certainly doesn't hurt in India.
Barrios has been very hot on India for a number of years. As WWE notes in their investor documents, "Long-term: China and India represent significant opportunity" Right now, while the majority of revenue is generated domestically, the majority of social media "consumption" comes from international sources. In particular, India has grown into an enormous source for WWE website and social media traffic. Barrios believes that the economic factors (emerging middle-class in India, strong GDP growth) and transforming media landscape ('money will follow the eyeballs' philosophy) means that India will become a revenue producing WWE powerhouse.
Currently, most WWE revenue in India comes directly from the Ten Sports TV rights deal (estimated at about 12% of total TV rights). While the WWE Network has been available in India since November 2015, the latest PPV events originally had a 24-hour blackout period for Indian customers. This finally went away in 2017 though the high price of the network (650 rupees) combined limited broadband has a large swell of WWE Network subscribers from India. Still, WWE is hopeful that opening a new e-commerce shop (WWEShop.in - started in March 2017) and new general manager (Sheetesh Srivastava) will accelerate regional growth.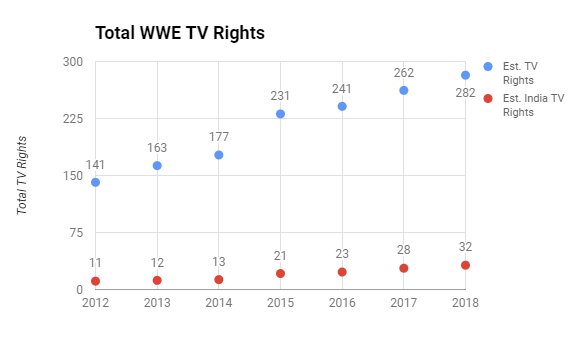 In summary, WWE gets a lot of web traffic from India, but that doesn't generate much revenue. Instead, most of the revenue India generates comes from their traditional television TV rights deal with Ten Sports. WWE been investing in new revenue streams (launching the localized programming, launching WWE Network, Indian e-commerce partnership with The Souled Store, very limited live event touring) but developed markets like United Kingdom, United States and Canada will continue to dominate the focus for WWE. The company has been investing heavily in recruiting foreign talent with the hope that they can hit on a local, ethnic star who will be extremely marketable overseas. WWE has high hopes for both the Indian and Chinese marketplaces and both countries have received increased recruitment efforts in the past two years. Still, it's very hard to predict future success. It remains an open question whether the Performance Center can really turn a completely raw talent (especially a non-native English speaker) into capable, marketable mainstream superstar.
Chris Harrington (@mookieghana) is the co-host of Wrestlenomics Radio where he discusses the business of professional wrestling.