Welcome to another installment of
OFF-TRACK with A-TRAIN
where I examine the off-center and
OH MY GOD
RUN WOODLAND CREATURES
RUN AS FAST AS YOU CAN
BRAUN STROWMAN JUST DECLARED WAR
ON THE FOREST
---
As you can see from the video above, entitled "Braun Strowman's Monstrous WrestleMania 33 Workout", Braun Strowman's idea of "Working Out" is simply HEADING OUT INTO THE WOODS WITH A GIANT WOODEN HAMMER AND A BATTLE AXE AND PUNISHING NATURE.
The narration starts with Braun saying "There are more than 7 Billion people on this planet," and I'm pretty sure the next line is:
"AND I'M GOING TO MURDER ALL OF THEM WITH THIS GIANT HAMMER."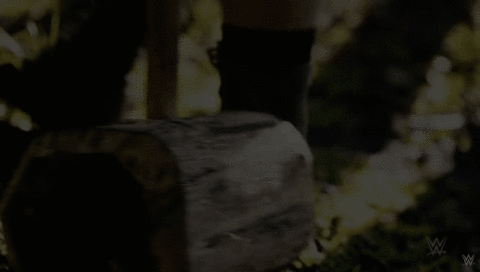 "BUT NOT BEFORE I MURDER THIS FOREST."
It should also be noted that that Hammer he's swinging is made from the trunk of a previously murdered tree.
MY GOD.
I don't know what this forest ever did to Braun, but from the hate he obviously harbors towards it, I'm guessing the forest murdered his father.
It's the only explanation for this level of fury:

(Also this level of quick cut editing.)
We find out that he's just chopping down trees so he can use them for weight lifting.
Because I guess there's not a Planet Fitness near his house.
Something must be done before Braun Strowman clear cuts the Amazon rain forest. He obviously works out a lot, and I don't think he's the type of guy to re-use a tree from workout to workout. Every workout, a new tree. Probably. So wasteful.
But then again, who's going to be the one to teach him how to recycle? I don't think he'd be too receptive to eco-shaming.
Just look at how he looks at the sunrise.
HE LOOKS AT THE SUNRISE AS THOUGH HE'S GOING TO EAT IT.
Talk about seizing the day.
Braun is going to seize the day, drag it into the woods and beat it to death with a hammer made out of a tree trunk.
He ends the video with his catchphrase "EVERYONE WILL FALL!" and now I really want someone to be like, "What do you mean, Everyone?" and for him to respond with: