Welcome to another edition of 
OFF-TRACK with A-TRAIN
where I continue to LAMBASTE the WWE
for booking a match that will be the most horrible thing ever
in this episode
WE SHOULD COUNT OUR LUCKY STARS
THIS WILL ALL BE OVER SOON
---
So I don't know if you heard, but Bray Wyatt challenged Randy Orton to a House of Horrors match.
If you don't know what a House of Horrors match is, that's okay.
Seriously.
But they know when it's going to take place, at least.
At Payback, on April 30th, in San Jose.
Yes, that's right.
Even after Bray Wyatt unexpectedly moved to Raw, the WWE Title, a SmackDown exclusive championship since the brand split, will be defended at a Raw exclusive PPV, by a SmackDown superstar, against a challenger contracted to Raw.
Confused yet?
Well, at least we probably know one thing for sure.
THERE'S GONNA BE PROJECTOR WORMS!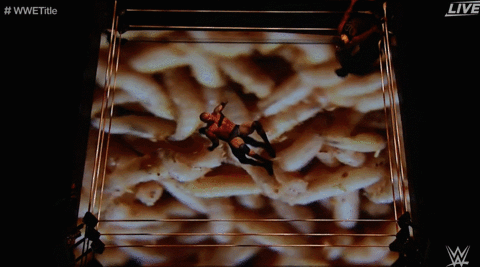 Last night on SmackDown, the build for this terrible match that nobody wants to see continued, unabated, as Bray showed up on the Titantron and confused Randy long enough that he calmly got out of the ring and walked straight into the steel steps that Erick Rowan was holding.
It was legitimately one of the most stupid things I have ever seen a wrestler do.
AND THE BUILD WILL CONTINUE JUST LIKE THIS FOR TWO MORE SMACKDOWNS AND PROBABLY TWO MORE RAWS SINCE BRAY WYATT IS OVER THERE NOW FOR SOME REASON.
But, hey.
It could've been worse.
Because PWInsider is reporting that the House of Horrors match was originally supposed to take place at Backlash, the SmackDown exclusive PPV that doesn't take place until MAY 21.
Yeah, apparently Bray being moved to Raw was kind of a last minute thing, and everybody kind of panicked about the House of Horrors deal and hotshotted it onto a Raw PPV (even thought it's a SmackDown title being held by a SmackDown superstar and I don't even know anymore.)
So the silver lining is that the terrible build for this terrible match that (and I can't stress this enough) THE WWE DOESN'T HAVE ANY CLUE HOW TO BOOK SO THEY'RE LITERALLY SENDING OUT QUESTIONNAIRES ASKING FANS TO DO IT FOR THEM, was originally slated to go on for three more weeks.
Can we just fast forward to like Memorial Day when Bray tries to mind control Braun and Braun hits him so hard he wakes up and has amnesia and forgets that he is supposed to be a swamp-billy warlock and he can go back to being Max Cady from Cape Fear.
That Bray Wyatt was AWESOME.
Also, can we fast forward to whenever Randy Orton isn't the champ any more and AJ Styles is? Or Kevin Owens? Or Sami Zayn? Or Baron Corbin? Or Rusev? Or Mojo Rawley? Or literally anyone else on SmackDown?
Thanks in advance.