So in case you missed it, last week on Lucha Underground, their version of Vince McMahon, Dario Cueto, announced a tournament for The Cueto Cup.
What is The Cueto Cup, you ask?
Who knows? Knowing this show, if you drink out of it, you probably turn into an Aztec god or a werewolf or a bigfoot or something.
God, I love Lucha Underground.
Anyway, just today, they released the brackets for the tournament, and I. CAN'T. WAIT.
Feast your eyes on this sucker.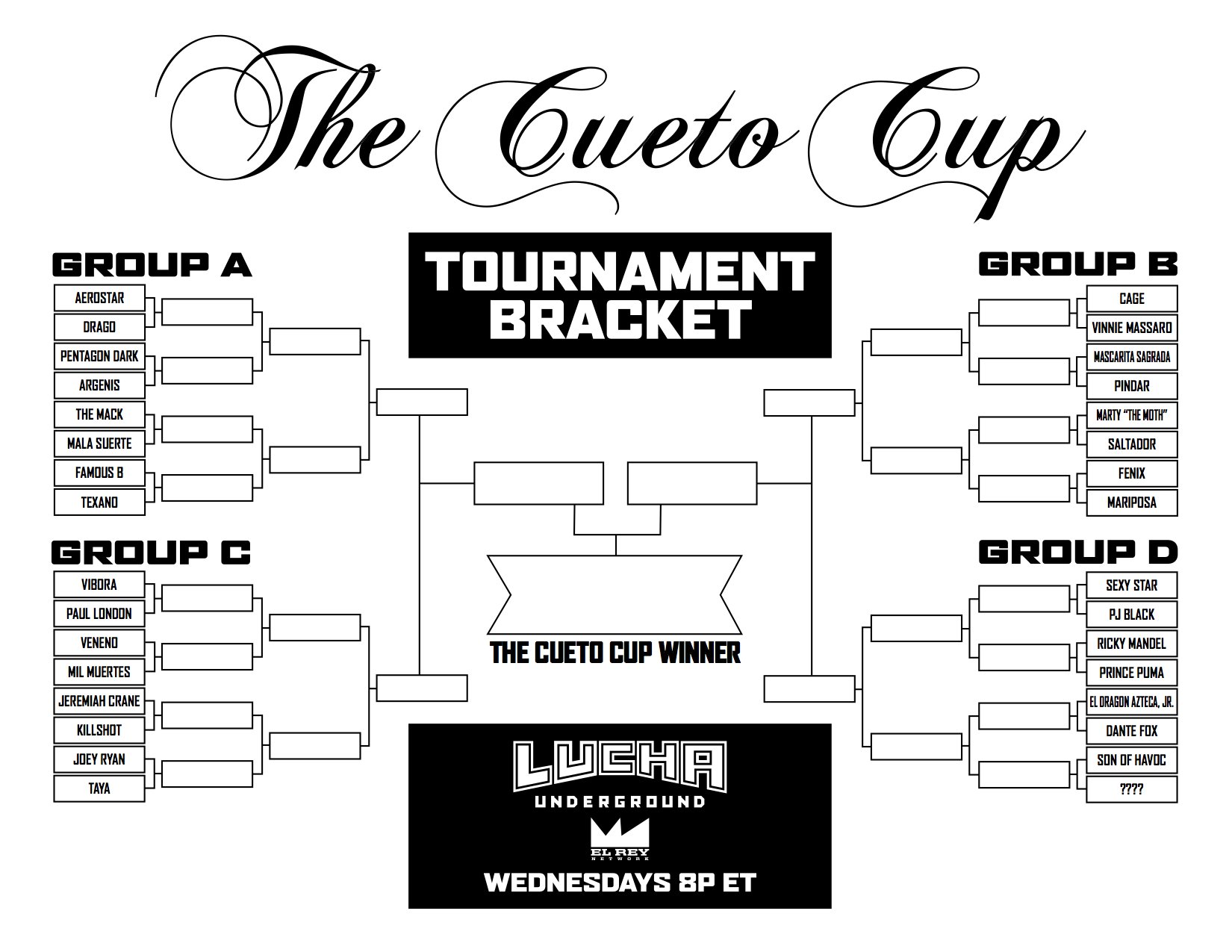 Now, that's some mighty small print, so I've broken it down into the four groups.
Some Matchup Notes:
Drago and Aerostar used to be best friends. One of them is an actual Dragon, the other one is an Aztec God with Time-Traveling Rocket Boots.
Argenis is going to get MESSED UP by Pentagon Dark.
Mala Suerte is part of an Alice In Wonderland cult. The Mack is Black Stone Cold. Advantage Mack.
Famous B isn't even really a wrestler, he's an agent. Texano is like Super Mexican Pride Cowboy. Texano.
My pick for the regional finals is Pentagon vs The Mack and it's gonna be stiff as HELL.
Cage is a cyborg with a Fisto Gauntlet and he is going to murder Vinnie Massaro in less than a minute.
Pindar is the fat one in the Reptile Clan. I think Mascarita Sagrada might pull off the mini-upset. Get it? "MINI" upset? 
Marty The Moth might be the most underrated guy on the show. Saltador is the other guy in the Alice in Wonderland Cult.
Fenix is an immortal. Mariposa is a weird butterfly lady. Fenix wins.
The regional final of Fenix vs Cage is gonna be SO GREAT.
Vibora is a seven foot snake man. Paul London is Paul London. Honestly, it depends on how much they want to push Vibora.
Poor Veneno. He's the secret identity of an undercover cop and he's going to get destroyed by Mil Muertes.
Jeremiah Crane is Sami Callihan. Killshot is Shane Strickland. They are both great, and this might be the best match in the opening round. Whoever wins this is in the regional final.
Taya is going to beat Joey Ryan, unless Joey Ryan cheats to beat a woman.
Regardless of anything else, it's Mil Muertes coming out of this group. Because he is a super-powered unkillable zombie and that rules.
I think Sexy Star takes this matchup with PJ Black.
Prince Puma trounces Ricky Mandel. He might murder him.
El Dragon Azteca vs Dante Fox is gonna be AMAAAAAZING. Too close to call.
Son of Havoc vs FOUR QUESTION MARKS.
WHO IS THE MYSTERY MAN (OR WOMAN?)????
I can't wait to find out.
FOUR QUESTION MARKS vs PRINCE PUMA?
REGIONAL FINAL?
YES PLEASE.
Lucha Underground just became must-watch TV again.