Welcome to another edition of
OFF-TRACK with A-TRAIN
where I focus on the off-center items
in the wrestling news world
in this episode
LINDA McMAHON PROBABLY NEVER THOUGHT
SHE'D HAVE TO DEAL WITH DIRTY MARKS
ON CAPITOL HILL
(REMINDER: THESE OPINIONS ARE MY OWN
AND DO NOT REFLECT THOSE OF FIGHTFUL
OR ITS OWNERS
yadda, yadda, yadda)
---
So in case you weren't aware, Linda McMahon was appointed by longtime friend (and political donation recipient) Donald Trump to the position of Administrator of the Small Business Administration.
Part of what her job now entails, is speaking before committees and sitting in on hearings about, you know, small businesses and how best to administrate them.
(Full Disclosure: I don't really know what the Administrator of the Small Business Administration actually does, nor do I care enough to take the time to find out.)
Anyway, Linda McMahon was in a hearing before one of those committees and she was asked a question by Congressman Rod Blum, a Republican representing Iowa's 1st District.
This is Iowa's First District:
It contains the bustling metropolises of Cedar Rapids, Waterloo and Dubuque.
This is Congressman Rod Blum.
But it might be more apt to say that THIS is Congressman Rod Blum:
Because Congressman Rod Blum is a total mark.
When he was finished asking his questions of Linda McMahon, and had just 45 seconds of his allotted time left, he posed another query to The Administrator of The Small Business Administration.
"I want to address The 800-pound gorilla in the room that no one has asked you so far, but I will. And some of my constituents want to know this as well, Administrator McMahon, is why did it take John Cena so long to propose marriage to Nikki Bella?"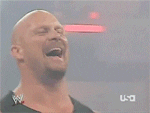 Look at Linda's face when he gets done asking his stupid little question:
She seems to be thinking:
"You stupid little mark. 
I should have my Son-In-Law beat you to death with a sledgehammer.
This is a legitimate hearing and I have other shit I could be doing.
Don't waste my MOTHERF*CKING TIME."
But because Linda McMahon is a goddamn professional, UNLIKE DIRTY MARK CONGRESSMAN ROD BLUM, she doesn't actually say any of that.
Instead she answers, "You'd have to ask him." 
I wonder what other law makers are out there being dirty, silly, stupid marks.
However many there are, I'll bet none of them are as unbelievably mark-ish as Rod Blum (Rep.-IA).
Look at him. He's even trying to do the People's Eyebrow in his official Congressional portrait. 
This guy totally practiced that in the mirror for hours. You know he did.
And I'll bet he says a little affirmation to himself every morning that ends with "If you smell what The ROD is cookin'!"
Congratulations, people of Iowa's First District. You elected a total mark.