On Friday, December 8, Connecticut Judge Janet C. Hall officially ended the saga of the WWE Network Royalties lawsuit which had been brought by plaintiffs Marcus "Buff" Bagwell and Scott "Raven" Levy against World Wrestling Entertainment. Judge Hall signed an order which granted the "Stipulation of Dismissal" which had been filed jointly by plaintiffs and defendants one day earlier. Importantly, the dismissal affirmed that Bagwell & Levy's claims were against WWE were being dismissed with prejudice. Furthermore, WWE's counterclaim against Mr. Levy was dismissed without prejudice (noting that "WWE shall be free reassert such counterclaim only if Levy ever brings any claim against WWE in the future, which, in whole or in part, alleges that WWE breached some contract with Levy.")
The lawsuit had begun in August 2016 when Bagwell filed the original class action complaint against WWE. Levy joined the complaint as a plaintiff in September 2016. Mr. Bagwell & Mr. Levy filed their third amended complaint in June 2017 alleging that Levy's 2000 WWE Booking contract and Bagwell's 2001 WCW, Inc. Booking contract entitled the performers to direct sales royalties which included revenues generated by the WWE Network.
In October, WWE responded with the counter-claim against Mr. Levy which stated that Levy had "breached the non-disparagement provision of the Early Contract Release" when he made comments on a November 25, 2015 "Talk is Jericho" where he "criticized, disparaged, injured or harmed the reputation of WWE and/or WWE's Chairman and CEO, Vince McMahon." In particular, Levy had suggested that Mr. McMahon had "paid a bribe to Judge Dorsey as a quid pro quo for Judge Dorsey's dismissal of a prior lawsuit (brought by Levy)".
While the lawsuit caused a "significant expense to WWE" in legal bills, a new filing makes it clear that WWE did not make any confidential payments to either Bagwell or Levy to convince them to drop the lawsuit. Rather, the WWE's "Verified Bill of Costs" filing explicitly states that "no money was paid by WWE to either Bagwell or Levy in consideration for the dismissal of Plaintiffs' claims with prejudice."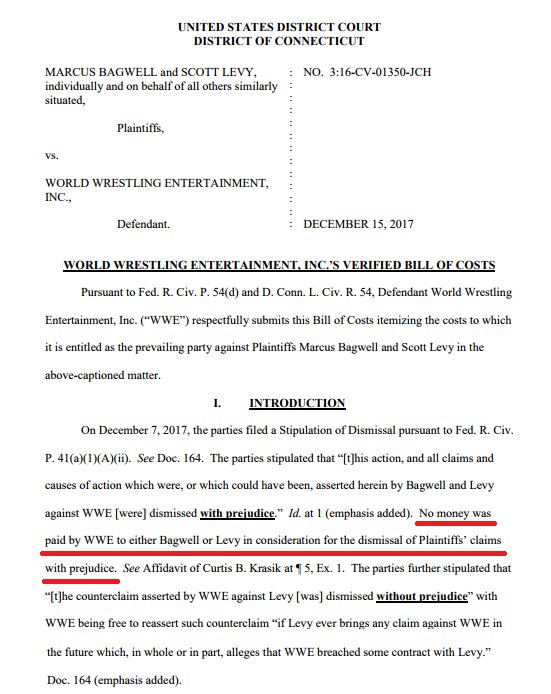 The filling also notes that WWE's counsel insisted that both Levy & Bagwell's claims be dismissed with prejudice (meaning neither plaintiff could refile their suit and make these same claims against WWE in a future suit):
"Originally, Plaintiff's counsel indicated they intended to dismiss Levy's claims with prejudice but Bagwell's claims without prejudice. WWE's counsel responded that WWE would not stipulate to a dismissal on that basis, and insisted that the dismissal of all claims be with prejudice. Plaintiffs' counsel ultimately agreed."
Furthermore, WWE is now submitting a Bill of Costs against Plaintiffs Marcus Bagwell and Scott Levy for $6,105.40. They submitted taxable costs for deposition costs ($5,098.05) and pre-trial transcripts ($1,007.35) because they are "entitled as the prevailing party".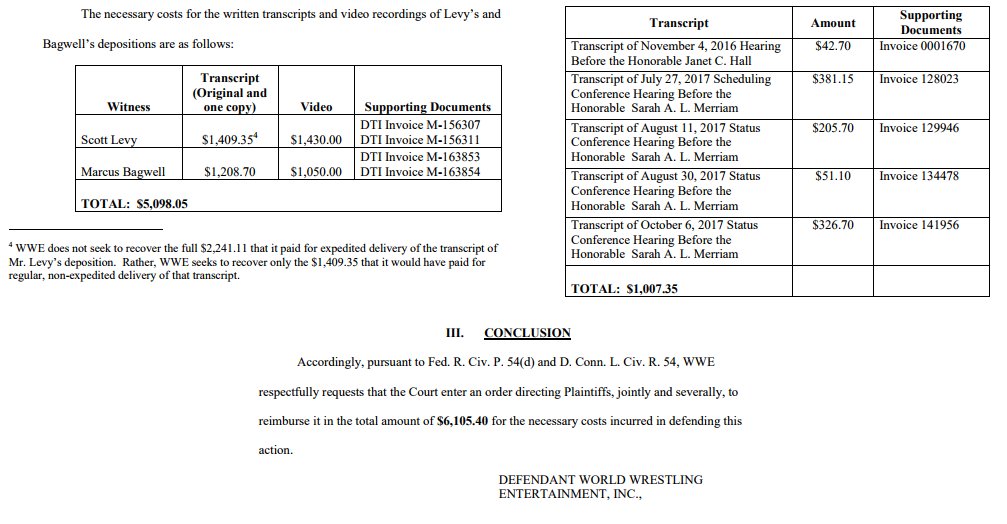 WWE has submitted for "Bill of Costs" after prevailing in other lawsuits such as when Larry Zbyszko sued in 2004 alleging trademark infringement of "Living Legend" and when "Pretty Boy" Doug Somers sued in 2013 over his name and likeness being included on WWE DVDs.