The financial outlook for WWE's improved substantially this past week based on favorable stories at the Hollywood Reporter and ESPN suggesting big money deals from NBCUniversal and Fox in their bids to secure the future rights to Raw and SmackDown respectively. WWE stock, which closed below $44/share on Wednesday, is currently trading above $58/share (+32%) on Monday afternoon.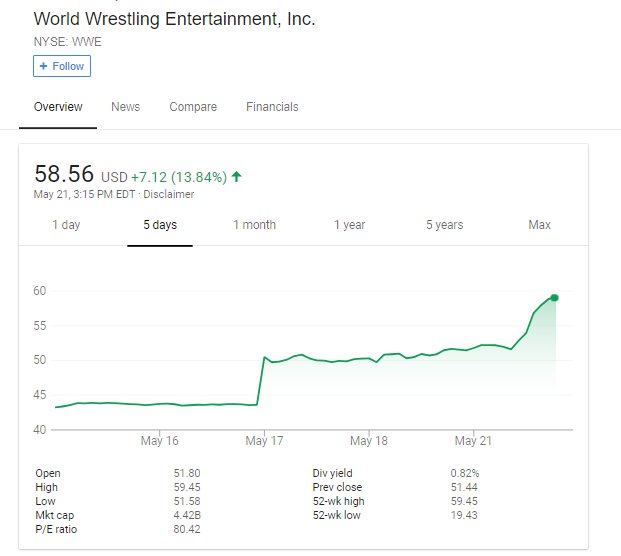 The first bombshell was dropped on Wednesday night in an article by Lesley Goldberg at the Hollywood Reporter suggesting that NBCUniversal was "focusing on renewing" their domestic television rights agreement only for Raw and would not be bidding on retaining SmackDown. Furthermore, NBCU's deal for Raw was "expected to close at as much as three times its current value." Excitement over this development sent WWE stocks soaring to an all-time high of $50/share by Thursday morning.
WWE stock jumped again on Monday afternoon with the explosive news from Darren Rovell at ESPN that Fox had "agreed in principle to make Fox the new home of SmackDown" and that sources described the offer as "massive". An article on The Wrap by Tony Maglio added details that Fox would be moving to SmackDown to Friday nights and would be airing the show on their broadcast Fox channel. Lastly, a Hollywood Reporter article by Marisa Guthrie provided details on the hefty SmackDown price-tag: 5 years with average annual value of $205 million.
Officially, WWE has not confirmed any of these deals. World Wrestling Entertainment has previously committed to announcing their television plans for their three largest television markets (US, UK, India) within the next twelve months. WWE signaled they'd first announce their domestic television plans for Raw & SmackDown sometime between May and September 2018. The United Kingdom television plan announcements is slated tentatively for second half of 2018 with India announcement in the first half of 2019.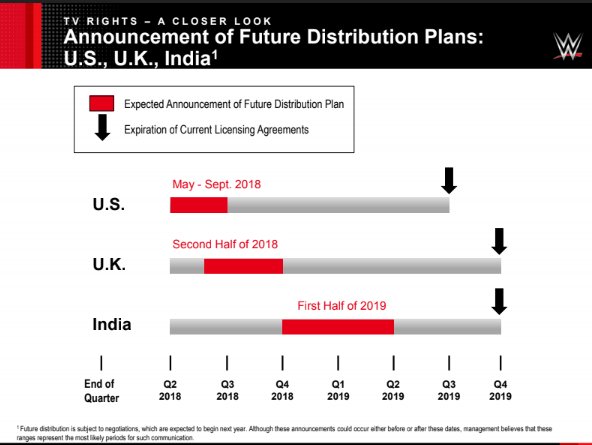 Domestically, Raw & SmackDown's current agreement with NBCUniversal expires in September 2019. For years, WWE would report television rights revenue split into North America TV Rights Fees, International TV Rights Fees and Television Advertising. Television Advertising revenue greatly diminished when WWE returned to USA Network in October 2005. WWE began reporting only a combined Television Rights/Advertising number in 2014. According to the latest issue of the Wrestling Observer Newsletter (subscription required), Dave Meltzer puts current estimate for domestic TV rights programming (which is the mid-point of the current television deal) around $160M annually.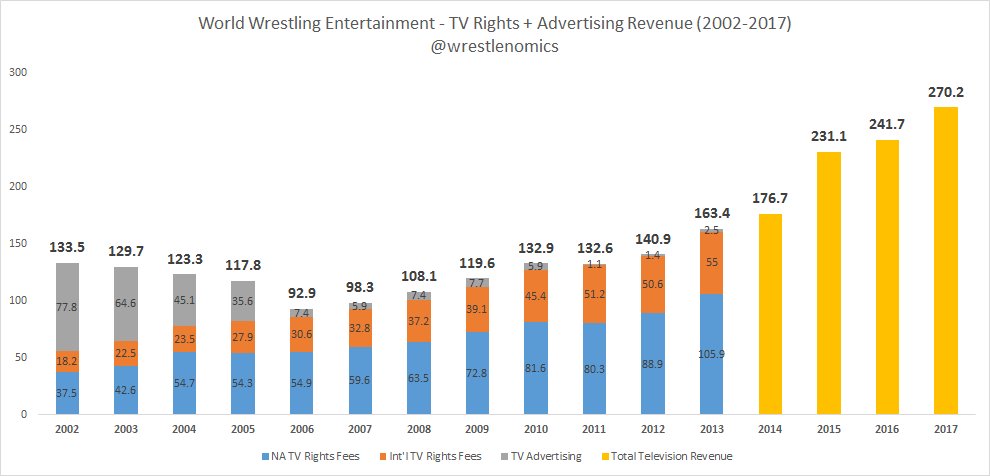 It's unknown exactly how the estimated $160 million average annual value of Raw & SmackDown's is divided between the two shows. Factoring in the higher ratings, longer show length, and premium longevity, presumably about two-thirds of the current rights is for three-hour episodes of Raw. Even if the new NBCU deal for just Raw is just 2.5 times the previous amount, that would imply an average annual value (AAV) for this new deal well above $260 million, and likely closer to north of $300 million. Meanwhile, Smackdown's AAV on Fox is rumored to be $205 million. Combined that would imply that WWE is looking at nearly three times their current deal in this renewal. This is almost twice what most investment analysts had speculated and their surprise is the reason that the WWE stock has grown so much.
NBCU's decision to forego SmackDown and concentrate on Raw reveals an interesting dynamic. The first chart in WWE's quarterly Key Performance Indicators is a graph demonstrating how Raw & SmackDown's ratings dwarf the average USA network show. It appears that NBCUniversal was concerned by the rumors of rival bidders and chose to concentrate their resources on holding on to the show they've spent the most resources on developing, promoting and refining - Raw. Also intriguing is the decision by Fox to spend heavy and reintroduce weekly WWE programming to broadcast television. SmackDown previously aired on UPN (1999-2006), CW (2006-2008) and MyNetworkTV (2008-2010) before joining NBCUniversal's SyFy (2010-2015) and USA channels (2016-2019?). If SmackDown does return to Friday nights (2005-2015), it would seem much more likely that it would return to being a taped show. However, with the enormous increase in rights fees that Fox would be spending, anything is possible.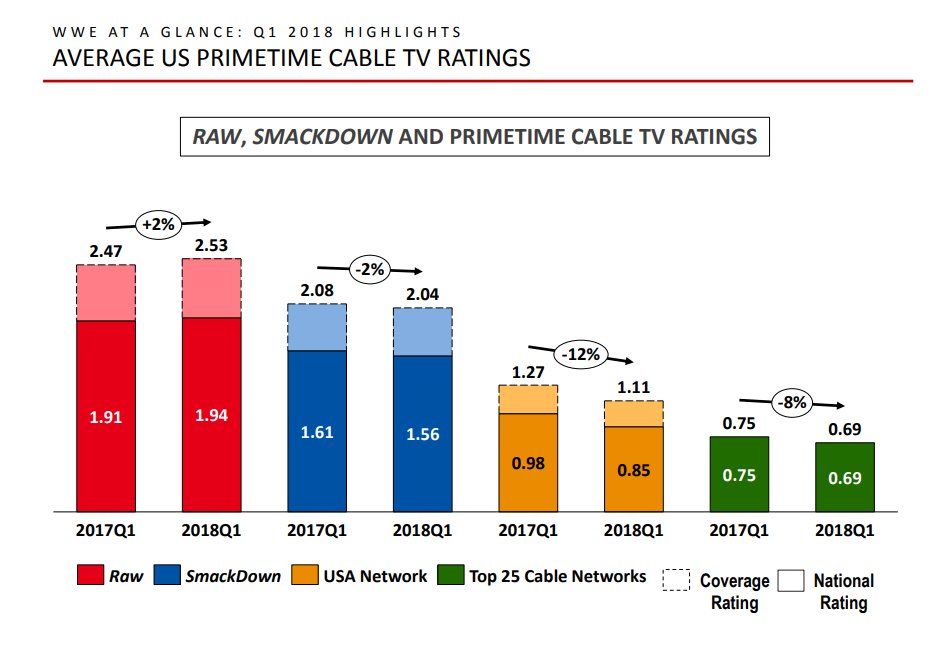 If these new domestic television deals, worth an estimated aggregate worth of $2.5 billion dollars, come to be, that would be monumental for WWE. In 2017, WWE Television Rights generated about a third of the company's total revenue. If the company's other revenue lines continued to growth at their five-year rates (about 9% annually), that would mean by the mid-point of the new television deals, television rights fees (with guaranteed annual escalators) would represent almost half of the company's revenue.
In essence, these deals represent a strategic shift in WWE business strategy away from revenues streams that are directly fan-generated (WWE Network subscriptions, Live Events, WWEShop) to revenue streams that are indirectly fan-generated (TV Rights, Licensing, Vision 2030 money, Digital Media advertising). Clearly, WWE will focus on keeping their corporate partners happy. In addition, the guaranteed television money will allow WWE to continue their investment priorities - data analytics, creating more content and greater localization. Massive television contracts provide WWE the financial security to engage riskier priorities such as launching a tiered WWE Network, or developing Paul Levesque's "Global Localization" vision that he laid out at the 2018 Business Partner Summit.
This round, it appears WWE has won the battle for eyeballs. Demand for live, original content (especially live sports) looks to be driving a massive increase the value of their domestic television portfolio. In addition, WWE is re-establishing a strong relationship with another key network (Fox) which provides them a counterbalance to being too reliant on NBCUniversal.
There's still lucrative UK and India television negotiations left. Currently, those international deals are worth an estimated 40% as much as the US marketplace, but historically have been growing faster than the US. While it seems unlikely they will outpace the 3x multiplier that WWE appears to have secured domestically, it's always possible that rising competition from digital players such as Amazon and Facebook may drive the renewal prices up for Sky (UK) and Sony (India). All of this positive press for WWE should hopefully carryover into the ongoing international market TV negotiations.
At nearly $58/share, WWE's market capitalization (total value of all the company's outstanding shares) is at nearly $4.5 billion dollars. It's also interesting to recall that in December 2017 that Vince McMahon decided to liquidate 3.34 million shares at $28.68/share to generate nearly $96 million which he used for the formation of Alpha Entertainment (the company that is planning on launching the XFL). Those shares are worth twice as much today. Yet, Vince is still holding another 32.2 million class B WWE shares. At today's prices, they're worth over $1.8 billion dollars.
Christopher Harrington (@mookieghana) covers the financials of professional wrestling on his weekly podcast Wrestlenomics Radio.