Here is your Fight-Size NXT Update for May 26th!
- Ember Moon made her return from injury at the NXT Full Sail tapings last night in a match against Peyton Royce,
You can watch a recent episode of UpUpDownDown starring Ember above. (and one more at the bottom of the page)
- Raul Mendoza made his NXT debut last night at the same Full Sail tapings. You might remember Raul as the guy with the braces from the Cruiserweight Classic who lost to Brian Kendrick in the first round when Brian Kendrick did this: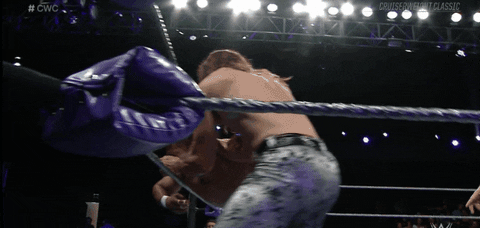 Welcome back, Raul!
- Sarah Bridges is now being billed as Sarah Bridges. Sarah Bridges used to be known as Crazy Mary Dobson before she came to NXT.
- Last night was Dylan Miley's first match as Lars Sullivan.
The former Miley has developed a reputation for taking out his losses on his tag team partners.
Then apologizing for his actions later: 
- Triple H congratulated Asuka for breaking Goldberg's record for Longest Undefeated Streak:
Earlier, Stephanie McMahon also praised Asuka on Twitter:
- Here's your promised second dose of Ember playing Mass Effect with two-thirds of The New Day!