Here's your Fight Size wrestling Update for the morning of April 23, 2018.
- Former two-time WWE Divas Champion Nikki Bella teased the return of The Bella Twins on behalf of herself and her sister Brie. WWE.com published an article recently of the "Top 5 Controversial Moves" that current SmackDown Live GM Paige could make now that she is in charge. One of those decisions were to introduce Women's Tag Team Titles which drew the attention of Nikki Bella.
---
- The current WWE Intercontinental Champion Seth Rollins told the story of how the fast-food place 'Hooters' helped him become a better in-ring performer.
---
- The passing of WWE Hall Of Famer Bruno Sammartino was one that shook the foundation of the wrestling world with wrestlers of the past and present, along with fans showing their respect for the legend. CBS Pittsburgh has an article published on their website which noted that hundreds of people attended Sammartino's viewing on Saturday. The funeral is scheduled for today at 10 A.M.
---
- Although he was not present for last night's IMPACT Wrestling 'Redemption' PPV, Konnan will be present in 'AAA Lucha Libre' as the company's official Twitter account sent out the following cryptic teaser about his return.
---
- Former two-time World Heavyweight Champion Rey Mysterio is scheduled to appear in the 50-man Royal Rumble match at the 'Greatest Royal Rumble' event come April 27th. "The Master Of The 619" has yet to ink a deal with WWE according to Dave Meltzer, as he noted via Twitter that although Rey is appearing on the show he has not signed with the company.
---
- Courtesy of Reddit user 'EliteAnaconda57', here's a photo of the old wrestling territories.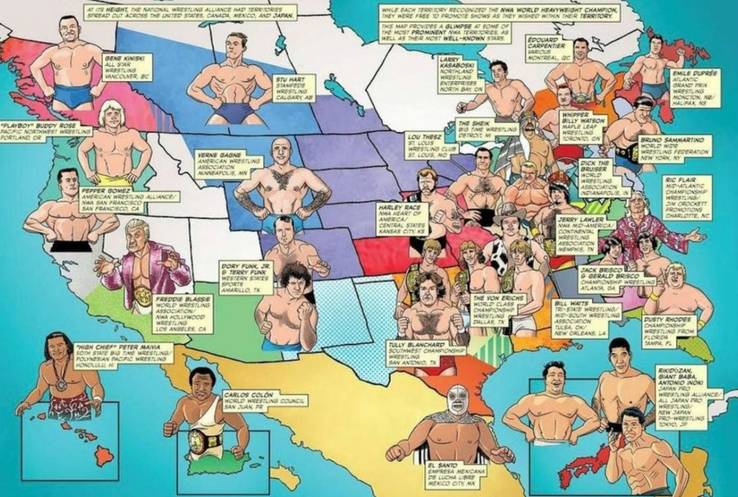 ---
- NJPW has announced that young lion Tetsuhiro Yagi has fractured a bone in his forearm which keep him out of in-ring action. He has been removed off of NJPW's 'Road to WRESTLING DONTAKU' tour until May 6th.
---
- WrestlingDVDNetwork is reporting that WWE is planning to release a home video based on WWE Hall Of Famer Shawn Michaels entitled "Shawn Michaels: The Showstopper Unreleased", and it will feature never-before-seen and unreleased matches from the career of "The Heartbreak Kid". The following is the synopsis for the DVD:
"Shawn Michaels has had legendary bouts with Bret Hart, Kurt Angle, John Cena, Triple H, and many others. The WWE Universe may be familiar with many of them, but there were several excellent matches that have never made it to DVD.
Now fans can own some of the Heartbreak Kid's greatest matches that have never been released on WWE Home Video before."