Kevin Owens was interviewed by The Pueblo Chieftain ahead of the WWE SmackDown Live Event in Pueblo, Colorado, and he talked about his infamous segment with Vince McMahon and the headbutt heard around the world last week.
"That was my first time being in the ring with Vince McMahon," said Owens. "For a lifelong WWE fan, it was pretty special -- definitely a moment in my career I never really thought would happen and one that I will remember for a very long time.
"And one I think Vince will remember as well."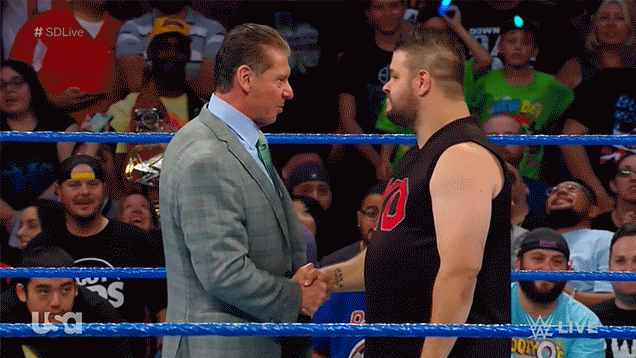 Or not, depending on how bad the concussion is.
Now, potentially giving your elderly boss brian damage isn't really a nice thing to do, regardless of whether he's just threatened to bankrupt you and take away your livelihood. Owens also talked about why he's so adept at being the bad guy.
"I've basically been playing that role for a decade," he said. "When I think of things that make me not like people, I can tap into that easily because I like to watch and observe people and their personalities.
"And through the years, I've taken from a lot of people, little things that I consider to be unlikable traits. So why not use it at work?"
It's been 11 years since WWE ran a Live Event in Pueblo, which only has a population of around 110,000--on the low end for a stop on the WWE tour--and the venue, the Southwest Motors Events Center, seats less than 9,000.
But Owens says if it were up to him, the WWE would expand their sights to some more of the forgotten little cities.
"I do really do enjoy going to smaller towns like Pueblo," he explained. "And I often wonder why we don't get to do it more often. WWE Live is a spectacle like no other. So if the Pueblo fans want us to come back more, you should come on out and be loud, because WWE will take notice."
Owens will face Shane McMahon inside Hell in a Cell at the pay-per-view of the same name on October 8. Fightful will have full live coverage and a post-show podcast.