Kevin Owens was a recent guest on Steve Austin's podcast and said that Goldberg was nothing but a cheap Stone Cold rip off.
"I was never a WCW guy. I was a WWF/WWE guy my entire life. When I was a kid, I discovered wrestling because of WrestleMania 11 when my dad got the VHS from a video store back home and that was it. I heard of WCW; I knew of WCW, but I never watched it. I didn't care. But '97, '98, whatever it was, if I may, I was the biggest 'Stone Cold' Steve Austin fan out there and I will say that to anybody who claims otherwise. And to me, I would see this other guy on WCW wearing the black trunks, bald head, similar goatee, and I was like, 'this guy's just a cheap 'Stone Cold' ripoff. Goldberg? 'Stone Cold' Steve Austin and WWE is where it's at!' And, I mean, I carried that through my entire life. ... Goldberg really wasn't around [WWE] enough for me to make that same sense of like, 'okay, now he's a WWE guy.' Even his run that he had here, whatever it was, 11 months, from the night after WrestleMania 19 to WrestleMania 20 and then, he left. To me, he was just the dude from WCW. Now, I'm a WWE guy and to me, he's still an outsider. And I told him that I was never a Goldberg guy and I really wasn't."
Just another in the series of Kevin Owens trying to get one over on Goldberg before his almost certainly inevitable defeat in their championship match tonight at Fastlane in Milwaukee.
Yesterday, Goldberg posted this to his Twitter:
And later, Owens posted this as well.
Go get 'em, kid.
We're all pulling for you.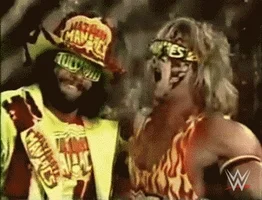 (Poor kid doesn't know he's gonna die.)