Welcome to Fightful.com's live coverage and discussion for
Lucha Underground!!!
Join us for live coverage, and comment on our boards below, or our forums by registering for FREE at fightful.com.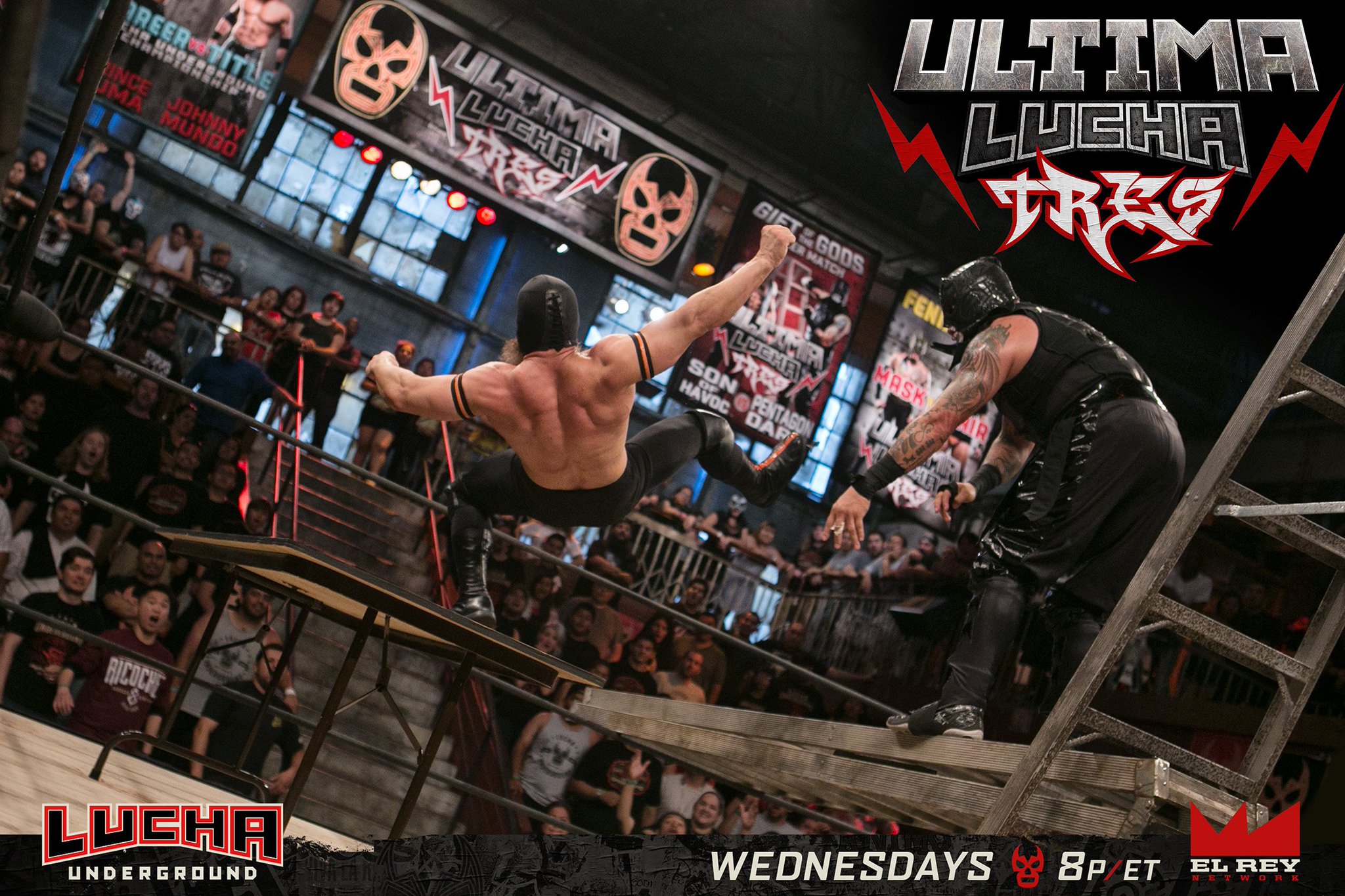 Tonight on Lucha Underground it is Part 3 of Ultima Lucha Tres! We will see the Gift of the Gods Ladder Match between Pentagon Dark and Son of Havoc as well as the Trios Championship between the reigning champs The Reptile Tribe vs. The Mack, Killshot and Dante Fox. Can Killshot and Fox work together tonight despite their differences? We will also witness a Last Luchadora Standing match between Sexy Star and Taya! All this tonight and more on Lucha Underground at 8 EST!
Last Luchadora Standing Match: Sexy Star vs. Taya
Taya comes out to the ring with a baseball bat. The match begins with Taya showing brass knuckles to Sexy Star, but Sexy Star takes out knuckles of her own and kicks Taya's knuckles out of the ring. Taya takes down Sexy Star. Sexy Star kicks Taya and then hits a couple of hurricanranas. Taya is out of the ring, catches Sexy Star as she jumps to her and then slams Sexy Star to the cage. Both women exchange kicks. Sexy Star lands another kick to the midsection, but then Taya hits a low blow to Sexy Star. Taya takes her opponent to a group of chairs and goes for a cannonball, but Sexy Star rolls out of the way at the last second. Both luchadoras exchange chops, but Sexy Star now has the upper hand, throwing Taya across the Temple. 
Taya is bleeding from the forehead and Sexy Star hits Taya with a couple of glass bottles. Sexy Star brings out a table. Sexy Star slams Taya's head to the table until Taya reverses it and is now throwing Sexy Star across the Temple. Both women are among the crowd and brawling. Taya throws Sexy Star onto the mat and Taya brings out a table of her own and puts it on top of the first table. 
Sexy Star and Taya trade kicks until Taya punches Sexy Star's throat. Sexy Star and Taya climb back onto the crowd and hit each other with thunderous chops and stiff forearms. Taya chokes Sexy Star, but Sexy Star falls to the two tables stacked on top of each other and brings Taya down with her. Sexy Star barely gets back up, answering the 10-count, but Taya is unresponsive. Sexy Star is your winner. 
Winner: Sexy Star
Lucha Underground Trios Championship Match: The Reptile Tribe (c) vs. The Mack, Killshot and Dante Fox
Pindar and Dante Fox start the match. Pindar throws Fox to the corner and then lands a leg lariat. Fox bounces back and on offense, landing a springboard hurricanrana. Killshot tags in as well as Vibora. Vibora chokelslams both Fox and Killshot. Drago gets a tag in, but Killshot is on offense. Drago gets his own offense in, landing a springboard whirling DDT. Pindar is tagged in and then powerslams Killshot. Pindar then chops several hard shots, followed by a pop-up cutter. Pindar goes for a cover, but it is broken up by Mack. 
Mack is tagged in, punches Vibora and goes to work on both Pindar and Drago. Mack lands a high knee to Drago and then a Samoan Drop. Vibora is in as well as Killshot. Killshot escapes a chokeslam by Vibora but Vibora hits a double lariat to Killshot and Fox. Mack and Drago hit enziguris and chaos ensues. Most of the wrestlers are on the floor while Killshot tries to go for a tope, but Vibora intercepts it. Mack gets back in and then lands a hard slam to Vibora. Killshot is back in and then throws himself to the crowd. Mack and Pindar are in the ring, Killshot lands a Spanish Fly from the top rope. Mack then lands a stunner, followed by a top rope double foot stomp from Killshot. Killshot goes for the pin and we got new Trios Champions.
Winner: The Mack, Killshot and Dante Fox become the Lucha Underground Trios Champions
Matt Striker and Vampiro preview the final leg of Ultima Lucha Tres, headlined by the title vs. career match between Johnny Mundo and Prince Puma, announcing that it will be a two-hour special.
Gift of the Gods Championship Ladder Match: Son of Havoc vs. Pentagon Dark
A staredown between the two open the match until each wrestler shove each other. Havoc lands a big boot to Pentagon. Havoc goes over the rope to attack Pentagon. Havoc is dominating the early portion of the match, throwing Pentagon across the Temple. Havoc takes a short ladder and then throws it to Pentagon.
Havoc throws the ladder to the ring, but then Pentagon raises the ladder to Havoc's chin. Pentagon brings his ladder to the ring and then throws it at Havoc. Pentagon brings a very tall ladder to near the ring, but then walks across the Temple, bringing in numerous tall ladders to Havoc. Pentagon places a ladder on each corner of the ring. Pentagon soccer kicks Havoc in the face. Havoc is back on offense, hitting a back elbow to Pentagon, followed by another big boot.
Havoc has a chair in hand wedges it in between the top and second rope of one corner. Havoc is pushed to that corner, but gets out of the way, making way for Pentagon to hit his head on the wedged chair. A ladder is place on the groin of a sitting Pentagon and then Havoc hits a couple of chair shots to the ladder, seriously hurting Pentagon's groin. Havoc places a ladder in the center of the ring, climbs up, but Pentagon hits Havoc's back with a chair. Pentagon sets up a table in the center of the ring and then places Havoc on top of it. Pentagon then climbs up one of the ladders on the corners, but Havoc gets back up and then sidewalk slams Pentagon through the table.
Havoc places a ladder on top of Pentagon. Havoc then goes to the rope and tries for a Shooting Star Press, but Pentagon counters with a midair cutter. Pentagon throws a lot of chairs to the ring. Havoc manages to get some offense on Pentagon while he let his guard down. Havoc sets up the chairs in the center of the ring. Havoc goes for the vertical suplex to Pentagon, but Pentagon blocks it. Pentagon then counters it into a package piledriver onto the chairs.
Pentagon sets up the ladder in the center of the ring but instead of climbing up the ladder, he then puts another ladder on one half of the first ladder. Pentagon then puts another table to the ring. Pentagon places Havoc on top of the table and Pentagon now climbs the ladder. Havoc then gets up and stops Pentagon. They brawl for a bit, and Pentagon chokeslams Havoc to the tables. Pentagon climbs the ladder once more and grabs the Gifts of the gods.
Winner: Pentagon Dark wins the Gift of the Gods Championship.