Welcome to the Mid-Week Wrestling Wrap-Up.
Covering NXT, with a dollop of Lucha Underground and a smidgen of TNA.
Previously on the Mid-Triple-Dub: Liv Morgan became Dead Morgan when she took on Asuka and Samoa Joe declared war on William Regal by destroying that which he loves most, two dudes we've never seen before. Plus, Dragon Azteca Jr defeated Chavo Guerrero for the right to get his arm broke by Pentagon Dark, and Prince Puma decided he was going to deliberately piss off Death. I'm sure there will be no consequences for that decision.
Let's see what this week had in store for us:
_________________________________________
NXT
Dusty Beginnings.
The brackets for the Dusty Classic are out and the first two first round matches were on this week's NXT, so it only seems right to start with a little bracket breakdown.
You can download a PDF of the bracket on wwe.com and fill it out with your friends! Start an office pool with the only other two guys in your building who watch NXT!
Here's mine:
Top Bracket:
TM-61 is a no-brainer over Moss & Sabbatelli.
"Team Aries" (A.Double and probably a debuting Roderick Strong) over Heavy Machinery
Incidentally, I really wish Bogojevic and Knight got to go up against The Authors of Pain so we could see AOP picking on someone their own size.
Hideo Itami & Kota Ibushi over Lince Dorago & Mustafa Ali since they're not flying Kota in from Japan to go out in the first round. Also, I hope Itami convinces Ibushi to sign full time and they form a permanent team called House of the Rising Sun. They can form a stable with Shinsuke Nakamura and Asuka, all turn heel and insist on only doing promos in Japanese.
Tye Dillinger & Bobby Roode are already teasing their inevitable break-up (more on that later in the column), so Sanity is the pick here.
SECOND ROUND: I Think Team Aries and Team Itami are destined to meet up, so good bye to TM-61 and Sanity.
However: I could easily see each respective guy costing the other guy's team the matches, which would put TM-61 and Sanity into the 3rd Round, but at that point, my bracket is totally busted, so let's just move on.
THIRD ROUND: The Aries & Itami feud comes to a head here, and I'm picking Rising Sun to take it.
Bottom Bracket:
Authors of Pain vs the Bollywood Boyz.

Rich Swann & No Way Jose over Tony Nese & Drew Gulak.
Not for nothing, but I want both of these teams to be permanent.
Call Swann & Jose "Dance Dance Revolution."
And call Nese & Gulak "Bearded Brutality," or something.
(I admit that last one needs work.)
Revival over Almas & Alexander.
No Spoilers, but Hint, Hint.
Gargano & Ciampa over Wang & Hung, or whatever their names are.
(That's not a Chinese joke.)
(That's a joke about how it's a joke that two guys this green are even in this tournament.)
(Seriously. What the hell are they even doing here?)
(I mean, besides getting a hundred million people in china to subscribe to the Network.)
(Besides that.)
SECOND ROUND: Paul Ellering's Ethnic Pseudo-SHIELD wins a close match against DDR, but it's too close for Ellering's liking, and he orders a post match beat down on Swann, the tiniest guy in the whole tournament. Jose is like tied up in the ring ropes or something, forced to watch. This is a great way to build sympathy for your babyface guys, and an even greater way to keep the heat on the PEEPS.
In the other Second Round Match-Up, G&C is able to beat The Revival. It's a non-title match, and The Revival feel like they got screwed on the finish. Ciampa gets the pin via some kind of underhanded means--feet on the ropes, fistful of tights, something like that--and Gargano is disturbed by this. He didn't want to win this way. Ciampa tells him to get over it, teasing his heel turn even more. Gargano is finally convinced that it doesn't matter how they got there, they're in the...
THIRD ROUND: Where they lose to AOP due to outside interference from The Revival after a ref bump. They attack Johnny, and Tommaso, enraged, chases them to the back. When Gargano comes to, his partner is nowhere to be found and he can't tag out. AOP annihilates him with a string of double team moves, and Ciampa rushes back down to the ring, but too late to break up the pin. You could have the break-up right here, but I think they have another match with The Revival at TakeOver Toronto, this time for the Tag Belts, and that is when Ciampa finally turns on Gargano
DUSTY CLASSIC FINAL ROUND:
Authors of Pain vs Hideo Itami & Kota Ibushi (?) (Maybe?)
I honestly have no idea. I'm almost entirely sure that the PEEPS will be there, but the Itami/Aries feud is such a wild-card that I'm only 40% sure that Itami & Ibushi will even get this far, so how can I pick them to win the whole thing?
On the other hand, I firmly believe that a babyface team is going to win, so there's no way they give this thing to the PEEPS.
There's a chance I'm completely wrong about everything, and Gargano & Ciampa make it out of the bottom bracket, and they win the whole thing against Aries & (INSERT MYSTERY PARTNER HERE).
Whatever happens, I know I can't frigging wait.
And lucky me, we have two first round matches on Wednesday's show, so let's get started ...
Bollywood Ending.
I was kind of excited to see the Bollywood Boyz in action.
Then I saw this:
This backstage promo was so cheesy, it made me lactose intolerant.
And then there's their music. It's a funky remix of some kind of authentic Indian musical style, and it turns perfectly normal NXT fans into THE WHITEST PEOPLE IN THE WORLD.
THIS IS A CRIME AGAINST RHYTHM AND THE PUNISHMENT MUST BE SWIFT AND SEVERE.
THE BOLLYWOOD BOYZ MUST BE JAILED FOR INCITEMENT TO ...
WHATEVER THE HELL THAT IS.
Incidentally, my favorite part of that scene up there is the black lady sitting next to the world's whitest dancer.
Who is she there with?
Is she there alone?
Is she just there to watch Cedric Alexander?
Is she Cedric Alexander's Auntie?
She just wanted to come watch her nephew wrestle and this is what she got?
To sit next to Mr. Casual White Button Down With A Pen in the Breast Pocket?
DID THAT GUY JUST COME FROM HIS JOB TEACHING MATH AT A LOCAL JUNIOR HIGH?
Anyway, I choose to blame all of this on the Bollywood Boyz and thankfully they got their just desserts, because they face Paul Ellering's Ethnic Pseudo-SHIELD and the PEEPS absolutely destroy them.
Can't say as I'm surprised, since either Tokka or Rayzar is bigger than both Bollywooders COMBINED.
Not sure if this means the end of the BW B's in NXT, or if there's a chance they might get signed, but I know it wasn't fair for them to debut against these guys:
Quick, spray a Fire Extinguisher into their mouths
while Vanilla Ice dances around for some reason!
It's their one weakness!
___________________________________

Too Soon?
Or Too Late?
So this is Patrick Clark.
He was a contestant on Tough Enough in 2015. I never watched the show, so I don't know anything about him other than what I've seen on NXT.
This is what he used to look like in the ring:
He used to come down to the ring, literally draped in the American Flag and wearing custom tights that were airbrushed WITH HIS OWN FACE.
Now? Well, you can see for yourself. He appears to be wearing a terrible DIY home-made Prince costume. That is absolutely what it's supposed to be, because old Philly Tomlips keeps making super current reference to the famous episode of Chappelle's Show that aired in February of 2004.
But what am I saying? 2004 is timely to the WWE.
How do I know this? Because he's not only wearing a Prince costume (which, I mean, come on, he died less than six months ago, at long last, sirs, have you no decency?), he's also looking at his opponent, licking his lips lightly and MAKING KISSY FACES.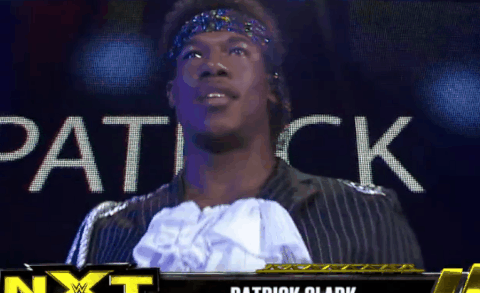 This is a Gay Panic gimmick in 20-damn-16, and I am not okay with it.
Tell me I'm being too sensitive.
Go ahead.
I dare you.
I come from the theater world. I have many, many gay friends.
One of the groomsmen at my wedding is a gay man.
This is how you marginalize an entire community.
You turn them into leering predators, or, failing that, ineffectual wimps.
And to do it using Prince as a backdrop for this gimmick is unconscionable.
Prince was eccentric, bent the rules of gender to get a rise out of the squares,
but he got more sex from hotter women than any of you trolls out there could even dream of.
And this is Rich Swann's meme-worthy reaction face: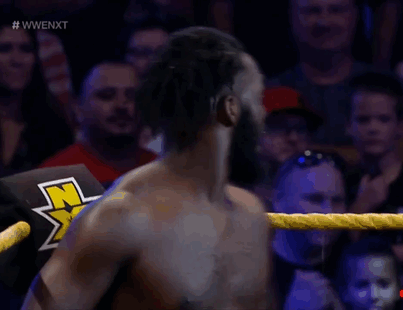 Could be worse.
I guess he could be dry heaving or something.
Does anybody out there remember Johnny B. Badd?
Named after the Chuck Berry song "Johnny B. Goode," and styled to overwhelmingly resemble flamboyantly gay rock icon Little Richard, (even going so far as to namedrop Richard in his very Chuck-Berry-esque entrance theme), Johnny B. Badd was a heel that the mostly southern crowd of early 90s WCW loved to hate.
The thing was, he eventually got over as a babyface. The story was that his opponents always took him too lightly and he had a "mean left hook" as the song said, but he was never taken seriously by the fans either. The crowd rooted for him, but they were always kind of laughing at him, not with him. Maybe because he was forced to wear outfits like this: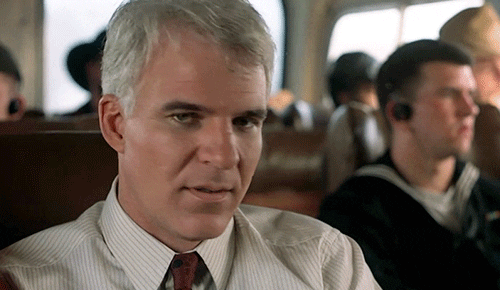 Of course, Marc Mero, the Golden Gloves champion who portrayed Johnny B. Badd, would go on to enjoy some minor successes with the WWF, but they were short lived and he retired from the WWE having never really realized his potential. Is that because he was marginalized into a homophobic gimmick? No one can really say, but it probably didn't help matters.
Of course, the thing that connects both Patrick Clark to Johnny B. Badd (as played by Marc Mero) is that neither one of the performers is gay. They're heterosexual men performing the worst homophobic stereotypes of the gay community and they're doing it either for laughs or to get people to dislike them.
That's the most offensive thing of all.
Well, actually no. Patrick Clark's former gimmick, which he was using at house shows back in May, that's the most offensive thing of all.
At least we didn't have to see that on TV.
Anyway, Swann wins via flippy sh*t ...
... but this whole thing makes me tired.
Cheer me up NXT.
Whaddaya got?
What's that saying about "the bigger they are, something something"... ?
Everyone look out, Dan Matha's coming.
He's very large and he's definitely not on steroids!
That's some pretty bad acne on his outer thigh, there, but it's probably just a glandular thing!
He sure is a vascular fella, isn't he? Still, I'm sure that's normal.
Boy, we're still panning up, huh? How tall is this guy?
I'm seeing a few small bumps on his abs, but that's probably just razor burn from shaving that rock hard torso, right?
OH MY GOD THIS GUY IS SO TOTALLY ON STEROIDS.
Either that or he needs some Pro-Activ Body Wash, S.T.A.T.
Anyway, what does his face look like, I'm just curious.
Oh, so he looks like Vin Diesel and Nicolas Cage somehow had a baby together and then that baby grew up and had sex with a horse.
Huh, well I wonder if he can actually wrestle after that month of showing us that same ill-advised extreme-close-up vignette over and over again.
Who's his opponent this week?
Matha-matically Eliminated.
+1 to everyone involved for making us all think that Dan Matha was something special, only to have him get immediately sacrificed to Anger God Samoa Joe.
Very good. I approve.
But who's next? How many more inconsequential jobber level guys must Joe destroy before William Regal gives into his demands?
Angelo Dawkins? Steve Cutler? The ghost of CJ Parker?
IS NOTHING SACRED?
____________________________________________________
Yummy.
We all knew she really liked to smell flowers, but there's been a new wrinkle added. She now also likes to taste flowers.
Peyton Royce's gimmick has been best summed up as "Oh, I get it, she's sort of like Poison Ivy, right?", and now she's got a running buddy in Billie Kay, a fellow Australian who's recently taken to cosplaying as Psylocke.
I mean, more or less.
I like it. We need more upper mid-card heel women in this division, people to be fed to Asuka until she turns heel and Ember Moon gets the belt at Takeover: San Antonio on the night before the Rumble, and these two villainesses could absolutely do the trick.
Anyway, Peyton beats someone who I'm pretty sure is Kamala's daughter.
Or not. I can't keep all you second- and third-generation wrestlers straight.
__________________________________________________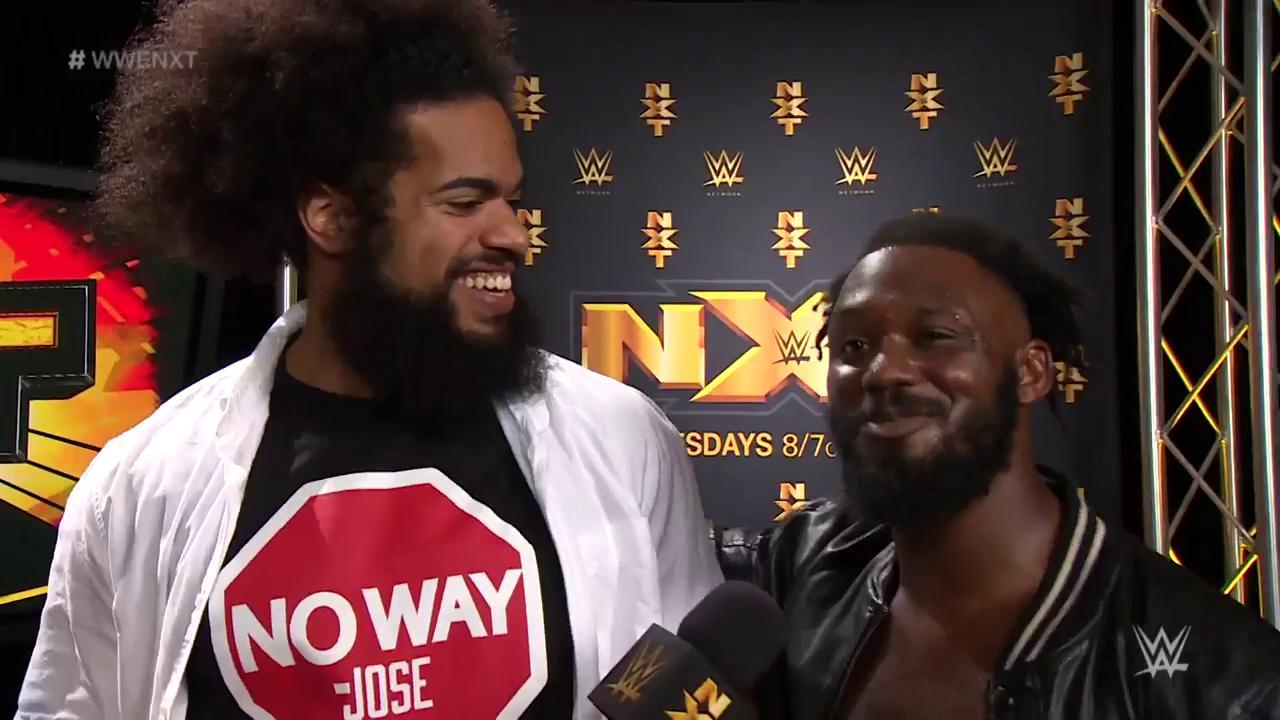 PLEASE DO THIS FOR ME.
MAKE THEM A PERMANENT TAG TEAM.
CALL THEM "DANCE DANCE REVOLUTION."
I DON'T CARE HOW MUCH THE RIGHTS COST.
JUST DO IT.
I DON'T ASK FOR MUCH.
PLEASE.
Anyway, yeah, so I'm very excited for these two to be a tag team. Looking forward to their first round match in a couple weeks.
Glorious Dysfunction.
This might be the best backstage interview segment in the history of NXT.
Tye Dillinger being confident but polite, respectfully answering the tiny woman's questions, when Bobby Roode all of a sudden becomes a revival tent preacher, except the God he worships is himself.
At one point, Dillinger becomes so distracted that he turns around and says "Are you OK?"
It's funny just to look at, but it's the way he says it, equal parts exasperated and confused, that is so damn brilliant.
Some how they took the guy who makes his ring entrance carrying a laminated piece of paper with the numeral 10 on it, stuffed in his butt crack, and they turned him into the Cousin Larry of this comedy duo.
Which, of course, maked Bobby Roode into Balki Bartokomous. It's Glorious.
It's Perfection, is what it is.
Get it?
Perfect-ion?
Stranger things have happened?
TGIF.
By the way, they're so definitely losing to Sanity next week, breaking up and feuding through to Takeover Toronto. It's a forgone conclusion, and I don't even care.
Ciendric Almasander, we hardly knew ye.
I'm going to say it. I think they pulled the trigger on the Andrade heel turn at the wrong time.
I was going to say they pulled it too early, but actually, they waited so long after he debuted to a chorus of nothing back at Takeover: The End, in June, that it might have actually been too late overall.
But it was definitely too early in his partnership with Cedric Alexander.
Him being on a team with the STRATOSPHERICALLY over Cedric was going to get him over as a babyface. It really was. Two weeks ago, when they had their match against each other, they tore the roof off the sucker, and when they embraced at the end, the crowd was all in. Then you had them going up against the Tag Champs and they were great together.
From being playful..
to being athletic as hell:
To Being Both:
That's so cool. It's also just plain bananas.
And it's probably the last time we'll ever see it.
Take a look at a still photo from that spot:
It looks like Dusty certainly approves.
I'm telling you, if they had kept these two together, you'd have had people cheering just as loud for Andrade as they've been for Cedric.
Almost.
Almost as loud.
But instead, all good things must come to an end, and we got to see it happen right in front of us, as Cedric took a Shatter Machine unlike anyone's ever taken one before.
I swear, this guy even SELLS like a star. Alexander is going to be huge in this business, and he might get a serious leg up from this impending feud with Andrade.
(Still selling like a champ, by the way.)
People are going to be rooting against Cedric like mad during this program, and as over as he's going to be as a babyface, I have a feeling Andrade's going to be equally as reviled.
By the way, I think NXT is copying the heel turn and ensuing feud for this program from one on Smackdown.
Carmella and Nikki Bella.
Think about it:
A babyface can't get any reaction from the crowd, so they begin to resent and then turn heel and attack another babyface who's super over, believing that their new rival was trying to steal their thunder.
In this scenario, it's even more applicable. Carmella was jealous of Nikki coming back from a broken neck, I guess? But Andrade got promoted over many weeks, had a hugely hyped debut, and got nothing but crickets from the fans. Meanwhile Cedric goes out in the second round of the Cruiserweight Classic and LOSES a damn match, and he's a frigging hero.
Everyone loves Cedric.
But nobody cares about Andrade.
It might have been a little too early, to turn Andrade after their first tag match together, but I'll be damned if they didn't handle it pretty well.
Very much looking forward to their feud.
But still ...
______________________________________________________
LUCHA UNDERGROUND
Time is not on my side, folks. I went way more in depth on NXT than I was planning to, and now I've left myself with basically no time left to do Lucha and TNA.
I only remember two things about LU from this week, but if you must know my thoughts on everything, check out my Live Coverage from Wednesday Night.
Otherwise, I'm sorry to do this, but it's almost 4 in the morning, and I think my brain is asleep.
It keeps putting random words on the ends of sentences and I can't figure out why purple monkey dishwasher.
Sometimes I catch it, and I just delete the extra words.
Sometimes I don't. Hippos on horseback.
Anyway, here's the LU Lightning Round!
Best Match of the Night in a Walk:
Just watch it.
It's SO GOOD.
JUST WATCH IT.
Most Intriguing Intrigue for Upcoming Weeks:
One of Killshot's presumed-dead platoon mates that he left behind when he escaped that POW camp ... IS ALIVE!
Either that, or Joey Ryan is playing one hell of an "I Know What You Did Last Summer" prank.
____________________________________________________________________
TNAAAAAAAAAAAAAAAAAAAAAAAAAAAAAAAAAAAA
Okay, so I just fell asleep on my keyboard, so this is getting serious.
So if you haven't seen it, please enjoy The Great War.
Someday, they will erect monuments to Broken Matt Hardy.
MONUMENTS.
__________________________________________________________
Until Next Time, I've Been Alex Pawlowski
and this is me looking at a closeup of
Dan Matha's chest acne.


Seriously, they should make him wear a shirt.
Or a Roman Reigns flak jacket.
Or a Medieval Suit of Armor.