Recently, WWE interviewed Paul Ellering, current manager of NXT tag team The Authors of Pain, and former manager of WWE Hall of Fame tag team The Road Warriors (also known as The Legion of Doom). Ellering spoke about many subjects, including when he first knew that the Authors of Pain would be a success.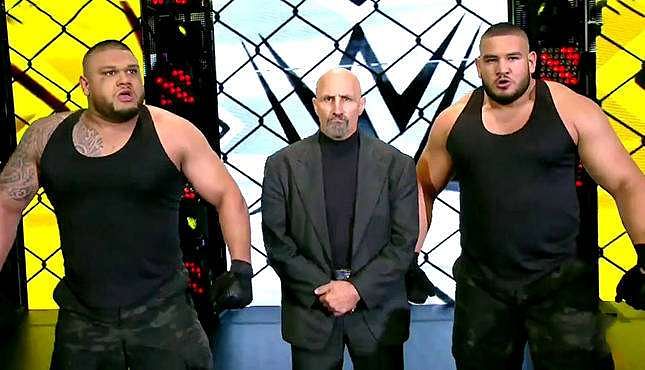 "When I first met Akam and Rezar, they had one thing on their mind: being great," said Ellering "There's a million wrestlers out there who will do whatever it takes to make it, but only the ones who are willing to go above and beyond actually make it big. Being great is more than just reading books and training, it's about what you are willing to give up. The great ones give up friends, family and temptation to be completely committed to their craft. The great ones are willing to wake up four hours early just to out-train their competition. When I knew that Akam and Rezar were willing to do that, I knew they would be successful."
Ellering also commented on the current NXT Tag Team Champions, Johnny Gargano and Tommas Ciampa, also known as #DIY.
"We beat them in the Dusty Rhodes Tag Team Classic, which we won," Ellering said. "Ciampa and Gargano are a very good team. You never underestimate the heart of a champion. Once you win those titles, it shows that you've found a way to win. With that said, we look forward to the challenge ahead. We are taking things one step at a time. In the final edition of the Book of Pain, #DIY will just be a footnote.
With Paul Ellering managing both teams, comparisions to the Hall of Famers The Road Warriors are inevitable.
For his part, Ellering thinks it's disingenuous to make such an analogy.
"Both teams have two totally different styles. Hawk's first line to someone with an amateur background was, "Can you take a punch?" The Road Warriors were brawlers and fighters. Rezar has a mixed martial arts background and fought for Bellator. Akam is a former Olympic freestyle wrestler. I believe The Authors of Pain have the balance and toughness to make it to the levels of success that Hawk and Animal reached."
Paul Ellering also discussed the NXT Tag division and how he gets his team ready for battle. You can read the full interview by clicking here.