Welcome to the Live Coverage & Discussion for
MONDAY NIGHT RAW
Drop down in the comments and join our
LIVE VIEWING PARTY
On tonight's episode:
the only match they've advertised
is one you probably don't care about!
HOORAY!
Enzo & Big Cass vs Sheamus & Cesaro
winner gets a title shot at WrestleMania!
and we get to pretend that the current state
of the Tag Team Division isn't an abysmal wreck!
YAY!
ALSO:
ROMAN REIGNS IS PROBABLY PISSED
who will be sacrificed to the Big Dog?
(probably Braun Strowman)
(YAY!)
HERE WE GO.
We start out with Brock Lesnar.
He comes to the ring and commentary puts over his match with Goldberg at Mania.
Heyman is talking now.
He says that Brock F-5'd Goldberg last week and Goldberg does the thumbs down gesture.
The crowd starts chanting Goldberg, Paul says he's not here, so shut up.
He says that he and Brock have been coming up with a new strategy.
Basically, every time Brock faces Goldberg, Goldberg hits his two finishers and wins.
But it's gonna be different this time. You see, this time, it's gonna be Brock hitting his one finisher and he's gonna win.
A brand new strategy.
He works in "Down Goes Goldberg" in there a lot. Guess that's part of the marketing now.
The promo is over and nothing happened.
_____________________
Backstage with Mick Foley and Stephanie McMahon.
Steph says she's gonna teach Mick a few things.
First lesson, Mick has until the end of the night to find one persona and fire them.
He doesn't want to do it.
_______________________
SASHA BANKS vs DANA BROOKE
Brooke takes control using her power for a while, but Sasha sneaks a win by reversing a fireman's carry into a rollup.
The whole thing lasts maybe a minute and a half.
WINNER: Sasha Banks
After the match, Charlotte gets in the ring and starts berating Dana and Dana FLIPS THE FUCK OUT.
She beats up Charlotte and Charlotte runs away.
The crowd likes it.
Dana Brooke is over as a fiery babyface.
Who'd'a thunk it?
__________________________
SO WE'RE GETTING THIS TONIGHT
SO THAT'S COOL
__________________________
Also, they're actually going with this:
WHOSE YARD IS IT, ANYWAY?
The feud where everything's made up, and the boos don't matter.
____________________________
AKIRA TOZAWA & TJ PERKINS
vs BRIANK KENDRICK & TONY NESE
Tozawa starts oiut against Kendrick, he yells a lot and hits a suicide headbutt.
Nese tries to get involved, gets a hurricanrana from TJP off the apron.
COMMERCIAL
Oh yeah, and by the way, tomorrow on 205 Live:
So that could be very good.
Anyway back from the break and Kendrick is in control.
Tozawa fights back with vicious forearms, but can't make the tag, as Kendrick has pulled TJP off the apron.
Then Nese gains control with a bodyscissors for a while, but Tozawa escapes and makes the tag to TJP.
He takes it to Nese, hits a springboard DDT,
but Kendrick breaks up the pinfall.
Tozawa runs in to kick Kendrick out of the ring, but Nese shoves TJP into Tozawa, who falls out of the ring.
Nese rolls up TJP and gets the pin with a fistful of tights.
WINNER: Nese & Kendrick
________________________________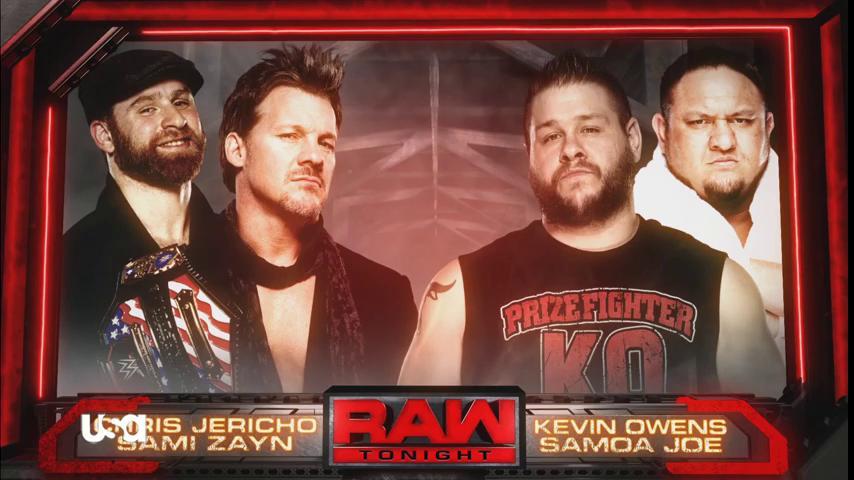 JERI-ZAYN vs K.O.-JOE
Oh shit, we're starting out with another KO spotlight promo.
AWESOME.
oh. no, they're just showing a recap of the Festival of Friendship.
I can't watch. The wounds are still too fresh.
He says not only was he never Chris Jericho's friend, Chris was never his.
He just pull the trigger ont the break-up first. Jericho would have done it too, if he was smart.
"The only thing left after WrestleMania will be the Tears of Jericho. Cry it Out, MAAAAAAANNNNNN..."
Also, "who needs best friends when you've got a destroyer?"
THE FAT GUY FACTION IS A REAL ACTUAL THING.
Too bad Rusev is hurt.
COMMERCIAL.
Match starts out with Jericho and Owens oh wait no it doesn't.
Joe gets tagged in, works Jericho for a while, but Zayn gets the tagged and gets worked for a bit, before fighting back and hitting a tope con hilo.
He lands awkwardly as he comes down on the outside, hurts his knee.
Back in the ring, Owens and Joe double team Zayn until they get disqualified.
WINNERS: Jeri-Zayn by DQ
After the match, Sami gets choked out in the Coquina Clutch, then Jericho gets pop-up powerbombed.
THE FAT GUY FACTION IS A REAL ACTUAL THING.
_________________________
Backstage, Steph is telling Mick who to fire.
She says Sami Zayn, he's like nah.
Nia Jax shows up, says she should be in the women's championship picture, Mick disagrees, Steph is like you should focus on firing people, puts Nia in a match with Bayley tonight.
Mick takes a walk to clear his head.
This dud is SO firing himself tonight.
______________________________
Backstage, Mick takes a walk.
He's stopped by Jinder Mahal, who says he's a Main Event Level talent, and he wants to prove himself so he doesn't get fired.
Mick Foley puts him in a match with Roman Reigns tonight.
So that should be a fun twelve seconds.
______________________________
Backstage, New Day "hosts" a "talk show" called New Day Talks.
Their guest is Big Show, who's here to promote the new Jetsons movie, but ALSO THEY JUST CASUALLY DROPPED IN THE CONVERSATION THAT SHOW'S GOING TO BE IN THE ANDRE THE GIANT MEMORIAL BATTLE ROYAL WHICH MEANS THERE'S NO SHAQ MATCH AND NOW I AM SAD.
Also why I'm sad, Titus O'Neil shows up and demands to know why he wasn't in the Jetsons movie. When Show tells him that he wasn't in control of casting, Titus shoves Big Show.
Big Show looks like he's gonna hafta choke a bitch.
_______________________________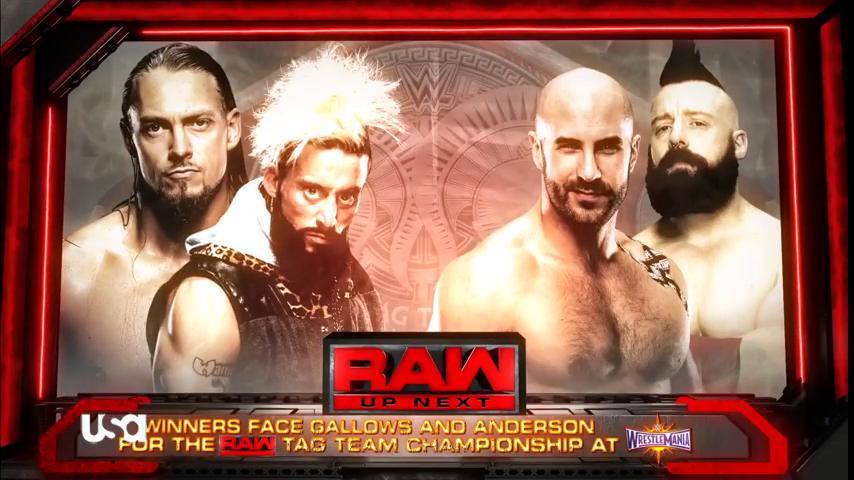 BIG CASS & ENZO vs CESARO & SHEAMUS
Enzo cuts a promo about a coffee cup.
Cass says that March Madness is in full swing, and as such, he proceeds to list all of the teams that they are not like.
And he lists all the best teams.
Because they are the Bracket Busters. a Cinderella story.
Get it?
The match starts with Cass in against Sheamus, and like usual, he gets the advantage by throwing his partner at his opponent.
COMMERCIAL
Back from the break and Enzo is being beaten up until he avoids his charging opponent and tags in Cass and Cass comes in like a house afire and he and Sheamus end up spilling to the outside,
And Luke Gallows and Karl Anderson show up and attack them, and the ref calls for the bell.
WINNERS: Nobody(?) by DQ (They basically got interfered with at the same time)
Gallows & Anderson destroy everybody.
Gee, I wonder if this will lead to a Triple Threat at Mania?
__________________________
Backstage, Mick runs into G&A and makes it a triple threat at Mania.
So I guess I can stop wondering now?
___________________________
ROMAN REIGNS vs HARDBODY MAHAL
Very early on in the match, Taker's dong hits, and Roman is distracted.
Hardbody takes advantage with a flying knee and a jumping knee and a tilt-a-whirl slam.
He's in control for a bit, then Roman remembers his indestructible and wins with a Superman Punch.
WINNER: Roman Reigns.
Roman just called out Undertaker.
And we just went to COMMERCIAL
SHAWN MICHAELS MUSIC HITS FOR SOME REASON!
Roman says that the Undertaker should be worried about what he'll do to him.
Michaels tries to give Roman some friendly advice, Roman responds:
"With all due respect, the Undertaker retired you, and I'm the guy who's gonna retire the Undertaker."
Roman walks up the ramp, pauses to look back at HBK in the ring, and Braun OBLITERATES him.
He then looks at HBK in the ring and says "IF I WANTED TO DO IT TO YOU, I WOULD!"
Strowman is amazing, and I will accept no arguments to the contrary.
________________________
Steph and Mick backstage.
He's only got one hour left to make a decision.
If time runs out, Steph will make the decision for him, and he won't like the result.
________________________
AUSTIN ARIES vs ARIYA DAIVARI
WINNER: Austin Aries
___________________________
BIG SHOW vs TITUS O'NEIL
Show squashes Titus in a minute.
Three Chokeslams do the trick.
1-2-3.
WINNER: Big Show
___________________________
Backstage with Bayley & Sasha
Bayley is doubting herself ahead of her match with Nia.
____________________________
Backstage with Chris Jericho.
Next week on Raw, there's going to be a special edition of the Highlight Reel and Y2J's guest is going to be "the real Kevin Owens."
He's going to expose him.
He also puts Tom Phillips on the list, even though he's not being interviewed by Tom Phillips.
_____________________________
BAYLEY vs NIA JAX
Nia womanhandling Bayley all over the ring to start.
COMMERCIAL
Back from the break and Bayley keeps trying to fight back, but Nia is just unstoppable.
That is, until the ref decides she's winning too hard and calls for the bell.
WINNER: Bayley by DQ
After the match, Nia destroys her some more.
_______________________________
NEXT WEEK!
_______________________
TIME IS UP FOR FOLEY
Stephanie is in the ring to introduce Mick so that he can fire someone.
He comes down to the ring and looks like he'd rather be anywhere else.
He says he can't think of anyone who deserved to be fired, except there's one that jumped off the page and he's made his decision.
He says he's going to fire Stephanie McMahon.
CROWD POPS.
She demands another name. He says she's the only one who deserves to be fired, because she treats the talent like jokes.
She's also a huge liar; he brings up that time he asked Steph to promise that she had nothing to do with Triple H making KO champ.
They argue some more and then TRIPLE H's MUSIC HITS!
He comes down to the ring. "If you've got something to say to me,say it to my face."
"That's funny, I thought you were hiding in the shadows."
"You can't find me? I'm everywhere."
H says the threat of a lawsuit is the only stopping him from ripping Foley's leg off and beating him senseless with him.
:"You sure you won't just assign that task to Samoa Joe?"
H calls him pathetic, and says it's only Steph's affection for him that prevents him from being fired right now.
Foley says that unlike the talent, he doesn't have to pretend to respect HHH. He doesn't need this company.
HHH threatens to fire Foley's son from the Stamford office and make sure that Noelle never even sniffs a WWE ring.
H says he needs to tuck his tail between his legs and waddle up the ramp, learn to love his job, and from now on, when Steph says jump, Foley better jump.
He also calls him "Monkey."
Foley almost gets out of the ring, but he doesn't.
Steph launches into a monologue about how the fans are scum, H notices he hasn't left yet, grabs him, and MR. SOCKO COMES OUT!
MANDIBLE CLAW! MANDIBLE CLAW ON TRIPLE H!
Steph hits him with a low blow!
Triple H takes off his jacket, and stalks up to Foley.
SETH ROLLINS MUSIC HITS!
He comes out with a crutch, stops ar the bottom of the ramp.
DROPS THE CRUTCH.
He rushes the ring and he and HHH come to blows!
He hits a running dropkick, and H falls out of the ring!
"ROLLINS! ROLLINS! ROLLINS!"
Hunter picks up the crutch, rushes the ring, hits Seth in the bad knee! TWICE!
He puts Seth in a reverse Figure 4!
Referees come in to break it up!
H hits him in the knee with the crutch again!
Then drops the mangled crutch by Seth's side, as if to say, "Here, you're gonna need this."