Welcome to the Live Coverage & Discussion for
MONDAY NIGHT RAW
Join us in the comments section for our Live Viewing Party!
On Tonight's Episode:
Charlotte Defends Her Title On RAW
(and we all know what that means...)
Jeri-KO Celebrates With "A Festival Of Friendship"
(and nothing will go wrong to cause a rift.)
(Nope. Nothing.)
Emmalina Finally Makes Her Deb-HHAHAHAHAHAHAHAHAHA
(Sorry I couldn't say it with a straight face.)
Raw, man.
If they say it's gonna happen, it's probably not.
HERE WE GO
Stephanie McMahon kicks things off and already it sucks.
She says she gave Mick Foley the night off since he was obviously overworked and exhausted.
Roman Reigns comes out and says he wants Braun Strowman RIGHT NOW.
She leaves it up to the crowd, who cheers for getting to see the match tonight, and Steph says that they don't care about you, Roman, or they wouldn't be begging for you to get injured.
I'm trying to protect you, she says.
Roman says he doesn't care what she says. Steph says you can't have Strowman anyway, since he's got a match tonight already against Mark Henry.
Roman says he's going to interfere in that match, and Steph says if you do, I won't give you that match with Strowman at FastLane.
Gallows and Anderson come out and take exception to the heelish Roman's disrespect of a woman in charge.
They propose a two on one handicap match against Roman, and Steph, because she wants to protect Roman, says yes.
And it starts RIGHT NOW.
Gallows and Anderson come down to the ring and Roman meets them at the bottom of the ramp, throwing the first punch.
THAT DAMNED NUMBERS GAME etc etc and the Tag Champs take control.
COMMERCIAL
GALLOWS & ANDERSON vs ROMAN REIGNS
Roman gets beat on for a while then mounts a comeback and overcomes the odds.
Winner: Roman Reigns
Just kidding,
Wouldn't that be great, though?
I mean, yeah, he wins by DQ when the tag champs won't stop double teaming him, but then he fights out of a Magic Killer, hits a Superman punch on one of the bald guys (can't remember which) and makes them run away because he grabbed a chair.
WINNER BY DQ: Roman Reigns
I hate RAW.
____________________________________
KOFI KINGSTON vs BO DALLAS FOR SOME REASON
The New Day come out holding a manila folder that reads "ICE CREAM BLUE PRINTS."
They've created an Ice Cream Machine, you see, and those are the blue prints.
They taunt Bo Dallas until he takes the folder and tears it in half.
Then he beats on Kofi until Kofi catches him in an SOS out of nowhere and gets the win.
Seriously that was the only offensive move he took in the whole match.
WINNER: Kofi Kingston
After the match, the New Day get in the ring and FORCE FEED BOOTY O's TO UNCONSCIOUS BO DALLAS LIKE IT'S MONEY AND THEY'RE THE MILLION DOLLAR MAN.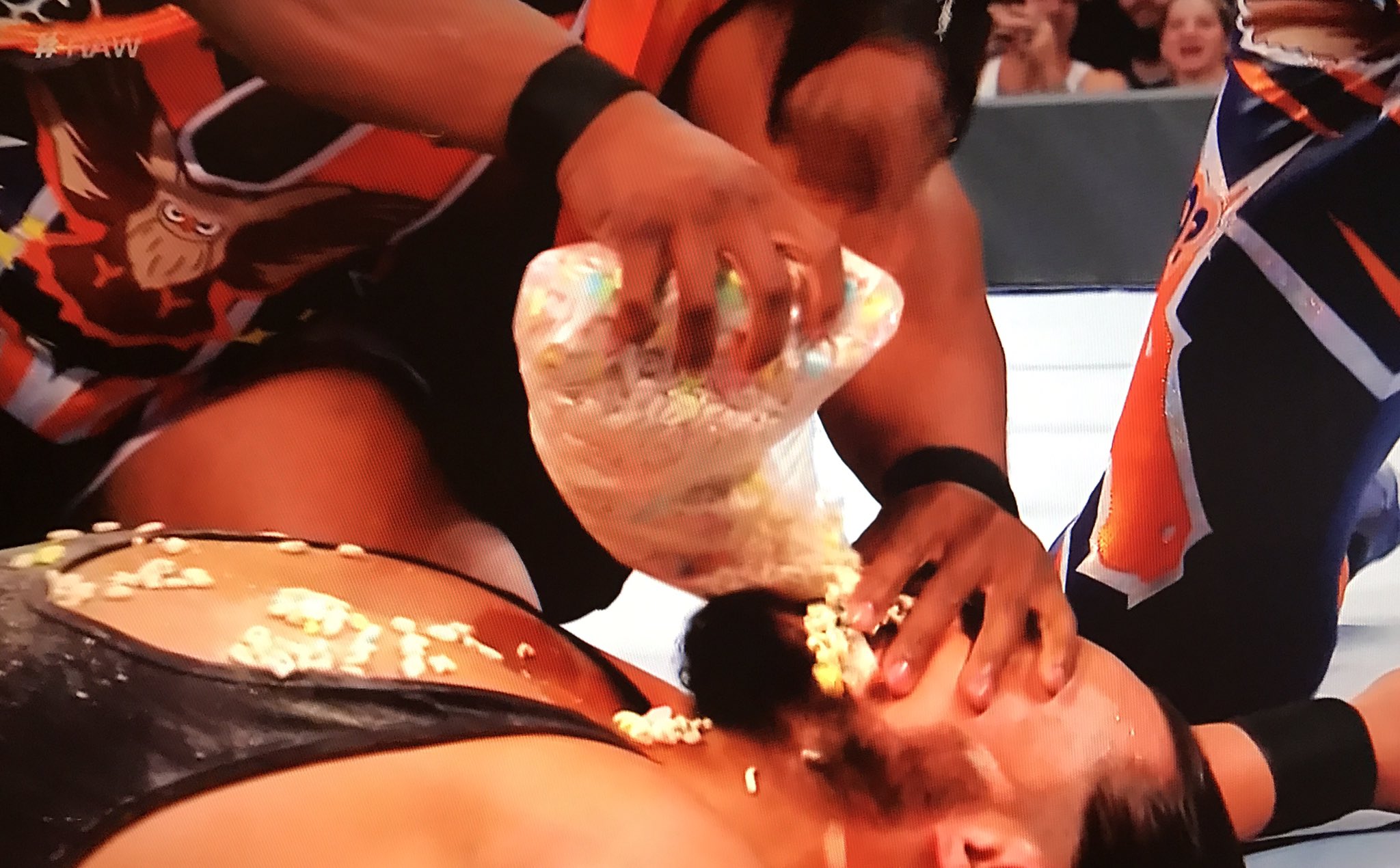 Because, you know. They're the good guys.
I hate Raw,
____________________________________
Neville Backstage Says Jack Gallagher Is No Threat To Him
Jack Gallagher the new #1 Contender, shows up and calls him a pillock.
Whatever that is.
I stil love Jack Gallagher, though.
______________________________________
JACK GALLAGHER vs NOAM DAR
Dar is out there with Alicia FOOOOOOOOOOOOOOOOOOOOOOOX.
Noam takes control by doing heel things and Jack Gallagher fights back by doing weird British things.
Then he hits his signature headbutt and a running corner dropkick for the 1-2-3.
WINNER: Jack Gallagher
After the win, Neville's music and pyro hits and he comes out on the stage, then does nothing.
I admire his restraint.
______________________________________
EMMALINA IS SUPPOSEDLY PREMIERING NEXT AFTER LIKE FIVE MONTHS
She comes out in a sparkly dress and says:
I honestly don't know anymore.
______________________________________
Backstage Bayley Interview where she says she's going to hit the jackpot in Vegas.
Seriously, they actually told her to say that.
______________________________________
Jeri-KO hanging out backstage.
Then Triple H comes over and asks to talk to Kevin Owens, alone.
Jericho seems cool with it, but we'll see where this goes.
________________________________________
BRAUN STROWMAN vs MARK HENRY
Two big dudes punching the hell out of each other.
The ref is stupid, backs Mark Henry off of Strowman in the corner, so Strowman hits him in the face with a straight right.
Then nails a clothesline, and just keeps beating on Henry.
Then a chinlock for a while, and his sternum crusher punch.
He tries it again and Henry blocks it, hits a couple of punches and clotheslines and splashes in the corner.
Henry picks up Strowman for the World's Strongest Slam, but can't hold him and it turns into a pinning predicament for Braun.
Two Count.
But Braun hits a dropkick and then a Running Powerslam.
1-2-3.
WINNER: Braun Strowman
Roman Reigns' music hits, and he comes down to the ring, gets on the apron, gets knocked back down by Braun.
Gets back in the ring hits a couple Superman Punches, then runs in for a spear and gets picked up into a Running Powerslam.
BRAUN STANDS TALL.
Sometimes I don't hate Raw.
__________________________________________
Backstage with Sheamus and Cesaro teaching Bayley how to box, I guess?
Enzo & Cass show up and Bayley disappears.
E & C are just generally insufferable and I can't stand them, and they deserve to have bad things happen to them.
Luckily Sheamus & Cesaro seem to want to hurt them.
But the segment ends with the four of them having a nose-to-nose staredown.
___________________________________________
Samoa Joe Backstage Sit-Down Interview With Michael Cole
Joe is BRILLIANT here, so natural, a better actor than 40% of guys in Hollywood.
He's teaching a promo class.
The substance of the interview is virtually NON-EXISTANT, but that doesn't matter, he makes it incredibly compelling.
He's the destroyer and he's gonna destroy guys.
But dammit if I don't BELIEVE him.
Great. World class.
____________________________________________
SAMI ZAYN vs RUSEV
Since Sami is getting a US Title shot at FastLane, it looks like Rusev is jobbing out tonight.
Hooray.
Lana got a haircut, by the way and she looks STUNNING.
Back and forth, some good stuff, Sami hits his running Tope con Hiro, then rolls Rusev back in the ring, gets on the apron and is about to do a springboard something-or-other into the ring, when he gets kicked in the motherfucking MOUTH.
COMMERCIAL
Rusev firmly in control now, and Sami is selling his ass off.
Hey, if Sami becomes US Champ, I'd like to see a feud between these two.
That would be cool.
Rusev hits a fallaway slam, but loses his Dashing Cody Rhodes face mask, and has to put it back on.
Then he nails a charging Sami with a roundhouse kick to the occipital protuberance.
Just a two count, though.
Rusev bumps over the turnbuckle to the outside, then Sami gets on the apron, Rusev pulls him off, hits a clothesline and rolls Sami in the ring.
As Rusev gets back in, Sami hits the Helluva kick.
WINNER: Sami Zayn
In a post match interview on the stage, Sami calls out Samoa Joe because I guess he likes being injured.
Samoa Joe's music hits, but he blindsides Sami, bounces his face off the LED board, then puts him in the Coquina Clutch.
Samoa Joe keeps saying "Say My Name."
But Sami Zayn can't because he is unconscious.
____________________________________________
AKIRA TOZAWA vs ARIYA DAIVARI
Brian Kendrick is on commentary.
Tozawa has gotten "HA! HA! HA!" over with the crowd.
He hits Daivari with a running PK, then a cannonball senton, but then he gets drop-toe-held into the bottom turnbuckle.
A big hammerlock clothesline from Daivari yields a two count.
Daivari keeps beating on him, though until Tozawa surprises him with a hurricanrana, then hits his Suicide Head Spear through the middle ropes.
Back on the inside, he ducks a clothesline and nails a snap German Suplex, bridging for the pin.
WINNER: Akira Tozawa
Oh yeah, I should mention that Kendrick seems to think that Tozawa is his protege, but Tozawa doesn't seem to realize that Kendrick is even out there.
____________________________________________
THE FESTIVAL OF FRIENDSHIP
Jericho comes out with a bunch of Vegas Showgirls, wearing a shimmery silver jacket and fedora.
He brings out Kevin Owens, who seems to not know how to break up with Chris.
This is going to rip my hear out.
In the ring is a sculpture he had made by Guggenheim, and a painting.
This painting:
Jericho brings out a magician, who is terrible. KO calls him on it, Jericho puts him on The List.
Jericho says that the biggest present is that he's gonna make sure that Goldberg doesn't make it to FastLane.
He calls out Goldberg, says he's gonna get "it".
COMMERCIAL
Back from the break and Goldberg's music hits.
And out comes Gillberg.
Yup. THAT Gillberg.
Owens gets out of the ring, beats the hell out of Gillberg on the ramp, throws him into the apron.
Owens is perturbed, yells at Jericho that this was all kind of stupid.
Jericho then, sincerely, talks about how much KO means to him as a friend.
The past year has been one of his best in the business and it's because of Owens.
This is going to be brutal.
HOLY CHRIST HE JUST CALLED HIM HIS BROTHER.
Owens tells Jericho that he loves him and hugs him.
He feels bad, because the gift he got Chris is so much less than what he got Kevin.
Chris opens the present and it's a new list!
Jericho takes it out of the box, looks at it, says "How come my name's on it?"
Then holds it up so we see that the back says "THE LIST OF KO."
KO ATTACKS JERICHO, throws him into the barricade, rips off his shimmery silver jacket and POWERBOMBS HIM ONTO THE APRON.
Kevin rolls Chris into the ring, smashes him headfirst into the JERITRON 6500.
He picks up his title belt and holds it high, then stalks out of the ring and backs slowly up the ramp with a far away look in his eyes.
Wow.
My heart hurts.
_________________________
ENZO AMORE vs CESARO
If this lasts longer than 45 seconds, I cal bullshit.
And 30 of those seconds better involve Enzo being swung by the ankles.
Nope, they told Cesaro he had to make the chicken fucker look decent.
That's basically Mission: Impossible at this pont.
THIS IS TAKING TOO LONG.
JUST GET THIS OVER WITH SO I CAN WATCH BAYLEY LOSE TO CHARLOTTE AND CRY MYSELF TO SLEEP.
Cesaro takes that jumping DDT and sells it well.
Then he hits Swiss Death on Enzo and gets the 1-2-3.
WINNER: Cesaro
__________________________________________
Backstage with Charlotte and Sasha.
Charlotte says mean things to Sasha.
___________________________________________
CHARLOTTE vs BAYLEY
RAW WOMEN'S CHAMPIONSHIP
There's a bunch of duelling wristlocks to start things off, then Charlotte slaps Bayley, who Slaps her right back, HARD.
COMMERCIAL
Back from the break, and Bayley hulks up in the corner.
She hits a crossbody, but then gets dumped on the back of her head into the bottom turnbuckle.
Charlotte regains control, Bayley hits a jawbreaker, but Charlotte turns a neckbreaker into a submission move.
When Bayley tries to fight out of it, she just turns it back into a neckbreaker. Then pulls down the kneepad for a knee drop, and a running chop sends Bayley to the canvas.
Bayley winds up standing on the apron, so Charlotte big boots her to the floor, then Big Boots her into the barricade.
CHARLOTTE HITS A MOONSAULT OFF THE BARRICADE ONTO BAYLEY.
She rolls Bayley into the ring, gets a two count, then another and another.
Bayley comes back, with a flurry of offense.
Hits her springboard back elbow off the middle rope, then a back suplex,
Then a Macho Man elbow drop.
TWO COUNT.
Charlotte hits her with a kick to the gut, then goes up top, where she's met by Bayley, who hits A FRANKENSTEINER FROM THE TOP ROPE.
TWO COUNT.
Bayley looks to be setting up Charlotte for the Bayley to Belly, but Dana Brooke comes down.
Bayley cuts her off, then puts Charlotte in the Figure Four, but her head is close to the ropes, and Dana Brooke rakes her eyes.
Charlotte puts her in the Figure 8, then Sasha comes down and hits Dana with a crutch, then hits Charlotte with the crutch.
BAYLEY TO BELLY.
1-2-3.
WINNER AND NEEEEEWWWWW WOMEN'S CHAMPION: Bayley