Welcome to the Live Coverage for
Lucha Underground, Sept. 14.
Sound off in the comments below to join our Live Viewing Party!
If you missed the main event of last week's episode, you can watch it above.
On Tonight's Episode:
Dr. Wagner Jr. Makes a Housecall: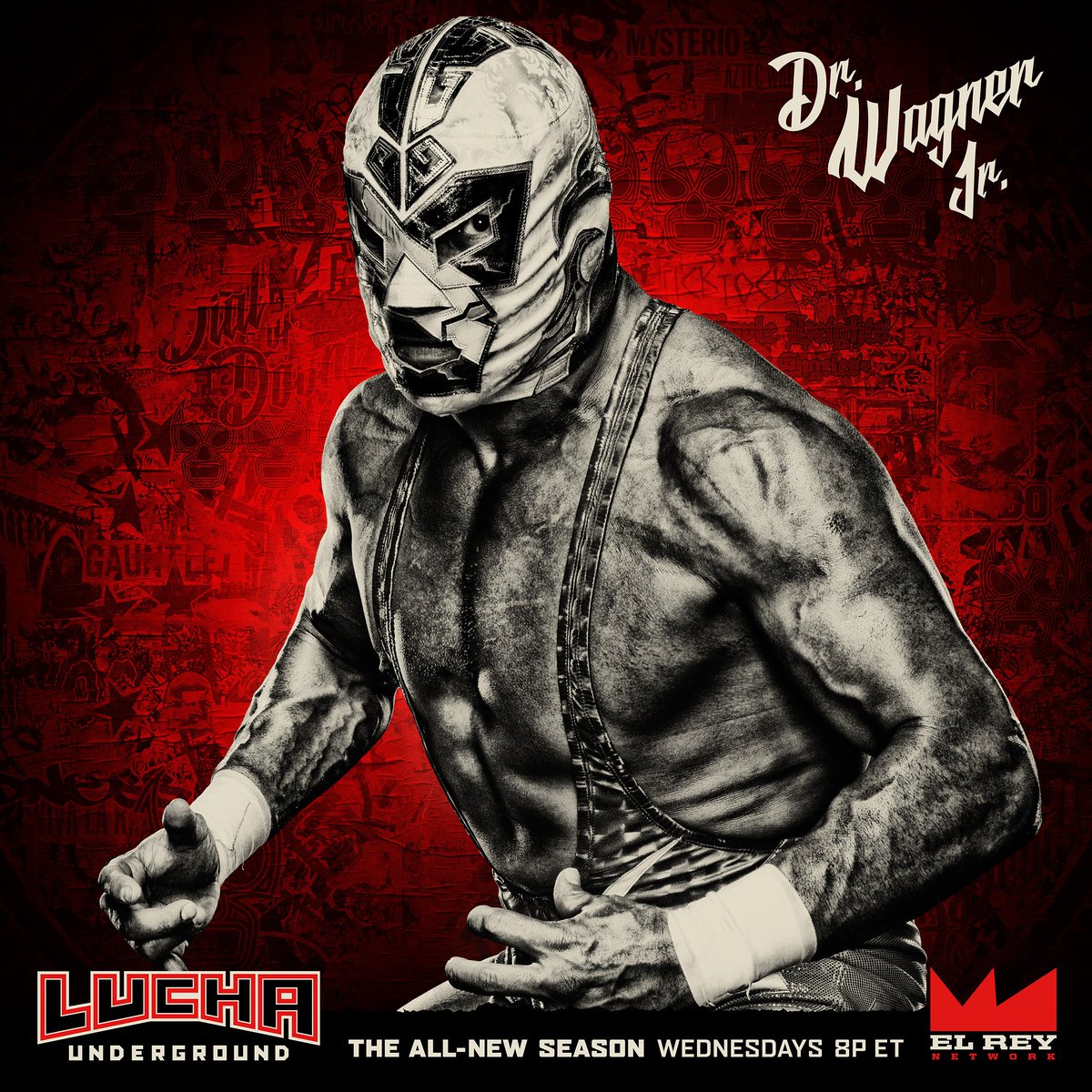 The Return of Mil Muertes:

Tonight, actually, but who's counting?
and of course, The First Ever
WEAPONS OF MASS DESTRUCTION MATCH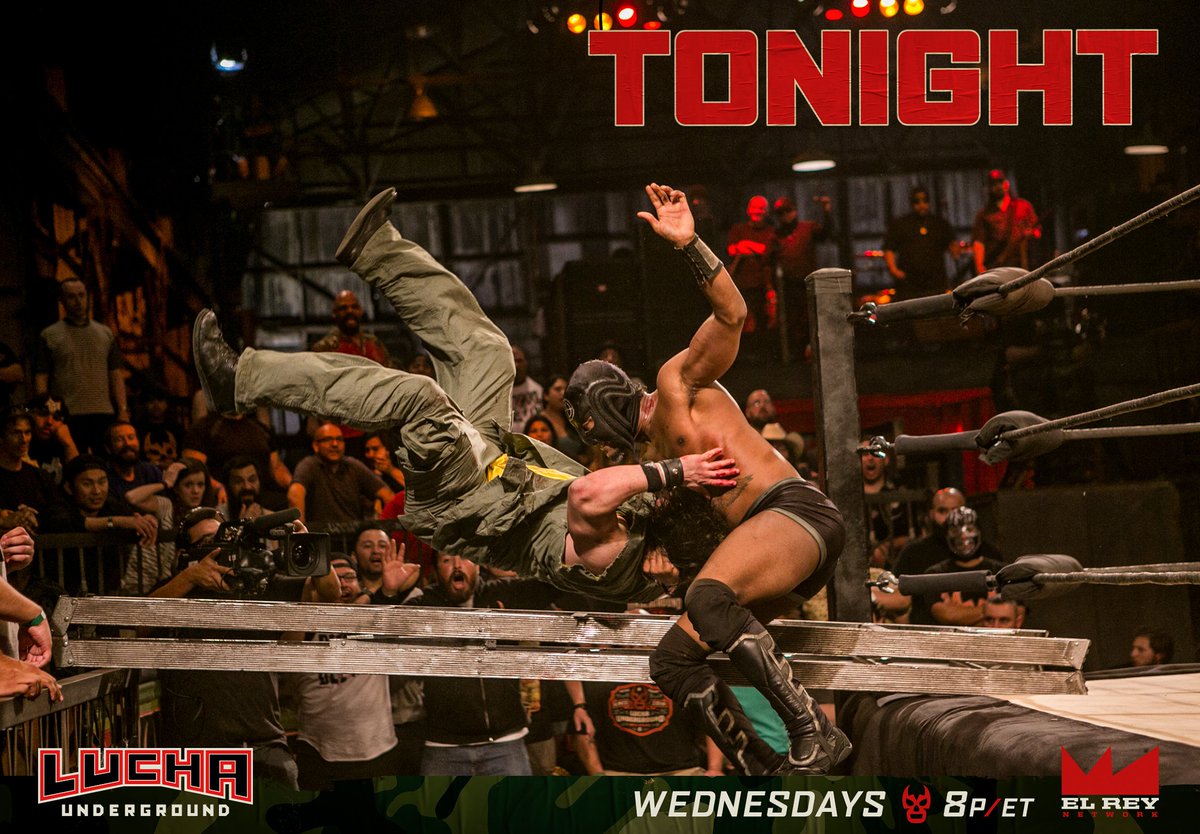 That certainly looks MASSIVELY DESTRUCTIVE.
HOLY CRAP HERE WE GO.
We flash back to when Dario Cueto killed Mr. Cisco with the red bull sculpture on his desk.
We see Officers Joey Ryan and Cortez Castro listening in as the murder takes place. Also present is the Police Captain (I don't remember her name).
Castro and Ryan want to go in and arrest Dario immediately, but Captain Lady says not so fast.  This case is about more than getting even with Dario for the murder of a street thug.
(Of course we know that Councilman Lorenzo Llamas has her in his pocket.)
Anyway, Castro is really upset by this.
__________________________________________________________
Dr. Wagner Jr vs Mascarita Sagrada
Famous B's New Client vs Famous B's Old Client.
The Dr. needs to be sued for Malpractice because he KILLS Mascarita.
Thankfully it's over quick.
(I should mention that I don't think Mascarita is actually kayfabe dead.)
(You have to be clear about that kind of thing in Lucha Underground.)
(People get killed kind of often.)
WINNER: Dr Wagner Jr.
________________________________________________________________
SUPER FLASHBACK TO AZTEC TIMES
An old man is on his death bed. His daughter is annoying. She is very young. Like 5.
He is talking about a war that must be won. Your guess is as good as mine.
He gives her a gold medallion that he says will make her immortal.
Once she becomes a woman, she will never grow old and she will never die.
It's like the aliens in Cocoon, but in amulet form.
FLASH FORWARD TO:
Police Captain Lady in her office looking at half of that same medallion.
Where is the other half? Is she the immortal Aztec girl?
Castro walks in and she hides the amulet. 
She's pissed at him for ordering a raid on The Temple and arresting Dario.
She says there are much bigger enemies and he was their link to them.
Castro is suspended until he decides what side of the war he's on.
Castro is upset by this.
___________________________________________________________
Mil Muertes vs Argenis
Mil Muertes is going to murder him.
(Maybe for real.)
Huge running release powerbomb by Muertes.
Big kick and a rope walk moonsault by Argenis,
Muertes kicks out AT ONE.
He hits his huge running spear, called "The Reaper's Trident."
(No joke, if Roman Reigns called it "The Reaper's Trident", I might actually be a Roman Reigns fan.)
Then he hits Argenis with a Flatliner.
1-2-3.
WINNER: Mil Muertes.
Catrina does her "lick the face of the fallen" thing.
PRINCE PUMA SHOWS UP, HITS A SPRINGBOARD BIG ELBOW.
HITS A MISSILE DROPKICK.
HITS A RUNNING BASEMENT DROPKICK TO MIL MUERTES STANDING ON THE OUTSIDE.
Catrina gets in his way, separates them.
So down for the re-ignition of this rivalry.
__________________________________________________________
Flashback to a Week Ago.
When Dario enters his office after getting out of jail.
Joey Ryan comes in, admits to being an undercover cop, says he wants to be a double agent for Dario.
He also rats out his partner, Cortez Castro, but he's not doing it for free.
"I got child support to pay."
(perfect character detail for Joey Ryan)
Flash-sideways to Captain Lady's office (VASQUEZ! Her name is Vasquez.)
Cortez Castro comes in, says he's ready to come back and win this war against their "enemies".
Vasquez says Castro (Detective Reyes in "real life") is going back to the temple.
I give it three episodes before he winds up in Matanza's food dish.
_________________________________________________________________
Weapons of Mass Destruction Match
Killshot vs Marty The Moth Martinez
My god, this is nuts.
Killshot hits Moth with the butt end of a 30 caliber machine gun.
(yeah, they have machine gun nests set up around the arena)
At one point Moth takes ring announcer and delicate beautiful flower Melissa Santos hostage for a hot second.
This is insane.
They fight into the stands. Moth is busted wide open.
Killshot hits a somersault senton from the stands to the floor.
THEY HAVE LIKE A WHOLE ARMY SURPLUS STORE WORTH OF STUFF SET UP AROUND THE RING.
And Marty is throwing Killshot into all of it.
Marty lands a backdrop onto the apron. Ouch.
He sets up a ladder across from the ring apron to the stands.
Killshot throws a camo-blind over Moth, then hits a big dropkick.
Moth throws Killshot teeth first into the the setup ladder.
Killshot chucks a steel chair at Marty's forehead.
It's insane. INSANE.
Moth spinebusters Killshot onto a military box.
OH MY GOD THEN HE SUPERPLEXES HIM ONTO THE BOXES.
The boxes appear to be made out of really heavy duty plastic, but them bitches got EDGES.
KILLSHOT HIT MARTY WITH A DEATH VALLEY DRIVER ONTO THE LADDER.
(how are they both not dead)
Killshot hits a huge Coup De Grace double stomp.
ONLY A TWO COUNT.
Killshot goes for the Killshot Driver, but it's countered with a mule kick to the juevos.
Marty powerbombs Killshot from the ring out through tables on the floor.
Drags him back in the ring. TWO COUNT.
KILLSHOT DRIVER.
TWO COUNT.
(they are going to actually kill each other, I fear)
Killshot pulls a fifteen foot ladder out from under the ring, puts it inside.
Sets it up.
Moth comes in with a big boot to Killshot.
Sets up a table at the foot of that huge ladder.
Sets up Killshot on a different table across the ring.
Marty climbs that ladder.
KIllshot climbs the other side.
oh no.
Both at the top.
Mariposa (a luchadora in a Hannibal Lecter mask and Marty's sister) runs in and climbs the Killshot side of the ladder, tries to grab him and pull him off.
KIllshot kicks her off. She falls back through the table.
Killshot crushes Marty's cojones in his fist, yanks his dog tags off Marty's neck, and Coup De Graces him, through the table.
I need you to understand this:
MARTY IS STANDING ON THE LADDER HALFWAY UP.
KILLSHOT IS STANDING ON THE TOP.
KILLSHOT JUMPS OFF AND PUSHES MARTY WITH HIS FEET ALL THE WAY TO THE FLOOR.
THROUGH A TABLE.
1.
2.
3.
WINNER: Killshot
____________________________________
Backstage, Mil Muertes is pissed. He wants Puma.
Catrina says "You will have him."
"And then I will get what I want. What I have been trying to find for hundreds of years."
AND SHE HOLDS UP THE OTHER HALF OF THE IMMORTALITY AMULET.
wow.
______________________________________________