Welcome to Fightful.com's live coverage and discussion for
Lucha Underground!!!
Join us for live coverage, and comment on our boards below, or our forums by registering for FREE at fightful.com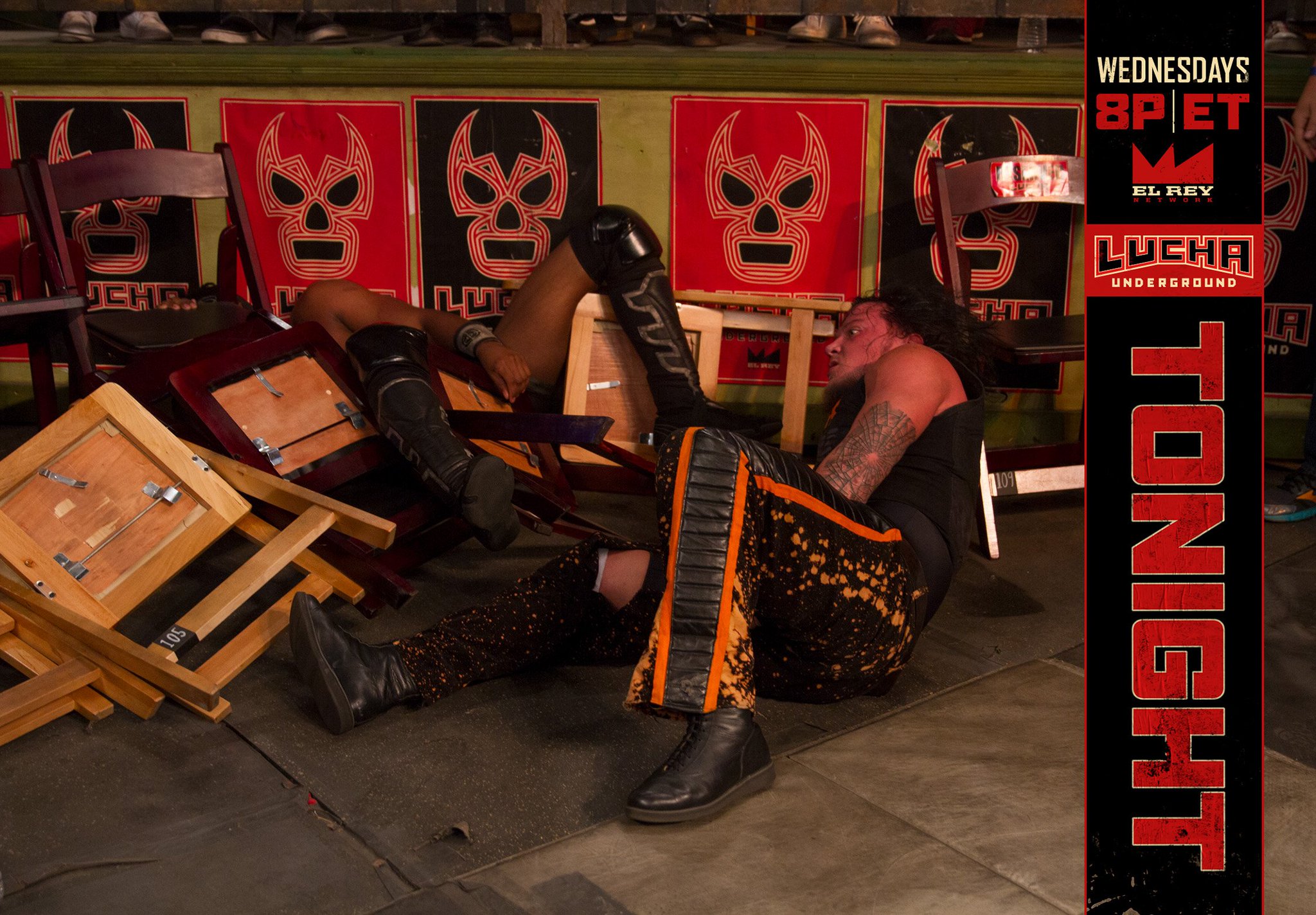 Tonight we have more matches to see who progresses toward the Cueto Cup finals! Tonight we will have matches featuring Joey Ryan, Taya, Jeremiah Crane, Kobra Moon and more! Let's see who will move on tonight at 8 EST on El Rey Network!
Here we go!
Catrina tells Mil that his journey to getting the championship starts tonight, she tells him to destroy them all. He tells her that he will destroy them for her. She kisses him and tells him to bring her the Cueto Cup. Jeremiah Crane saw the encounter and looks to be jealous.
Veneno vs. Mil Muertes (accompanied by Catrina)
The crowd chants for Mil, Mil runs at him with a spear and is just hitting him over and over with punches and stomps. Powerbomb by Mil, Veneno hasn't been able to even get up. Clothesline to Veneno after he tried to get up and Mil brings him up, chokeslam, brings him again, Flatliner, cover and win. Veneno had no chance.
Winner: Mil Muertes via pinfall after Flatliner
Paul London vs. Vibora (accompanied by Kobra Moon)
London goes in hard taking Vibora down before he enters the ring with a suicide dive. Vibora is not impressed. London reaches for the carrot on his hat, grabs it and holds Kobra Moon hostage with the carrot to her neck, London pushes Moon into Vibora, tries to jump off the apron onto Vibora with the carrot and gets taken down. Vibora throws London back in, huge clothesline by Vibora, splash in the corner, throws London across the room. Vibora goes for Big Boot but London moves out of the way and kicks him while Vibora is hung up on the rope, London moves to top rope, gets caught by Vibora and he throws London off the top robe. The Rabbit Tribe run in and then out of the ring, maybe to distract Vibora, they disappear under the ring. Paul gets Vibora out of the ring, using his legs, London jumped backwards off the apron and kind of takes out Vibora, not doing a ton of damage. Paul runs in the ring, Vibora tries to follow. The other members of the Rabbit Tribe who were hiding under the ring, hold Vibora outside the ring and Vibora gets counted out! Paul London moves on!
Winner: Paul London via countout
Taya vs. Joey Ryan
Ryan offers his lollipop but she declines with a kick to the torso and repeated kicks. She goes for a clothesline and then double knees. Ryan goes outside the ring, she comes after him, hits his back, grabs him by the chest hair, throws him in but then Ryan kicks her off and she falls to the floor. Ryan goes out of the ring to get her, he kicks her in the face, hits in her in the back, throws her into the apron, then back into the ring, breaks the count by the ref, Ryan moves to the turnbuckle, Taya back up delivering chops and slaps and body slam, double stomp, cover and kick out by Ryan. She runs at him in the turnbuckle, misses and gets caught, Ryan puts her on his shoulders, she falls down,elbows, Northern lights with bridge,double stomp again, cover and win! Taya takes it today and moves on to the next round of the Cueto Cup.
Winner: Taya via pinfall with double stomp
Mil Muertes is in the bathroomand on his way out takes a chair shot by Jeremiah Crane, Crane continues to beat him with a chair, then says "She's mine." Places a chair on top of Mil and hits that chair with another chair. The camera does not show exactly where the chair was positioned on Mil, but it does not sound good.
Video package on Rey Mysterio and Johnny Mundo.
Jeremiah Crane vs. Killshot
Crane runs at Killshot but gets caught with a kick sending him out the ring, suicide dive by Killshot, Crane makes it back in the ring, then dives out at Killshot then comes back with a moonsault, then Crane back in the ring then right back out with another suicide dive. Crane with a huge elbow, Killshot throws him into the wall, Killshot runs at Crane and then jumps up and jumps off of the ledge at Crane. Killshot back in the ring, breaks the count, and comes back out at Crane, Crane with a punch to the face, Killshot returns the favor, Killshot gets reversed into the gate outside of the ring, Crane instructs the crowd to leave their seats, Crane with another elbow, Killshot sits on the chair, Crane with a huge chop (spit on his hand included), Killshot stuck to the chair, Crane runs around the ring to build momentum and huge cannonball into Killshot! Crane back up, Killshot is buried in chairs, Crane throws Killshot back in the ring. He moves to the ropes and Killshot slaps him twice keeping Crane on the turnbuckle, Killshot to the second rope, Crane with a head butt, they got off the ropes and Crane gets kicked twice, cover and Crane kicks out. Crane slow to get up, Killshot stalks him, Crane gets out of the way and hits Killshot with a knee, then a running knee by Crane. Crane kicks up his feet like a bull, Crane caught in a cutter, cover and Crane kicks out. Killshot gets Crane from behind, hits him, Crane reverses a move and then delivers a kick to the back of Killshot's head, Corkscrew Brainbuster by Crane. Both slow to get up, Crane delivers another running elbow, Killshot returns the favor, Killshot gets caught in a kick, then Crane, both go back and forth with hits and take each other down. Both are down on the mat. Crane with a headbutt, Crane spits in Killshot's face, Killshot does not look happy and slaps him over and over again, then Crane comes back with a knee, then a boot, Killshot with a superkick, then a DDT, Killshot with a submission, Crane breaks it with the rope. Killshot moves to the turnbuckle, but Crane slaps him off, both are on their feet on th apron, Killshot gets Crane on his shoulder and throws him down on the apron, Killshot to top rope, KillSTOMP, Crane kicks out after the cover!, Killshot gets him back up. Dante Fox is at the top of the arena, says "It's not over between us" distracting Killshot, allowing Crane to get Cranial Contusion off, cover and win by Crane.  Jeremiah Crane advances. The lights go out and Catrina appears at the top of the steps. She stares at Crane, Crane blows her a kiss.
Winner: Jeremiah Crane
Dario says that the Cueto Cup is turning out to be the greatest event of all time. Dario says Son of Havoc will be facing Son of Madness, billed from "The Open Road". Is he related to Son of Havoc, who is Son of Madness? We will find out more next week on Lucha Underground!!!