Welcome to the weekly M.E.S.S. Round-Up.
I watch Main Event & Superstars so you don't have to.
These are the C Shows of the WWE,
but that doesn't mean I can't try to polish these turds into some A+ level jokes.
It doesn't always work out.
Previously on The MESS Round-Up: Baron Corbin and Rhyno put on the best C-Show match of the New Era, which isn't saying much.
---
THIS WEEK ON SUPERSTARS
Jack Swagger vs Jinder Mahal
Golden Truth vs Bo Dallas & Curtis Axel
The Hundred Years War.
First off, Swagger's entrance looks SPECTACULAR on the new set. Very cool. The "We the People" thing is still super over.
Second, when fake ISIS soldier Jinder Mahal removes his face covering, he makes an angry Bugs Bunny face: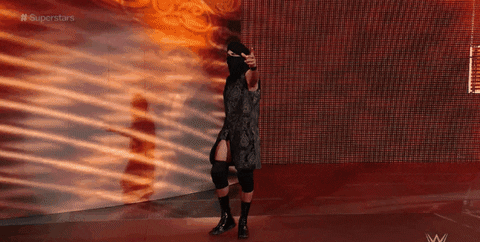 "Eh, what's up, infidel?"
Third, this:
I may have under-sold it. It might be a Best of Seventy.
It could go on forever. I mean, Mahal will never pick up a win, so they'll just keep extending the length of the series. Best of Seven. Then when Swagger wins 4-0, Mahal is like "Best of Nine." Then Swagger wins again, and Mahal says "Best of Eleven."
And so on. And so on. For a Hundred Years.
A new development now, though: Swagger appears to be Dabbing before doing the Swagger Bomb.
Dabbing is officially dead. You killed it, Jack. Congratulations.
Here's how the match ended.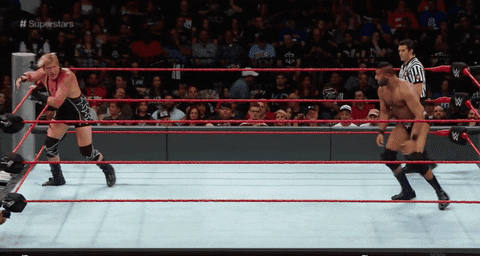 Poor Jinder.
He fell victim to one of the classic blunders.
Never get involved in a land war in Asia.
Never make a bet with a Sicilian when death is on the line.
And only slightly less well known is this:
Never try to big boot Jack Swagger.
WINNER: Jack Swagger by Submission.
---
SOCIAL OUTCASTS ARE BACK, BAYBAY!
Okay. Probably not. The commentary team seems to be treating this reunion as a one-off thing, but we can dream, can't we?
I mean, they're great together. Dallas still has "OUTCAST" stamped on his singlet. They're dropping new Jolly Ranchers commercials:
Just get them back together. Why not?
In this match, with the ever-insufferable Golden Truth, Bo Dallas breaks out a new in-ring Bo Train, then mocks R-Truth's stupid hop-dance: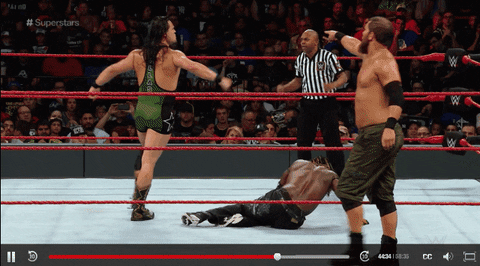 He's a gift to us all. I love Bo Dallas. It's too bad he's probably going to be fired soon.
Then, because they're the good guys, and this is an episode of Superstars, Golden Truth picks up the victory:
WINNER: Golden Truth by Pinfall.
*sigh*
I'm going to miss you, Bo Dallas.
---
THIS WEEK ON MAIN EVENT
Erick Rowan vs Rhyno
The Hype Bros vs The Vaudevillains
Ram-tastic.
Three Things:
A.) Am I just totally non-observant or did Rowan only just recently start wearing this new sheep's mask with the ram's horns on it? This is the first time I remember seeing it, but I'm assuming he's worn it before, and I just completely missed it. I really like it though. Super creepy.
2.) Rowan's non-Wyatt Family entrance music is all jangly banjos and fiddles. If they're permanently breaking him off from the Wyatts, they're not changing the Swamp-billy nature of his character. Not sure how I feel about it, especially since:
D.) Spoiler alert, Erick Rowan wins this match. Really, WWE? You're going to wait until he's been dumped by Bray to start giving this guy wins? You nerfed him entirely when he was with the Wyatts, having him lose in 4 seconds or whatever to the Rock at Mania, always force him to take the pin, which made the whole family look weak by comparison, and now you're going to start giving him singles wins? I just don't know anymore.
He does look great here, manhandling the not-exactly-tiny Rhyno.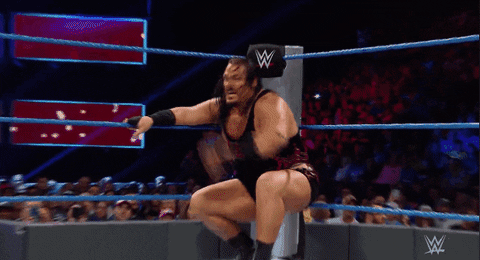 This is gonna be one of those things where Erick is trying to prove himself to Bray, isn't it?
And then when Bray takes him back, he'll start losing again, but nobody will mention it.
Yup.
That's definitely going to be it.
WINNER: Erick Rowan by Pinfall.
---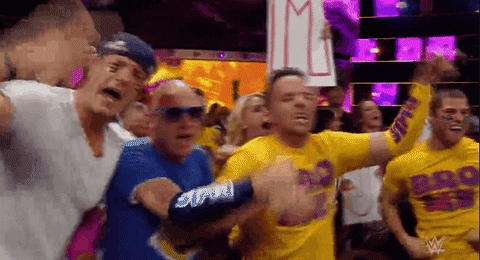 I'm beginning to think "hyped" might be code for something.
So the Hype Bros are facing the Vaudevillains in Mohegan Sun arena, which is New England Patriots territory. In case you didn't know, or don't care, or both, Mojo Rawley is really good friends with New England Patriots star and walking meat sack Rob Gronkowski: Pictured: One of the greatest professional football players of his generation
and a woman whose name he does not remember.
So my theory is that the Pats fans showed up and showed out for Mojo, hoping that he might introduce them to the hypest bro of them all, Gronk. Especially these two:
They can't wait to have their names not be remembered by Rob Gronkowski.
Hell, the one on the right is hoping he forgets her name twice.
If you know what I mean.
The actual match is fine. Here are some highlights: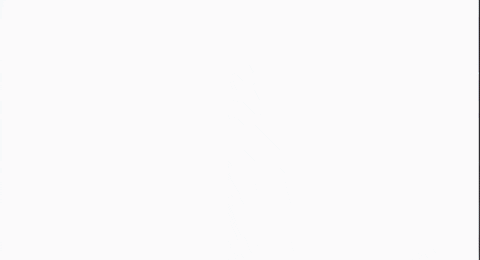 And the crowd goes wild.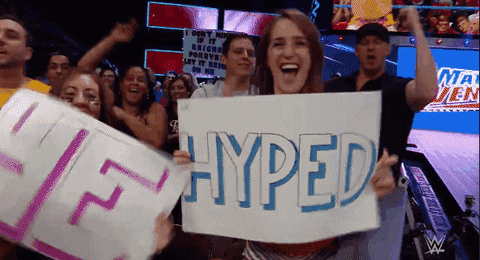 I'm pretty sure these two teams are going to face each other in the first round of the Smackdown Tag Tournament on Tuesday, so we'll have to see if the Hype Bros undefeated streak continues.
Spoiler alert: It probably will.
WINNER: The Hype Bros by Pinfall.
---
Until Next Time, I've been Alex Pawlowski
and this is just too perfect for words: