Welcome to the Live Coverage for
Monday Night Raw on August 29
Join our Live Viewing Party in the comments below.
Let's see what's on tap for tonight, according to the official preview on WWE.com:
Who will claim the WWE Universal Title?
Ugh, Roman Reigns, probably. Moving on.
Just checking, you did ask "who WILL claim" not "who should claim," right?
Not "who deserves to claim" or "who, if he did claim it, would be the most fun to watch as champ"?
You did ask "who will claim"?
Oh, then yeah. Roman.
ugh.
By the way, if Roman does win, then Sean Ross Sapp
is going to have to find a new person to cover Raw,
because I'm never watching again.
What team will Gallows & Anderson target next?
Please let it be Golden Truth. Please Magic Kill those guys through a table that is on fire and then put their testicles in a jar.
Is Bayley poised to wrap her arms around the WWE Women's Championship?
Oh, I get it. "Wrap her arms around" because she's "a hugger," right?
You're a clever one, aren't you?
Um, not with jobbers, no.
Wait, have you been trying to stop him? Because you suck at it.
You have a whole locker room full of really big dudes.
Maybe ask them to take a crack at it, instead of this guy: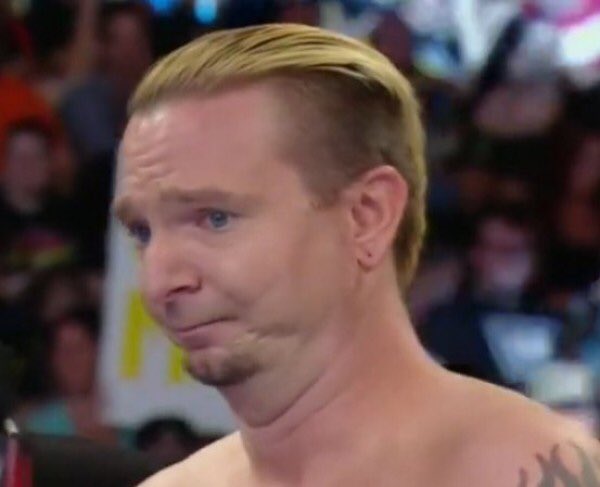 Here we go.
INTERVIEW SEGMENT
We start we all four of the competitors for the Cherry Championship sitting in the ring, and Corey Graves playing moderator.
KO is RUNNING this segment, getting "Fight Owens Fight" chants and just being generally awesome.
Big Cass is solid, too, and Seth Rollins is pretty great as well.
Meanwhile, Roman has been silent through this whole thing, which how I prefer it, honestly, but it makes me think that he's definitely winning.
When if finally comes time for him to talk, he sucker punches Owens, then sh*tcans Cass and Superman Punches Rollins.
Dammit.
---
JERICHO VS NEVILLE
Jericho gives a promo before the match, where he puts over Kevin Owens, makes fun of Phil Phillips, and does the Gift of Jericho thing.
So basically all of the things I love.
Neville comes out on fire, overwhelming Jericho who takes a powder on the outside to tell the fans to shut up.
Neville goes to retrieve him, throwing him back in the ring and hitting a flying crossbody to the inside.
Jericho runs across the ring on his knees to hide behind the legs of the ref. This is great.
Neville comes over to grab him, takes a thumb to the eyes.
Jericho in control as we head to the break.
Back from commercial, Neville was going for a suplex off the top rope, but Jericho throws him to the canvas.
Back and forth, Neville hits a standing shooting star press, but only gets a two count.
Neville nails an AMAZING Asai Moonsault off the apron, then a sprinboard dropkick to the inside.
Still just a two count.
FUN FACT: This was supposed to be a program for these two back in the spring before Neville broke his ankle ... in a match with Jericho.
Neville goes for his awesome German suplex, but Jericho rolls through and tries the Walls of Jericho, but Neville reverses it into a small package.
Two count.
Jericho goes for the Codebreaker, but it's foiled by Neville. SUPERKICK.
Neville goes up top, but Jericho moves out of the way of the 450, Neville lands on his feet because of course he does.
Neville goes for the Hurricanrana, but Jericho counters it into the Walls of Jericho, nope make that THE LIONTAMER.
Jericho goes old school and gets Neville to tap.
---
BAYLEY BACKSTAGE SEGMENT WITH THE NEW DAY.
This is a smile inducing as it sounds, even when it's interrupted by Dana Brooke.
This appears to have been the set-up for a match later.
---
NIA JAX vs A GIRL IN A SEXY SANTA COSTUME
This is what she looks like:

The match is over before I can google image search "Sexy santa costume"
WINNER: Nia Jax by Total Destruction.
---
GALLOWS & ANDERSON GREEN SCREEN COMEDY SEGMENT
They say they used to be doctors but now they're in the retirement business.
That doesn't sound like much, but this is comedy GOLD.
Dana Brooke shows up out of nowhere wearing latex gloves.
She is going to team with them in a mixed tag against New Day and Bayley.
---
SAMI ZAYN vs JINDER MAHAL
WINNER: SAMI ZAYN by Pinfall.
What? You want me to wait for the match to end before I type that?
Okay, fine.
Zayn is still selling that phanton ankle injury from last week.
Jinder Mahal is still Jinder Mahal.
Clothesline, Exploder Suplex, Helluva Kick.
That was quick.
WINNER: SAMI ZAYN by Pinfall.
See, I told you.
And if you had just let me keep it the first time, I would have saved us both three minutes.
---
BAYLEY and THE NEW DAY vs DANA and GALLOWS & ANDERSON
Charlotte is on commentary.
Bayley and The New Day together are basically Distilled Joy.
Dana starts out against Bayley, then when the going gets rough she tags in Anderson.
He takes a couple Big E suplexes, then winds up in the corner, getting worked over by everybody in a Unicorn Stampede.
Even Bayley gets in on the act, which is ILLEGAL.
Dana gets in and forgets which one of her and Bayley is supposed to dropkick the other, so she ends up selling being dropkicked by dropkicking.
I usually try to defend Dana but, damn, son.
We go to the break with Bayley, Big E and Kofi twerking.
Back from the break and evidently Anderson has been tagged back in.
He delivers a spinebuster to Kofi, then tags in Gallows. Kofi in the tree of woe, Gallows dropkick to Kofi's sternum.
Kofi is just being headlocked to death in there.
Anderson goes for a jumping knee drop to Kofi, but misses, so instead of landing his knee on Kofi's forehead, he lands his knee on the canvas.
This apparently causes him great pain, and he is unable to stop Kofi from tagging Bayley.
Which means Dana has to get in, so she gets a suplex and a back elbow from the second rope.
Anderson pulls Dana out of the ring to break up the pin.
Anderson gets clotheslined, then Gallows takes a Marshawn Lynch tope from Kingston.
Dana tries a rollup on Bayley, but she kicks out and hits the Bayley to Belly for the 1-2-3.
WINNER: Bayley and The New Day by Pinfall.
---
CESARO vs SHEAMUS
Match # 2 in the Best of Seven Series - Sheamus up 1-0
Cesaro had an interview in the locker room.
Sheamus has his interview in the ring before the match.
I don't remember a damn thing either one had to say, and I was looking at the TV when they said it.
Oh well.
Sheamus bangs his funny bone against the apron and complains like he needs to have his arm amputated.
Naturally Cesaro targets it until the commercial break.
Gee, I wonder if that's going to be a thing later.
Sheamus is in control after commercial, putting Cesaro in the Cloverleaf, but Cesaro gets out of it, ducks a Brogue Kick, and hits his springboard corkscrew uppercut.
Cesaro goes for the Big Swing, but Sheamus grabs the bottom rope.
Sheamus puts his feet on the rope during a pinfall attempt but the ref sees it.
A lot of uppercuts happen in there somewhere.
Cesaro puts Sheamus on the top turnbuckle, then dropkicks him off to the floor.
Cesaro rushes Sheamus on the outside, but gets back body dropped into the ringpost.
His butt hits the ringpost, but he sells it like he got shot in the 5th Lumbar by sniper fire.
Sheamus drags him back in the ring, puts him in the cloverleaf, and Cesaro taps out immediately.
WINNER: Sheamus by Submission.
After the match, they REALLY try to put over the "Cesaro's hurt" angle, but the more they show that slow-motion replay, the more obvious it is that the worst injury he could have sustained was a bruised buttock.
---
BRAUN STROWMAN vs A TINY MAN IN AN AMERICAN FLAG COSTUME
His name is Americo, and I legit think he might be dead now.
WINNER: Braun Strowman by liquefying his opponent's major organs.
After the match, Braun rips the luchador mask off the little guy's head.
I mean, attempted murder is one thing, but the mask thing was a bit much.
Too far, Braun. Too far.
---
STEPHANIE MCMAHON AND PAUL HEYMAN ADDRESS THE BROCK LESNAR SITUATION
Stephanie is talking and Paul interrupts and Stephanie emasculates him and the fans chant for Paul and Stephanie shuts. That. Sh*t. DOWN.
Paul apologizes and says he's there to pay Brock Lesnar's fine.
It's $500, in case you missed Smackdown or if you don't have the internet.
He pulls out $500 in dollar bills and starts to count them out.
Stephanie slaps the cash out of his hand.
She threatens to fire him.
He says you're not going to do that, because Vince won't let you, and Brock won't let him let you.
Brock makes Vince too much money for Vince to piss off Brock.
But, Paul says that he knows that one day she's going to be the Chairwoman of the Board and that Brock believes she is the only true heir.
Flattery gets him everywhere.
She accepts his apology and walks up the ramp as Heyman smiles to himself, knowing he got away with one.
---
TITUS O'NEIL vs DARREN YOUNG w/ Bob Backlund
Oh. Good. This again.
Back and forth for a bit until Titus throws Darren out of the ring and he lands on a photographer on the outside, causing him to drop a $2000 camera, which smashes to bits on the floor.
Titus gets out of the ring, yells at the photographer "Pick this up!" Titus does it for him, then tosses it at him and yells "Getcha camera, take a picture!"
This is awesome and almost redeems that Hindenburg of a promo from last week.
Titus rolls Darren back in the ring, beats him up and pumphandle slams him, yelling at Darren "You owe me."
Darren surprises Titus with a Crucifix pin for the 1-2-3.
WINNER: Darren Young by Pinfall.
After the match, Darren sh*tcans Titus and celebrates with Backlund in the ring.
Titus gets back in, attacks them both from behind and Clash of the Titus-es Darren.
---
BACKSTAGE SEGMENT WITH STEPH, MICK FOLEY AND SETH
Seth says he won't let Stephanie down.
He hugs her.
Seth Rollins Face Turn Confirmed!
Wait. Is Stephanie a heel, still?
She's babyface now, right?
Otherwise Mick wouldn't be friends with her ... Right?
WAIT.
Is Mick Foley a heel?
...
My brain hurts.
---
ROMAN vs ROLLINS vs KO vs BIG CASS
WWE UNIVERSAL TITLE MATCH
Roman Reigns out first, to a chorus of boos.
KO next, getting a big pop.
Seth Rollins also gets a nice response.
Big Cass comes out last, with Enzo. Huge pop.
Enzo does his shtick, even though he's going to be banned from ringside.
Cass has a little promo, saying he's going to shock the world.
He's the only guy in the match who gets a chance to talk. That's a sign ... yes?
Jojo also introduces him last.
That's gotta be a sign, right?
Forgive me, I'm going to watch a lot of this, instead of looking at my laptop screen.
Cass pairs off with Rollins, Owens with Roman.
A lot of punching.
Cass hits a vertical suplex on Rollins. 1 count.
Roman takes the advantage on Owens, stomping him in the corner.
Rollins gets thrown in the corner, Cass follows and gets booted for his troubles.
Rollins gets on top of the turnbuckle, Cass punches him off and to the floor.
Just Roman and Cass now.
Punches back and forth until Roman hits a jumping clothesline.
Big Cass Big Boots Roman to the outside, falls over with him.
Rollins hits a suicide dive to Cass, knocking him down.
Owens picks up Rollins and drops him on the barricade.
Roman does his runny-jumpy thing to the outside, lands on Owens and Cass.
COMMERCIAL.
Back from the break and this segment is about making Cass look strong. He takes a lot of damage and fights back to hit all of his signature moves. It takes a Superman Punch from Roman, a Sidekick to the temple from Rollins and a BullFrog splash from Owens to take him out.
FIRST ELIMINATION: Big Cass by Kevin Owens.
Back from the break and this segment is about telling the story of Roman vs Rollins.
They go back and forth, kicking out of big moves, Rollins going for the Pedigree over and over again, but never being able to hit ht
Owens slides into the ring at an opportune time, Superkicking Rollins and hitting Corner Cannonballs to both men.
Superman Punches from Roman to Owens and he's out of it.
Reigns hits a Spear on Rollins on the outside.
TRIPLE H IS AT RINGSIDE.
HE PEDIGREES ROMAN ON THE OUTSIDE.
HE ROLLS HIM BACK IN THE RING.
HE WAKES UP ROLLINS, ROLLS HIM BACK IN THE RING.
ROLLINS PINS ROMAN.
TRIPLE H PICKS UP OWENS.
TRIPLE H TURNS AROUND AND PEDIGREES SETH ROLLINS.
KEVIN OWENS CAN BARELY BELIEVE HE'S NOT DREAMING.
OWENS PINS SETH ROLLINS.
HE SHAKES HHH's HAND.
KEVIN OWENS IS WWE UNIVERSAL CHAMPION.
What a fucking time to be alive.