Welcome to the weekly SmackDown React-Down.
On last week's episode, SmackDown continued it's streak of blowing away Raw with clever booking, good matches, and interesting, passionate promos.
They even have the best camera angles:
On this week's episode, we get to see how a Wrestling Promotion should be run.
Compare and contrast that with Monday Night's Raw (reviewed here), which had to scramble at the last minute to throw together a Plan B, and the best they could come up with was A SERIES OF MATCHES. But let's be honest, even if Finn Balor came out of that match at Summerslam with a completely intact and in-no-way torn labrum, do you have any confidence the show would have really been any better? I don't.
Let's get this started.
---
The New Face of Running The Place.
There aren't words to describe how much I loved this.
Baron Corbin in casual conversation with sheep mask wearing Erick Rowan, because that's a normal thing that happens all the time.
Rhyno talking with Apollo Crews, probably asking him if he can teach him how to do a moonsault.
AJ Styles strutting in like the king of the locker room, carrying around Cena's sweatband like a souvenir, wearing it as a head band looking like Richie from Royal Tenenbaums:
And Ziggler, looking as depressed as the before part of a Cymbalta commercial.
Then Styles calls Ziggler a loser, they have a pull-apart brawl, and we're out.
Minute and a half. No muss, no fuss.
Compelling wrestling television.
One thing though: Would have loved to have seen that kind of fire from Dolph in the Championship match at Summerslam, but I do like that they're working that chip on his shoulder into every bit he does on the show.
Smackdown, you continue to impress me.
---
Blue Raspberry is better than Cherry.
I don't know why but I think the Blue Raspberry Twizzler Tag Titles look great.
Same with the new Women's Title.
Another point for Smackdown.
Six Pack Challenge (which is just a fancy name for a Six Way Match, right?) for the new Women's Title Match at Backlash? Fine by me.
Tag Team Tournament, culminating with the Finals at Backlash. Super cool.
You know what they never said? A Series of Matches. They're not going to have A Series of Matches. I mean, they are, because that's by definition what "several matches back to back" are, but they don't call it that, because that would be stupid.
Heath Slater comes to the ring through the crowd and somehow he's got a microphone. Do they just leave those things lying around the arena?
MY GOD.
Is that how Titus got his hands on one Monday night?
They should keep those things locked up somewhere.
Like with cleaning products under the sink, put a picture of Yuck Man on there:
Then the children will know not to play with them, and that way they can't hurt themselves.
(In this analogy, Titus is the child.)
Anyway, Heath come to the ring, is brilliant, wants to challenge for the Twizzler Tag Titles, says he can get a partner anytime he wants, and Shane and D-Bry say that they'll find another team to make it an 8 Team Tournament and he and his partner will face them next week. But he has to win the whole tournament to get a contract.
Now, One of Two Things can happen here:
1. Heath and his partner (we'll find out who that's going to be later) win the whole deal. AWESOME.
2. The Tag Team that Shane and D-Bry "find" for next week is Erick Rowan and the returning Luke Harper. And Heath's team gets DESTROYED. (In this scenario, the Harper & Rowan team probably go all the way to the Finals and win.)
There's another scenario, in which Harper & Rowan face Heath next week and Heath actually wins, which would be so great that I'm not sure even Smackdown would do it.
Oh, also, at the end of this segment, AJ comes down to complain that Ziggler attacked him earlier, which leaves him wide open for Ziggler to attack now. They get pulled apart by the entire Tag Roster, and now I want to see them fight even more.
It took up all of 15 seconds.
No muss, no fuss.
THIS.
THIS IS HOW YOU RUN A WRESTLING PROMOTION, RAW.
---
And now for a Feminine Interlude:
Skipping around a little bit, to group the women's storylines together:
A good, solid Non-Title Women's Match.
Everything happening on Raw's Women's division appears to be either tied to the Women's Title or Nia Jax pancaking a Rainbow Brite Character. Paige was injured, is now suspended, Summer Rae hasn't been seen on TV since the Draft, and Alicia Fox has been seen once. Sasha is now out for a month. With Bayley just called up, the entire Raw division consists of The Hugger, Charlotte, Dana, and Nia Jax, who hasn't had an interaction with any of the other women since she's been there. All the matches have at least tangential title implications or are Nia killing some poor girl in 60 seconds.
On Smackdown, we can have just a good, solid Non-Title Women's Match. Becky is very good here, and Alexa is improving. The two women on commentary should never be allowed to touch a microphone, but I enjoy their contrasting styles: Nattie is powerful and a submission specialist, Naomi is just pure athleticism. I can't wait to see this Women's division in their Six Way Title match at Backlash.
Especially since there was a huge, unforeseen development later in the night.
Mella-Busted.
This was completely out of the blue, in a good way. A good old-fashioned By God double turn.
We've been trained that this kind of thing can never happen, but if you think about it, it's kind of perfect.
Carmella gets brought up from NXT where she was hugely over, and they separate her from her former running buddies, Enzo & Cass.
Her gimmick does not work without them.
What's worse, nobody in the Smackdown crowd seems to know who she is. Nobody seems to care.
She's in the 6 Woman Tag match at Summerslam, gets decked in the face by a Nikki-haru Bella-Sawa forearm and has to take the pin.
Everyone loves Nikki. Nobody cares about Carmella.
Of course she turned heel on her. I mean, OF COURSE SHE DID.
And she finished it off by using Nikki's own sister's move.
That's just cruel.
I LOVE IT.
I am immediately 1000% more interested in Carmella as a character now.
Plus, they had Carmella attack Nikki on Talking Smack to further the angle.
Make that 100000000% more interested.
THIS IS HOW YOU RUN A WRESTLING PROMOTION, RAW.
And hey, as an added bonus, we all kind of wanted to cheer for Nikki Bella now that she's come back from a devastating injury, so immediately turning her babyface allows that to happen.
Gee, I wonder who came back recently from a devastating injury that we all wanted to cheer for but they wouldn't let us because they insisted on keeping him heel?
You're right, Seth. I don't know who it was either.
I'm just glad one of the brands has learned from the errors of the past.
---
Twizzler Tag Team Title Tournament Time:
Uso predictable.
This is an actual exchange I had with a friend last night:
FRIEND: gee I wonder if the Usos will beat the Ascension

ME: actually, they made the Ascension seem formidable for the first time in years,
but yeah, forgone conclusion

FRIEND: You thought the Usos made them look formidable?
One Uso didn't even take his hoodie off

ME: Yeah, well, the hoodie notwithstanding
I was actually referring to stuff like this:
But yeah, I can't argue with his hoodie point.
Gonna take the L on this one.
Just like The Ascension.
*sigh*
Wake me when the Usos turn heel.
American Alpha's Actual Arrival.
For people who didn't follow Alpha on NXT, first of all, shame on you, second of all, THIS is the kind of match they're going to give you on a regular basis.
So far, they've squashed the Vaudevillains, a jobber team, and participated in two 12 man tag matches.
They haven't really gotten to show what they can do.
This is what they can do. And it's FANTASTIC SENSATIONAL.
Also, I love that Breezango gets to wrestle a real match for a change, love that they look like they could have won this match with any number of near falls, love that Breeze keeps using that awesome head-trap superkick:
And if what I think is going to happen happens, and A.Alpha find themselves in the Tournament Finals against Luke Harper & Erick Rowan, you are going to see some serious SH*T.
That is, unless Heath and his partner make a run...
Heath Slater, you the real MVP.
Heath, the best part of professional wrestling right now. is backstage all night looking for a partner.
I assume he already asked Baron Corbin, who said "What Part of Lone Wolf Do You Not Understand?"
Then he called Kalisto, but Kalisto got put in traction by Corbin last week.
Then he tried Apollo Crews, but Crews just smiled.
Then he called Rusev but Rusev had this response:

So eventually he pitches his idea to his Arn Anderson, who is the actual Arn Anderson.
That doesn't work out, so Rhyno volunteers, saying: "You know, I bet a Tag Team Champion can make payments on an above-ground pool."
THIS IS AMAZING.
First: Team Slyno 4Life.
Second: CHARACTER PROGRESSION AND CONTINUITY FROM LIKE THREE WEEKS AGO?
ARE WE SURE THIS IS THE WWE?
Smackdown, you are fantastic astounding.
---
The Diamond Bray of Disappearance.
First of all, Randy gets a +1 just for showing up.
After he had his skull caved in by an angry Brock, most people would have taken the week off of work, but not Randy.
He's got a new feud to tease.
Bray comes out, says stuff and then just f*cking DISAPPEARS.
OR HOLY SH*T MAYBE HE TURNED INVISIBLE.
I don't know which of those options I like more.
Totally on board for Dark Sorcerer Bray Wyatt.
And since it's Smackdown, they might have the guts to do a double turn or hell, just let Bray win this one.
I do have a sense though, that like that other Dark Sorcerer, Bray would probably say something like this: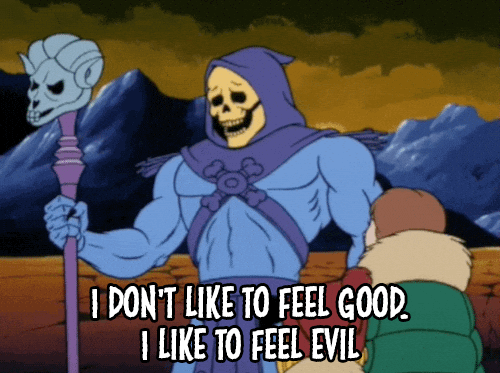 ---
A 500 Dollar slap on the wrist.
So there's not a YouTube video for this but Shane is interviewed backstage and says that Stephanie fined Brock Lesnar just 500 bucks for F-5'ing him at Summerslam.
He says that it's not over between him and Brock.
OH GOD NO. SHANE THINK OF YOUR CHILDREN.
Yeah, what they said.
---
Yippee-Ki-Yay, Mister Falcon.
I am only on board with wacky, giant-foam-cowboy-hat-wearing Dean Ambrose if it winds up costing him the title match with AJ Styles at Backlash.
I mean, in a vacuum, this is really funny stuff. Wearing the shirt he bought at the casino gift shop, fresh from the roulette tables, completely unaware of the night's events in the ring, and let's not forget the giant foam cowboy hat.
But it can't continue without repercussions for the World Champion.
Right?
(I have faith in you, Smackdown.)
---
And now we come to a match that has two ingredients that are absolutely essential when you're whipping up a batch of delicious, excellent wrestling:
STAKES
and
PASSION
If Dolph wins this match, he gets a title shot at Backlash, making Dean Ambrose vs AJ Styles into a triple threat.
Simple. Cut and dried.
Dolph desperately wants another shot after losing at Summerslam.
AJ doesn't need to see the guy in his title match who did this to him like a month ago:
AJ doesn't need that in his life.
So both guys turn in a f*cking barn burner.
Especially Dolph.
Where was this Dolph on Sunday night?
(Wrestling Dean Ambrose and selling for his kindergartener offense, that's where.)
Anyway, AJ takes a shortcut and wins with a picture perfect Styles Clash.
Picture. Perfect.
Then Styles gets in the face of Dean, who has been doing great work on commentary throughout the match, putting over both guys like crazy.
Dean backs Styles off, because Styles is apparently way shorter than I thought he was:
And at the end of the night, AJ Styles looks like a f*cking STAR, Dolph Ziggler looks strong in defeat, and Dean gets to be intimidating tweener champ.
And THAT is how you run a wrestling promotion.
SEE, RAW, WAS THAT SO HARD?
YOUR YOUNGER BROTHER SMACKDOWN IS SO SUCCESSFUL.
WHY CAN'T YOU BE MORE LIKE SMACKDOWN?
JUST WATCH WHAT HE DOES AND DO THAT.
IT'S NOT THAT HARD.
---
And because we couldn't end without talking about this:
HOLY.
FOOKING.
SHIRT.
So that just happened.
Is it a work? Is it a shoot? Is it a worked shoot? Was it Daniel Bryan shooting on Miz followed by Miz shooting on Daniel?
SO MANY QUESTIONS.
I do know this. It's the best promo I've seen in YEARS, and it immediately elevates The Miz to elite status on Smackdown.
Or at least it should. The IC Title is now elevated along with him. Use this, Smackdown. Whatever it was, USE IT.
Also, if you are teasing a Daniel Bryan return to the ring, DO NOT FOOK WITH US.
Don't even pretend that's a possibility unless you know he's been cleared.
I can't wait to see what they do with The Miz now.
THE MIZ.
This is fantastic THE BEST DAMN THING I HAVE SEEN ALL YEAR.
---
Until next time, I've been Alex Pawlowski
and this was me
watching Miz's promo.