Welcome to the 
UNCOOKED RAW REACTION
My Live Blog Coverage
with a Few Snap Judgements thrown in for good measure.
We're starting off with the Tag Championship Triple Threat.
The New Day promo about how if they win, they'll join the ranks of the immortals.
They're doing it for the fans, for everyone who supported them.
It's ironic, they say, that they're defending the belts in a triple threat, since they, themselves, are a Triple Threat.
They have a whole party set up in the back, with unicorn decorations and giant Booty O's and everything.
UNCOOKED REACTION: 
MY GOD.
THEY'RE LOSING THE TITLES, AREN'T THEY?
NEW DAY vs SHEAMUS & CESARO vs GALLOWS & ANDERSON
Tag Team Title Triple Threat
(Quintuple T)
Note: It's going to be Kofi & Big E in the match for the champs.
Woods is on the outside.
Cesaro and Kofi start off, Cesaro hits a stalling vertical suplex, then tags in Sheamus, who hits a leaping axe handle from the top rope.
Big E tags in, gets in some offense, then tags Kofi back in, who knocks Sheamus into the ropes, where Anderson tags himself in.
He takes it to Kofi, then tags in Gallows, who hits a big boot for a two count.
COMMERCIAL
A lot of offense on Kofi from The Club. Big E breaks up a pinfall attempt and gets a back-suplex/neckbreaker combo for his troubles.
Kofi hits a desperation second rope springboard dropkick on Gallowes, and Sheamus tags himself in.
He gets a lot of offense in on Gallows, including the Ten Beats of the Blah-Blah. But A & G hits him with the Boot of Doom.
There's so much action it's impossible to record for posterity.
Cesaro SINGLEHANDEDLY TAKES OUT EVERYONE, then gets a two-count on Anderson with a flying cross-body.
Kofi gets a blind tag on Anderson, then Cesaro tags in Sheamus who Brogue Kicks Anderson.
But Kofi hits the Trouble in Paradise on Sheamus, and Big E grabs Cesaro's ankle so he can't break up the pinfall.
1!
2!
3!
WINNERS: The New Day
UNCOOKED REACTION:
Fantastic Match.
That sequence of Cesaro being amazing makes me more frustrated than anything else.
Why would you not push to the moon the guy who can do that?
Congrats to the New Day, though. Those guys deserve it.
(Clap Clap, Clap-Clap-Clap)
____________________________
Backstage At The New Day's Victory Party
Steph raises her glass in a toast, and then "accidentally" gets sprayed with champagne.
She's piiiiiiiiiiiiiiiiiiiiiiiiissed.
UNCOOKED REACTION:
Heck hath no fury like a woman scorned, or a Steph McMahon that's been drenched in champagne.
Methinks the New Day are going to have to wrestle again tonight.
_____________________________
Backstage, a dripping wet Steph McMahon is approached by Kevin Owens.
He's got an idea for how to punish the New Day.
She says she'll get dried off, then hear him out later.
UNCOOKED REACTION:
So Kev is obviously trying to get himself and Y2J a Tag Title Match.
Poor guy. He's trying to get back together with Jericho.
Doesn't he realize it's over?
Oh, God.
He's been BrokeBacked.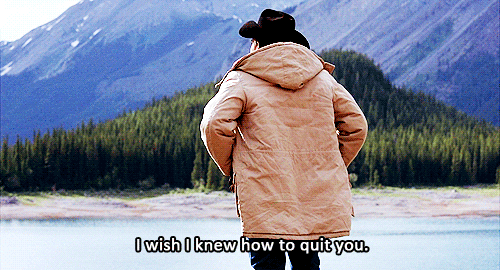 Poor Kevin.
_______________________________
_______________________________
BRAUN STROWMAN vs CURTIS AXEL
Yeah.
This goes about how you think it will.
Strowman DEMOLISHES Axel, even debuting a pretty awesome new finisher.
WINNER: Braun Strowman
Strowman is interviewed in the ring by Saxton, says that Sami Zayn, who wants a match with Braun, couldn't last two minutes in the ring with him.
And nor can anyone else.
Incidentally, Braun is right.
UNCOOKED REACTION:
This about sums it up.
______________________________
Backstage, Sami approaches Mick Foley and demands that Braun Strowman match.
Mick Foley says he won't make that match, because Braun will kill him.
Sami says if my boss and my childhood hero doesn't believe in me, maybe I belong on Smackdown.
Mick says I'll call Daniel Bryan right now and work out a trade.
ZAYN FOR KALISTO?
Hmmmmmmm.....
UNCOOKED REACTION:
This is great long-form storytelling.
That bit they had, going back and forth, with Sami saying "What if there had been someone stopping you from getting off that stretcher and going back up on the top of that Cell?" and Mick replying, "Sometimes I wish there had been."
That was PHENOMENAL.
Still not sure why Sami is so hell-bent on having his spleen ruptured or whatever.
Maybe we'll find out later.
I don't really think they're going to trade Sami to Smackdown, though. At least not right now.
_______________________________
ARIYA DAIVARI VS LINCE DORADO
Dorado is the most flippy of the Cruiserweights so this should be good.
Oh, no wait, as soon as Daivari gets the upper hand, Jack Gallagher's music hits and he comes out WITH A MIC.
THIS IS NOT A DRILL, PEOPLE.
He says, "As a gentleman, I would like to announce my intentions of interfering in this match. You, Mr. Daivari, are a scoundrel!"
He and Daivari brawl for a bit before Gallagher headbutts him and dropkicks him out of the ring.
UNCOOKED RAW REACTION:
JACK GALLGHER FOR PRIME MINISTER OF RAW.
Whoever's idea it was for Jack to "declare his intention to interfere in this match" deserves a damn MEDAL.
Oh God, I hope it was Jack.
This guy is going to be one of the biggest stars on the entire roster by the end of 2017.
What a hero.
______________________________
THE ROLLINS REPORT WITH GUEST KEVIN OWENS
He says he wants Triple H.
Again.
Dude, he's sitting backstage right now, probably.
Anyway, he says, again, that he has to beat Jericho first, then Owens, in order to get to Triple H.
Rollins is wondering though, will it be him vs Owens, or him vs Owens with Jericho at ringside?
Are they best friends still, or not.
(Not, sadly.)
Owens comes out, with his own stool, sets it on the stage, instead of sitting in the ring with Rollins.
Owens says that Steph agreed to Owens' idea to punish the New Day.
New Day has a match tonight against Jeri-KO.
Jericho's music hits. He comes out, looking very skeptical.
Jericho doesn't want to be KO's partner, now or ever uh-GAIN.
Owens says "I know you're mad at me right now, but just think, we could stop New Day from breaking the Tag Team record!"
Rollins gets involved, being a douche-bag babyface, trying to stop the "Bon Jovi and Meatloaf reunion tour."
Y2J is about to put him on the list, but instead he and Owens run down to the ring and beat up Rollins.
Roman's music hits and THE BOOS RAIN DOWN IN PHILLY.
Roman cleans house rather easily because of course he does.
Owens saves Jericho from a Pedigree, dragging Jericho out of the ring.
UNCOOKED RAW REACTION:
THEY'RE BACK TOGETHER AND I AM SO HAPPY!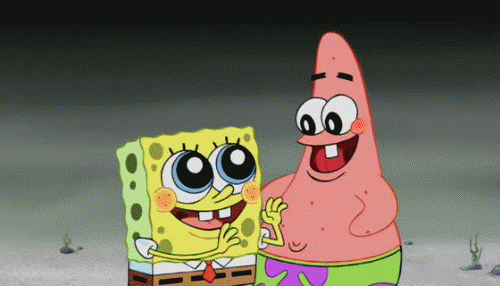 See, Kevin, all you had to do was believe in true love, and he'll come back to you.
When it's meant to be, it's meant to be.
_____________________________
______________________________
Backstage Interview with Rich Swann
He's interrupted by Brian Kendrick who tries to drive a wedge between the old friends Swann and TJP.
TJP comes in and says he might be ruthless enough to do whatever it takes to win back the CW Belt, but Swann finds out on Sunday.
Kendrick will find out right now, says TJP.
UNCOOKED REACTION:
This was the best promo in the history of the new Cruiserweight Division.
We got to see the personality of all three guys in a cogent, coherent story.
Amazing how that works, huh?
TJ PERKINS vs BRIAN KENDRICK
You thought you were done with these, but you were wrong.
Kendrick takes control early, but TJP comes back with a clothesline over the top and a wrecking ball dropkick.
COMMERCIAL.
Back from the break, and without any explanation, Kendrick is firmly in the driver's seat.
But TJP ducks a clothesline, hits a dropkick, puts Brian in the tree of woe, then hits a hesitation dropkick.
Springboard missile dropkick from TJP.
Kendrick nails a bridging capture suplex for a 2 count.
Then hits a kick and Sliced Bread for the 1-2-3.
WINNER: Brian Kendrick
UNCOOKED REACTION:
So apparently we're getting Swann vs Kendrick vs TJP at RoadblockEndOfTheLine.
Should be a fine match.
No one is going to care and I'm reasonably sure the Pittsburgh crowd is going to shit all over it.
Let's move Kendrick and Perkins on to something else, and let Swann work a program with Tony Nese or Mustafa Ali or something.
Heel Jack Gallagher vs Babyface Cedric Alexander is the future of this division. 
Get there by Wrestlemania please.
I love the Cruiserweights and I want them to succeed.
Stop getting in their way.
__________________________________
Backstage, Roman and Rollins walking through the halls.
Mick Foley approaches and makes a Doris Day joke that somehow Seth Rollins gets.
Oh well. Whatever will be, will be, I guess.
Foley tells them they've been added to the main event match.
New Day vs Jeri-KO vs Roman & Rollins
UNCOOKED REACTION:
They couldn't.
They WOULDN'T.
If Roman wins tonight, then wins on Sunday, he will be a triple champ.
One more than Conor McGregor.
VINCE, NO. PLEASE  VINCE NO.
LISTEN TO THE BOOS, VINCE.
THE BOOS.
___________________________________
UNCOOKED REACTION:
Another stellar video package from the team at WWE.
Brilliant.
And with the added stipulation that there will be no rematch clause?
This should absolutely be the Main Event of the evening on Sunday.
So why weren't these women on the go-home show before this match?
I mean, I didn't really miss them, but it's an odd decision, no?
__________________________________
BAYLEY vs ALICIA FOX
Oh my god, this is continuing.
Alicia Fox is still pissed at Bayley for giving Cedric a Bayley Bear.
SO SHE MUTILATED A STUFFED ANIMAL.
Seems legit.
Back and forth, until Foxy counters a waistlock with a wild elbow, then hits an axe kick.
Michael Cole got a head of himself on the call sheet, calling the Northern Lights two moves early.
Bayley to Belly out of nowhere for the win.
WINNER: Bayley.
UNCOOKED REACTION:
Really, this is the best they could think to do with Bayley?
THIS.
Seriously though, where is Emmalina? 
WE WERE PROMISED EMMALINA.
_______________________________
RUSEV AND LANA IN THE RING TO TALK ABOUT THE MAN THEY MURDERED LAST WEEK
Rusev says that Certified G stands for Certified Garbage.
He says that after he took out the trash, he and Lana "did their business."
Which does not mean what he thinks it means.
They say they're going to show what they did after the beat down.
Like, as if it's going to be a sex tape or something.
But then they don't. They show Rusev beating up Enzo again.
They laugh at the audience, call them gullible.
Rusev says that his wife set a trap for a little mouse and Rusev crushed the mouse.
Lana then spells "Crushed," a la S-A-W-F-T.
Big Cass's music hits, he comes out, and delivers a promo while the music continues for some reason.
It's, uh, not great.
At one point he says that last week Rusev caught Enzo with his pants down.
Which is technically true.
But then he does this:
Those "pants" of yours, Big Cass, actually cover less surface area of your body than Enzo's boxer briefs did on him last week.
YOU'RE SUSPECT. ALL A YOUZ.
He runs down to the ring and starts brawling all over ringside with Rusev.
Rusev throws Cass into the barricade, then hightails it.
UNCOOKED REACTION:
I mean, if all they were doing was setting up Rusev vs Cass for the pre-show, did they really need to have the naked Enzo bit, followed by the misogynistic babyface promo RE: turkeys being stuffed, followed by the sneak attack hotel room half-murder?
Couldn't they have gotten here through some other means?
Like, I don't know, Rusev says that the New York Knicks stink at basketball?
And Big Cass is like, "No they don't! Now watch me spell something out loud because that's what cool guys do!"
Boom, there's your pre-show match. No muss, no fuss.
Still, I'm always down for a good Hoss Battle..
_______________________________________
_________________________________________
Backstage, KO is pissed at Foley for including Roman & Seth in their Tag Titles Match tonight.
He says that it's Jeri-KO against the world, just like it's always been, just like it's always going to be. 
Jericho says let's focus on the match tonight, see what happens,
UNCOOKED REACTION:
Owens is going to accidentally cost them this match, isn't he?
And Jericho is going to blame him for everything, isn't he?
Oh no.
I can't take this.
It hasn't even happened yet and already I can feel it.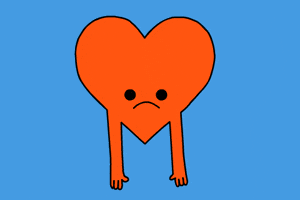 KEEP IT TOGETHER, PAWLOWSKI. YOU CAN DO THIS.
_______________________________________
THEY JUST SHOWED ANOTHER PREMIERING SOON EMMALINA VIGNETTE.
UNCOOKED REACTION:
This is getting to be ri-goddamn-diculous.
They've been running these promo vignettes for ELEVEN WEEKS.
And she's STILL not going to debut?
At this point I hope it's like Glacier in WCW and she doesn't finally show up until like a year and a half from now.
__________________________________________
SAMI ZAYN vs JINDER MAHAL
Sami's showing a lot of fire here, but Jinder hits a flapjack onto the top rope and takes control.
If Sami is having this much trouble with Jinder Mahal, Mick Foley really is doing him a favor.
Sami does his comeback routine.
Clothesline, Exploder into the corner, Helluva Kick.
1-2-3.
WINNER: Sami Zayn
Mick Foley's music hits, he walks to the ring with a folder under his arm.
Very business-like, Mick.
Foley says that he's agreed to trade Sami Zayn to Smackdown for "a talent of equal value."
EVA MARIE.
Swerve coming. Wait for it.
Sami says he's worth a HUNDRED Eva Marie's. He gets right in Mick's face and screams "I WANT BRAUN STROWMAN!"
Mick says there was never a trade. The folder contains one blank piece of copy paper.
Foley reveals it was all a motivational tool to make Sami show a dark side, enough rage to make him believe that Sami can actually withstand Braun Strowman.
Braun vs Sami on Sunday.
Braun said Sami couldn't last two minutes.
Mick challenges Sami to last ten.
So apparently Sami doesn't have to win the match to prove himself. He just has to not be killed in the first ten minutes.
UNCOOKED REACTION:
I AM SO JAZZED FOR THIS MATCH ON SUNDAY.
THIS IS THE REAL MAIN EVENT.
For real, if Sami can stay alive for ten minutes against Strowman, he's a hero for life.
Have him eliminate Strowman from the Rumble, build the feud from there.
On the other hand, Mick, get ready to be ringside. Because I don't think Sami will know when to quit.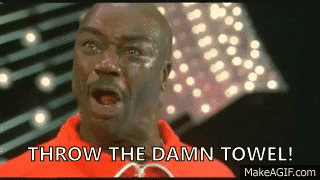 ______________________________________________
NEW DAY vs ROLLINS & REIGNS vs JERI-KO
TAG TEAM TITLE TRIPLE THREAT
(Quintuple T #2)
NOTE: It's Woods and Big E for New Day in this match. Great Free-Birding.
Woods starts against Rollins. When Reigns is tagged in, Woods tags in Big E.
Big E goes for the Spear through the ropes, Roman knees him in the noggin.
Jericho gets the opportunistic blind tag on Roman, and he and Owens take turns working over Big E.
Big E able to make a tag to Woods, who performs admirably.
Woods winds up on the top rope, Jericho distracts him from the apron, Owens takes advantage, Jericho and Owens are setting Woods up for the Double Superplex.
Welp, can't have that, says Rollins, who gets involved, climbing the top rope as well.
Now Big E and Roman get in, DOUBLE TOWER OF DOOM SPOT!
COMMERCIAL.
Back from the break and Owens has Woods in his clutches in the middle of the ring.
Chinlock City.
OWENS HITS A STANDING FRONTFLIP GUILLOTINE LEG DROP.
Jesus he's so great.
But he gets cocky and winds up having to make a tag to Jericho.
Big E gets the hot tag from Woods, hits a couple big bellies to belly on Jericho, but then Rollins tags himself in on E.
Rollins hits a suicide dive on Jericho, then one on Big E as Roman tags himself in.
He blocks a Codebreaker into a sitout powerbomb, superman punches Owens off the apron.
Woods tags himself in on Jericho, then hits an Enzuigiri, followed by a springboard elbow drop.
THE ACTION IS TOO FAST AND TOO FURIOUS.
WHERE IS VIN DIESEL?
HE'S NOT IN THAT ONE.
Lionsault by Jericho, two count.
Woods in the Walls of Jericho, fights out of it, Small Package, TWO COUNT.
POP UP INTO CODEBREAKER!
1!
2!
And Seth Rollins pushes Owens onto the pinfall, breaking it up.
Jericho blames Owens.
Rollins pushes Jericho into Owens, knocking him out of the ring.
Rollins Pedigrees Jericho!
Big E pulls Rollins out of the ring, Woods gets one hand on Jericho to make the cover.
1!
2!
3!
WINNERS: The New Day
Jeri-KO are fighting after the match. Arguing.
I CAN'T WATCH IT HURTS TOO MUCH.
Roman is waiting in the opposite corner.
Jericho gets out of the ring.
Owens turns around right into a Spear.
Roman picks up both belts and holds them up and it's just salt in the wound.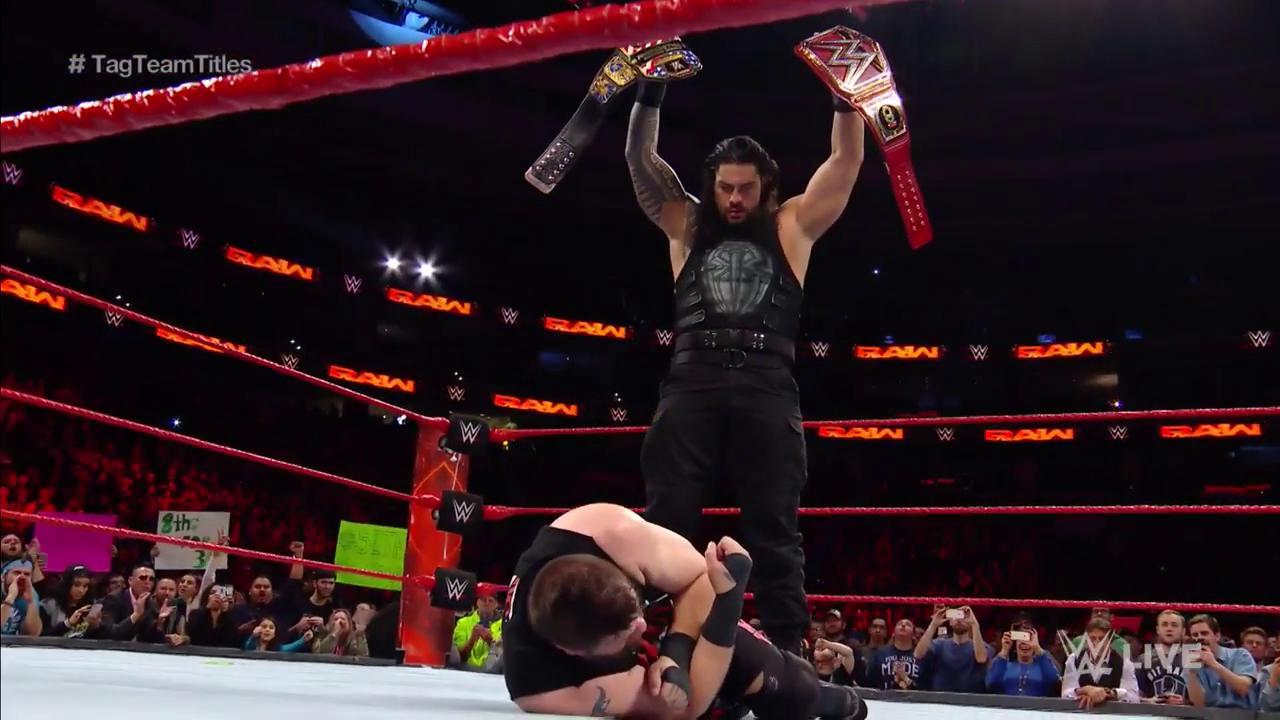 DID I SAY BEST DAY EVER?
I MEANT WORST DAY EVER.
I HURT SO MUCH I THINK I MIGHT THROW UP.
UNCOOKED REACTION: 
This match was absolutely tremendous.
Great work by all involved.
Yes, even Roman.
I might hate him as a character, and I'll probably always root against him, but even I can't deny that as an in-ring worker, he's very, very good.
I particularly enjoyed that the finish of the second Quintuple T match mirrored that of the first.
Big E grabbing an opponent by the ankle and preventing him from stopping his brother from scoring the pinfall.
Love it.
Overall, I'm genuinely happy for The New Day.
Just look at them shoot-reminiscing about how crazy it is that they got here from where this tag team began.
They deserve to the be called the best tag team ever.
Tonight, they proved it.
And I hope on Sunday, the Revival show up to take those Tag Title Belts.
Sun rise, sun set.
Until Next Time, I've Been Alex Pawlowski,
and this is me waiting for Emmalina to finally debut.