Welcome to the Live Coverage for
SURVIVOR SERIES
Sound off in the Comments below
and join our
LIVE VIEWING PARTY
For a full breakdown, with predictions and analysis, check out my Column
The Pre-Show Starts at 5 pm est.
You can Watch It At The Top of The Page.
The Main Card Starts at 7 pm est,
The LIVE VIEWING PARTY starts
RIGHT NOW
Here we go with the first match of the Pre-Show: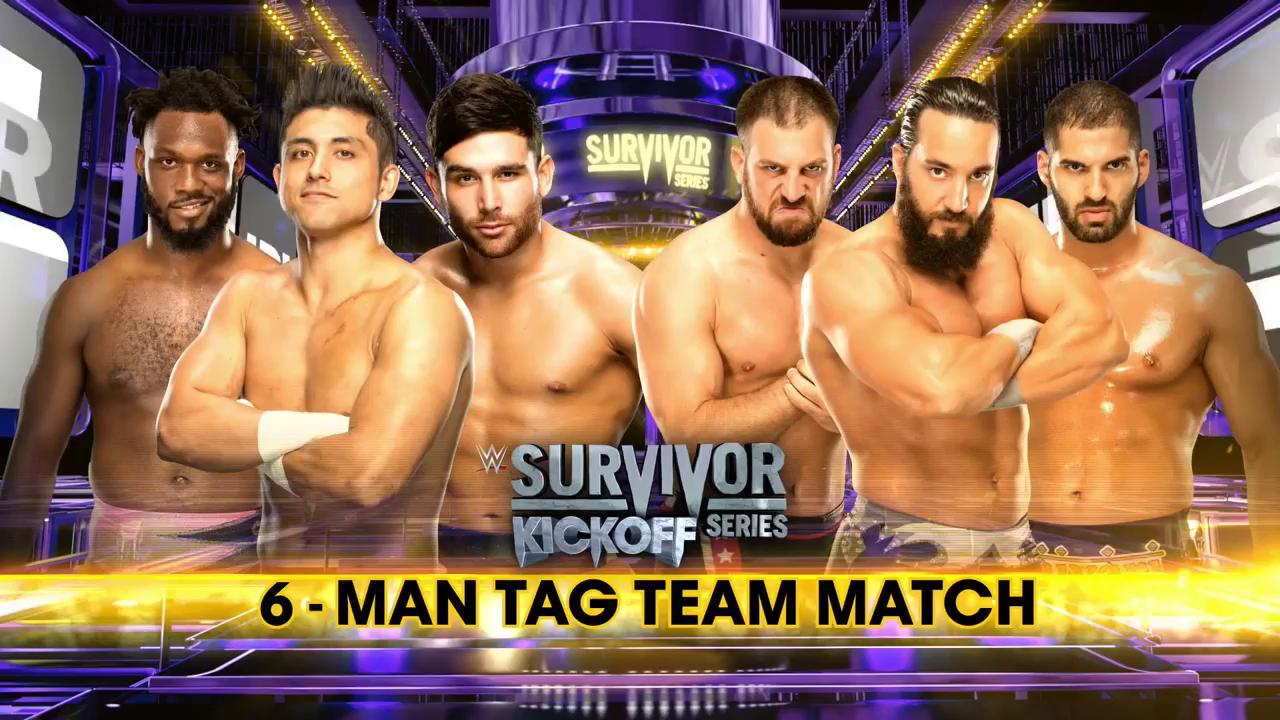 Rich Swann, TJ Perkins & Noam Dar
vs
Drew Gulak Tony Nese & Ariya Daivari
A fun match, with TJ Perkins shining early against Nese, then Gulak, then Daivari.
Dar tagged in to work Daivari, throwing dropkicks and uppercuts, until a distraction by Nese leads to a spinebuster by Daivari.
Dar is the face in peril here, taking vicious crossfaces and a stalling Vertical Suplex from Nese, then a lot of innovative limbwork from Gulak.
Swann gets a hot tag and it is SCALDING.
There's a great spot with duelling Tope con Hilos.
Then Swann hits a standing 450 on Daivari for the 1-2-3.
WINNERS: The Good Guys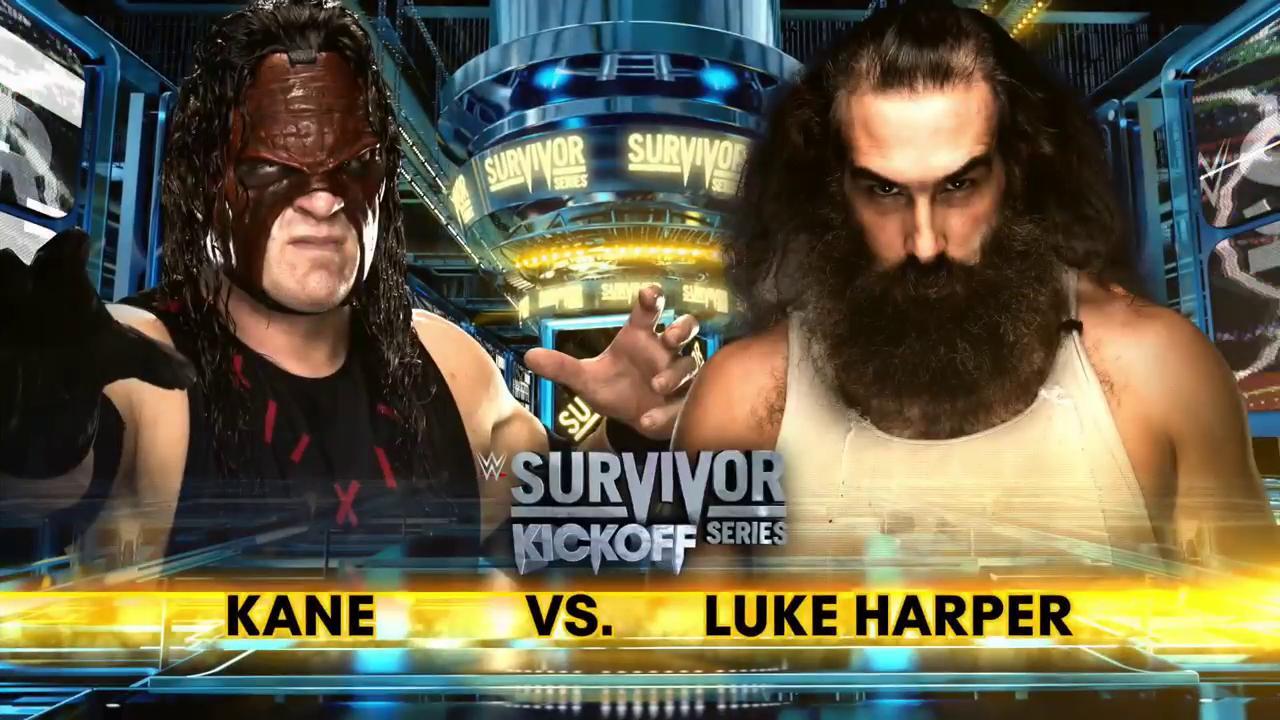 Kane vs Luke Harper
Just two big hosses beating on each other. Nothin wrong with that.
Until Harper hits a suicide dive to the outside, then a Senton Atomico back to the inside. Impressive.
Harper gets a two count after a big boot and is firmly in control now.
Rear chin locks and knees to the head.
Harper goes up top, gets caught. Kane hits a superplex.
Kane gets a two count off a side slam.
Harper gets a two count off a superkick.
back and forth
Harper hits a dropkick. Two count.
Sunset flip by Harper. Two Count.
Big DDT by Kane. Two Count.
Big Bossman Slam by Harper. Two Count.
Harper goes for the Discus Clothesline, gets caught by Kane.
Chokeslam.
1-2-3.
WINNER: Kane.
For some reason.
____________________________
____________________________
5 on 5 Women's Elmination Match
Team Raw vs Team Smackdown
All the women have color coordinated ring gear, except for poor Nia Jax, who literally has a Raw T-shirt pulled over her regular ring attire. It's weird looking and borderline fat-shaming.
Nikki Bella is the last of both teams to be introduced, but she doesn't show up.
They cut to the back and she's been attacked, holding her neck.
Natalya volunteers to wrestle instead, and Daniel Bryan, a kayfabe idiot, suspects nothing and sends Natalya down.
The Match:
Nia Jax dominates the beginning of the match, which also features Charlotte and Sasha arguing about whatever.
FIRST ELIMINATION: Alicia Fox eliminates Carmella after a jumping axe kick.
Alexa immediately throws Foxy into the ringpost.
SECOND ELIMINATION: Alexa Bliss eliminates Alicia Fox after Twisted Bliss.
Naomi and Nia Jax go at it for a while, out of the ring too. Nia slams Naomi into the ringpost the throws her up the ramp.
Naomi is out cold.
THIRD ELIMINATION: Naomi eliminated by Count Out.
Sasha Banks taking on Alexa Bliss and Natalya together for some reason.
While Banks is fighting Alexa, Natalya rolls up Sasha.
FOURTH ELIMINATION: Natalya rolls up Sasha.
Natalya vs Charlotte for a while.
FIFTH ELIMINATION: Charlotte eliminates Natalya after a Big Boot.
Somehow Becky and Alexa are allowed to double team Nia Jax, who at one point suplexes both of them at the same time.
SIXTH ELIMINATION: Becky makes Nia Jax tap out to the Disarm-Her.
I know, I'm as surprised as you are.
Nia drags Becky to the outside, throws her into the barricade.
Alexa doesn't see Charlotte sneaking up on her.
SEVENTH ELIMINATION: Charlotte eliminates Alexa Bliss after a Big Boot.
Becky and Charlotte go at it for a while, then Bayley breaks up a pinfall.
Bayley and Becky wrestle for a bit, Charlotte wants in, Bayley says no.
EIGHTH ELIMINATION: Bayley eliminates Becky Lynch after Bayley to Belly.
WINNERS: Team Raw (Survivors: Bayley, Charlotte)
After the match, Charlotte gives Bayley a beat down.
____________________________
____________________________
Backstage Segment With James Ellsworth
The Chinless One runs into Gallows & Anderson, who are bullies.
They get run off by Mick Foley, who asks James Ellsworth to consider signing with Raw.
Ellsworth, however, is "True Team Blue."
Mick Foley says he appreciates his loyalty, and walks away.
Ellsworth turns around and is face to chest with Braun Strowman.
"DON'T I KNOW YOU?"
Ellsworth craps himself and runs away.
Best segment of the night. Nothing can top it.
_________________
Miz vs Sami Zayn
IC Title Match
A lot of good back and forth action to start.
Miz takes a powder to the outside, hanging out near the apron, and Zayn comes to grab him, but Miz pulls him to the outside.
Zayn hits his moonsault off the barricade, but then Maryse gets in his face long enough for Miz to chop block Zayn's leg from behind.
Miz now is going to work the leg for the rest of the match, softening Zayn up for the Figure 4.
Zayn is doing well to fight back with one bad wheel, but the Miz is too crafty.
He bounces Zayn's knee off the ringpost a few times, then nails a kick to the back of the head for a Two Count.
A bunch of kicks from the Miz, then Zayn nails a clotheline, followed by his running (limping) Tope con Hilo.
Back in the ring, Zayn counters a charging Miz with a big Michinoku Driver. Two Count.
Zayn counters a Figure Four attempt into a Small Package for a near fall.
Miz immediately nails a DDT. Two Count.
MIz mocking Daniel Bryan with the running dropkicks into the corner.
Zayn catches a jumping Double Axe Handling Miz, immediately transitions it into a Blue Thunder Bomb.
TWO COUNT.
Three moves later
Sami sets up Miz for the Helluva Kick, but MIz dodges it, puts Sami in the Figure 4.
Sami reaches for the ropes but Miz pulls him back.
Zayn rolls over and reverses the pressure, but then he grabs the rope.
Both men with bad legs now. Miz the first to his feet.
Miz with the Yes Kicks to Sami Zayn, but he misses the final one, Zayn puts him in the Figure 4.
Sami drags him back to the middle of the ring.
Then the bell rings. It was Maryse. Maryse rang the bell.
Zayn thinks he's won.
Miz rolls him up.
1-2-3.
WINNER: The Miz
___________________________
Dean Ambrose and AJ Styles Backstage Segment
They put over their TLC match in two weeks, they can't wait to injure each other.
Shane-O Mac comes in, tells them to get on the same page.
Good advice, Coach.
____________________________
___________________________
10 on 10 Tag Team Elimination Match
Team Raw vs Team Smackdown
Enzo and Big Cass come out first, reciting Drake lyrics and putting over Tim Horton's coffee.
You know, cuz they're in Toronto, Canada.
The New Day is the last Raw team to come out and give a pep-talk to their charges on the ramp.
Smackdown Teams come out next, and the big development is that Rhyno has shaved his goatee and his head looks like a potato wearing a wig now.
It's disconcerting.
The match starts with Fandango (of the Fashion Police) passing out Uggo Violation Tickets. He gives a whole bunch to Xavier on the outside.
Big E picks him up, tags in Kofi. MIDNIGHT HOUR.
FIRST ELIMINATION: Fandango eliminated by Kofi Kingston.
Kofi's not paying attention as his boys are taunting Breezango, gets superkicked by an Uso.
SECOND ELIMINATION: Kofi KIngston eliminated by an Uso.
Serves him right for embarrassing Breezango.
Some stuff happens. Who cares.
Gallows and Anderson deliver a Magic Killer to Zack Ryder.
THIRD ELIMINATION: Zack Ryder eliminated by Gallows.
Gable in now, playing face in peril to The Shining Stars. What is life?
Primo tries a running dropkick to the corner, misses, gets hung up in the Tree of Woe.
Gable tags in Jordan, who gets Primo up in the electric chair position.
GABLE WITH A STEINER AVALANCHE BULLDOG FROM THE TOP ROPE.
FOURTH ELIMINATION: Primo eliminated by Jason Jordan.
A whole bunch of diving to the outside spots, culminating with Gable hitting a somersault.
Jordan caught by Gallows. Magic Killer.
FIFTH ELIMINATION: Jason Jordan eliminated by Luke Gallows.
Gallows and Enzo argue after Gallows accidentally knocks him off the apron.
Rhyno is tagged in. Gores Gallows.
SIXTH ELIMINATION: Luke Gallows eliminated by Rhyno.
Rhyno gets taken out by Big Cass, who tags in Enzo.
SEVENTH ELIMINATION: Rhyno eliminated by Enzo after a Rocket Launcher.
Enzo catches a superkick right in the jaw.
EIGHTH ELIMINATION: Enzo eliminated by an Uso.
The story of the rest of the match is Sheamus and Cesaro showing that they really can work together, breaking up pinfalls for each other. saving the other from superkicks.
Eventually, Cesaro has an Uso in The Sharpshooter, Sheamus cuts off a rescue attempt with a Brogue Kick, and Uso #1 taps.
NINTH ELIMINATION: An Uso taps to Cesaro's Sharpshooter.
WINNERS: TEAM RAW (Sole Survivors: Cesaro & Sheamus)
After the match, they tease Sheamus and Cesaro shaking hands, but then they don't.
______________________________
______________________________
Terrible Backstage Segment with Stephanie McMahon and Mick Foley
They gloat.
Mick Foley kisses Steph's ass.
This was awful.
_______________________________
(The) Brian Kendrick vs Kalisto
Cruiserweight Title Match
If Kalisto wins the entire division moves to SmackDown
Starts out with Kalisto hitting Topes and sprinboard Tornillos for two counts, but Kendrick comes back with a Belly to Back suplex for two.
They reverse each other's finishers, then trade roll-ups for about twenty seconds.
Tiltawhirl Headscissors and a corner dropkick by Kalisto, then Kendrick hugs the bottom rope, the ref is stupid and backs Kalisto off.
Kendrick schoolboys the back of Kalisto's head into the second turnbuckle, then drapes Kalisto off the apron, puts him in between the ringpost and the ringsteps.
THEN HE KICKS THE RINGSTEPS INTO KALISTO.
Back in the ring, it's all Kendrick.
He puts Kalisto in a cravat for what seems like an hour and a half.
Kalisto attempts a comeback, but is thwarted.
He tries again, with some kicks on the apron, and then A SPANISH FLY FROM THE RING APRON TO THE FLOOR.
They both break the count, but then Kendrick rolls back out to take a breather.
Suicide Dive by Kalisto. Rolls Kendrick back into the ring, gets on the top turnbuckle, gets crotched, Kendrick climbs up in Super Back Suplex postion,
Kalisto is going to attempt a Salida Del Sol, but Kendrick stops it, does his reverse headlock takeover into the Captain's Hook from the top rope.
Insane.
Kalisto is eventually able to get the bottom rope.
Kalisto fights back with kicks, hits a Spikerana, hits a Salida Del Sol, but Kendrick gets a foot on the ropes.
BARON CORBIN RUNS IN AND HITS KENDRICK FROM BEHIND, THEN DESTROYS KALISTO..
But then they say that Kendrick wins due to DQ.
Except Corbin hit Kendrick first.
So.... WUT.
WINNER: Brian Kendrick vs DQ
That was stupid.
Backstage with Baron Corbin and Daniel Bryan.
D-Bry is pissed that Corbin cost them the CW Division.
But Corbin don't care.
Corbin don't give a f************ck.
He says that Kalisto is a pest and the last thing we need is a whole bunch more pests running around.
Can't argue with his logic.
_____________________________
_____________________________
5 on 5 Men's Elimination Match
Team Raw vs Team Smackdown
Owens and Styles start off first.
It's predictably great, a whole bunch of reversals.
The crowd starts chanting "Stupid Idiot." Kevin Owens points at AJ, says "That's you."
Owens tags in Jericho and the crowd goes nuts.
AJ nails him with a dropkick and Rollins laughs.
Jericho tags him in.
Styles won't deign to lock up with Seth, tags in Dean.
Great chain wrestling to a stalemate.
Jericho tags himself in, still pissed that Dean ruined his Christmas Lights Jacket six months ago.
Continuity, gotta love it.
Back and forth for Dean and Jericho.
Shane tags in. dancing around, hits a running back elbow, but gets nailed by a missile dropkick from Jericho.
Rollins is tags in, then Reigns, then Rollins, working over Shane.
My god, are they gonna have Shane take the heat in this thing?
Oh, nope. Back body drop on Rollins, tag to Dean.
Owens is in for Raw now, Owens vs Dean.
Jericho saves Owens from a Dirty Deeds attempt.
This touches off a huge brawl.
Everyone on the outside, Owens up top, hits a Somersault cannonball on all the guys.
Shane goes up, is grabbed by Braun, everyone gangs up on Braun.
The brawl ends with AJ and Dean alone in the ring, they fight each other. Shane breaks them up, but they can't.
Braun picks up Ambrose, Running powerslam, 1-2-3.
Oh, so that's who the legal men were.
FIRST ELIMINATION: Dean Ambrose by Braun.
Braun destroys everybody until he comes face to face with Bray.
Jericho thinks that Braun will ditch them for Bray.
Braun grabs Jericho by the throat.
MIND CONTROL POWERS nope.
Braun grabs Bray by the throat. He shoves away Jericho.
Throws Bray to the outside, he's preparing the table, gets an RKO.
Orton and Bray put him on the table.
SHANE O MAC HITS THE ELBOW DROP FROM THE TURNBUCKLE TO THE TABLE.
AJ puts Shane back in the ring.
Strowman is about to get back in, but he can't.
He's Counted Out.
SECOND ELIMINATION: Braun by Count-Out.
Braun looks down and his ankle is being held by two hands.
Who do we know that has two hands?
ELLSWORTH IS HIDING UNDER THE RING, GRABBED BRAUN'S ANKLE AND GOT HIM COUNTED OUT.
Braun chases him up the ramp, throws him off the stage through a table.
Wow.
Eight Men Left.
Shane is still the legal man.
He gets worked over by Owens, then Jericho.
Shane takes two Codebreakers, but still kicks out.
Rollins tags in, works him over, tags Jericho back in.
Jericho misses a splash from the top, Shane makes a tag to AJ.
AJ hits an Ushi Goroshi, then goes for a Styles Clash, Jericho reverses it into the Walls of Jericho, Styles gets out of it.
He attacks Owens, who comes into the ring and attacks Styles with the List of Jericho.
The pages fly everywhere.
He hits a Pop-Up Powerbomb on him.
He gets Disqualified for use of a foreign object.
Stupid idiot.
THIRD ELIMINATION: Kevin Owens by DQ
Jericho gets in the ring, gathers the pages, distraught.
Randy Orton sneaks up on Jericho.
RKO OUTTA SOMEWHERE!
FOURTH ELIMINATION: Chris Jericho by Orton.
Seth and Roman left for Raw.
AJ, Bray, Orton and Shane for Smackdown.
Orton and Seth working each other, Orton hits a Superplex.
Hot tags made to Roman and AJ.
Roman of course, gets the upper hand.
Hits a Samoan Drop and the Niagra Driver. Two Count.
AJ thwarts a Superman Punch with a Enzuigiri.
Hot tag to Shane.
Shane gets the best of Roman, amazingly.
He puts Roman in the corner and goes up for coast to coast.
ROMAN SPEARS SHANE OUT OF THE AIR.
He pins him but Shane right shoulder isn't on the mat.
The Ref calls for the doctor, says that Shane is out of the match.
FIFTH ELIMINATION: Shane by Roman (KO)
Team Smackdown gangs up on Roman, but of course he fights back.
Makes the hot tag to Rollins, who hits his Buff Blockbuster on Styles.
They go back and forth, who's going to superplex who.
Rollins eventually does, transitions into the Falcon Arrow.
Pinfall broken up by Orton.
Roman and Rollins gang up on Randy.
(This spot brought to you by the letter R.)
They're about to do the Shield Powerbomb through the other announce table.
AJ stops that from happening knocks both Seth and Roman down.
AJ standing tall in the ring.
Dean runs in, beats the crap out of AJ. Refs and security come down try to force Dean out of the ringside area.
SETH AND ROMAN BEAT UP THE SECURITY GUYS, HELPING DEAN.
ALL THREE OF THEM WORKING TOGETHER.
TRIPLE POWERBOMB TO AJ THROUGH A TABLE.
AJ is rolled back in the ring. Pinned by Rollins.
SIXTH ELIMINATION: AJ Styles by Rollins after SHIELD Reunion.
Now we just have Two Shield guys vs two Wyatts.
Excuse me, THREE Wyatts, as Luke Harper shows up out of nowhere.
He takes out Roman on the outside.
Rollins looking great, doing great stuff, takes out Harper with a Tope Con Hilo.
He sets up Bray for a Frog Splash, but RKO OUT OF MIDAIR BY ORTON.
Wyatt pins Rollins.
SEVENTH ELIMINATION: Seth Rollins by Bray.
Roman really looks like he's going to do it.
Surprise, surprise.
He hits a Spear on Harper on the outside, fights out of a Sister Abigail and hits a Superman Punch on Wyatt.
He's about to hit a spear on Wyatt, but Wyatt is pushed out of the way by Orton.
Reigns Spears Randy, then turns around into the quickest, most vicious Sister Abigail you've ever seen.
EIGHTH ELIMINATION: Roman Reigns by Bray.
Winners: Team Raw (Wyatt and Orton Sole Survivors)
This is me right now:
_____________________
_____________________
Brock Lesnar vs Goldberg
Goldberg is sweaty already.
A bad sign.
Lesnar immediately picks up Goldberg and rushes him into the corner.
Goldberg with a two hand shove to Brock, knocks him back.
As Lesnar struggles to his feet, Goldberg SPEARS HIM.
Brock gets up again.
SECOND SPEAR.
Then JACKHAMMER.
1-2-3.
WINNER: Goldberg
What in the literal holy hell was that?