Welcome to yet ANOTHER edition of 
OFF-TRACK with A-TRAIN
in this episode
THERE CAN BE NO DOUBT ANYMORE
THE REVIVAL ARE THE BEST HEELS IN THE BUSINESS
---
So as seen in the video above, last week The Revival made their main roster debut on RAW, and were immediately the best heels on the roster.
Before they even got to the ring, they knocked over the New Day's Ice Cream Bike.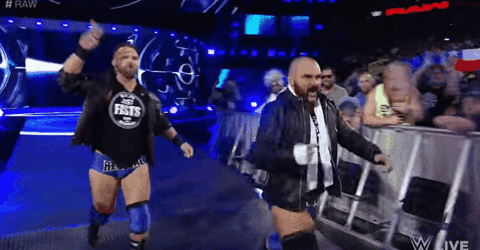 Then after they won the match, they broke Kofi Kingston's ankle:
No, for real though. I mean, probably Kofi's ankle was messed up from before and they just made it kayfabe worse, but Kofi really had surgery late last week, and they really announced it today.
So here is what they've been up to since:
What shirts, you say? Well, I'm glad you asked:
And as if that one wasn't savage enough for you, how about this?
You all can stop the voting on father of the year. Scott Dawson has that shit SEWN UP.
And not to be outdone, Dash Wilder tweeted out this video from way back in March of last year, which begins with a staredown between the New Day and the Revival.
Guess they've had this on their minds for a while.