After Monday Night Raw, footage was filmed for the new Paige biopic Fighting WIth My Family. They were filming the night that Paige won the Divas Title from AJ Lee at the Raw after WrestleMania 30.
The Rock, one of the film's producers, came out to pump up the crowd, and when he mentioned what scene they were filming, the Los Angeles fans started chanting the name of AJ Lee's husband, CM Punk.
So, because he's The Rock, and The Rock is allowed to do precisely whatever the f*ck he wants to do, he decided he would call Punk.
Because that is a thing that The Rock does in this situation.
You can watch video at the top of the page of this happening. An alternative angle is embedded below:
Now, because the world is a cruel place and we can't always get what we want, CM Punk did not pick up and it went straight to voicemail. So naturally, The Rock left Punk a message: 
"Hey Punk, it's Rock, this is not a joke. I'm literally calling you from the middle of the Staples Center with about 15,000 strong. I hope you can hear this, again, this is not a rib. They are chanting your name!"
And then, dutifully, the crowd did indeed chant Punk's name.
This was probably the reaction that Punk gave when he saw The Rock come up on his caller ID.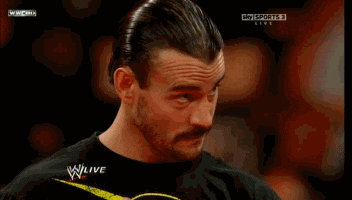 And here's the Tweet that CM Punk sent out later, giving his reasons why he didn't pick up the call.
 It was his dog's birthday, and he was taking him for a walk.
Seems legit.
This was probably the reaction that The Rock had to that Tweet.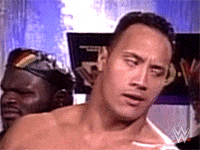 But Punk Tweeted another response, thanking the fans for remembering him.
This was all a very surreal situation, what with The Rock being basically the goodwill ambassador for the WWE all over the world and CM Punk having left on such acrimonious terms.
The Rock was INCITING the crowd to chant for CM Punk.
What a world.
One can only imagine Vince McMahon's reaction to all of this: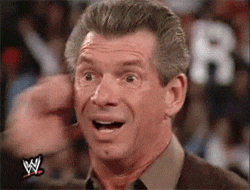 Yeah, something like that.