Welcome to another installment of
OFF TRACK with A-TRAIN
we sure seem to be doing a lot of these recently 
in this one,
I cast aspersions on Shaq's assertions
that it is, in fact, not his fault
___________________
So it looks like Big Show had Shaq pegged all along.
That WrestleMania match, the one that Show has been training for like an absolute beast, the one that Show thought Shaq wasn't taking seriously, the one that Show thought Shaq was trying to back out of?
Yeah, it looks like it's probably not happening after all.
And Shaq just admitted it.
But don't worry, though. It's not his fault.
Apparently.
On an episode of his podcast, Shaquille O'Neal said this:
"That's probably right. It's not my fault. That's all you need to know. It ain't my fault. ... It don't matter what they say. I'm just letting you know. It has nothing to do with The Diesel and his management. That's all I've got to say. But, but, but, it's not totally off yet. But it's not looking good. But it doesn't matter. I'm still working out. I still look way better than Big Show and I'll still meet him anywhere he wants to meet."
Shaq, you don't look "way better" than Big Show.
Stop it.
STOP IT.
However, Shaq is saying that he's going to keep training, just in case the match does actually go down in a month.
"These next 30 days, I'm about to go hard, so I'm still doing it like it's going down. I actually start two-a-days on March 1st. Then, it's going down. I'm going on vacation from March 2nd to the 7th. And then, from the 8th to like the 29th, two-a-days, sometimes three-a-days. It's going down, Big Show. Just saying, it ain't me, America."
It ain't him, America.
So who is it?
Is it the WWE? Have they seen what the Big Show has sculpted himself into and they realized it's stupid for him to be in the celebrity match when they could find something considerably better for him to do?
We can only hope. 
But regardless of who it is, it ain't Shaq. 
Hey Shaq, is it you?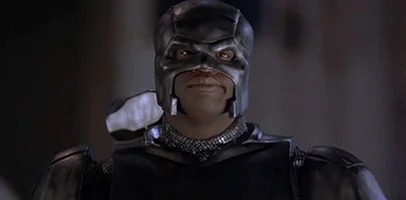 (By the way, if the match does take place, you should probably wear that suit of armor from the movie Steel.)
Hey Shaq, is it somebody other than you?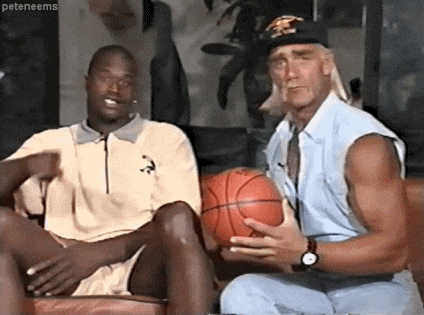 Shut up, Hulk Hogan. Nobody asked you.
So Shaq, while Show has apparently doing six hundred thousand crunches a day training for this match, what have you been up to?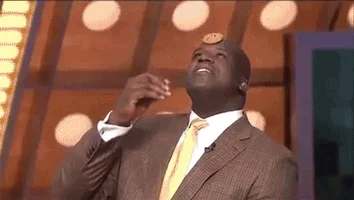 That's what I figured.