Welcome to the redesigned
SmackDown React-Down
Where I publish my Live Blog along with a few fun Tweets
and the YouTube Videos from the night.
Let's get started.
*James Ellsworth being too sick to compete tonight is so great. He's fantastic at being a terrible fake sneezer.
My only question is how long they can keep advertising this match all week, then keep pulling the rug out from under their audience, before the resentment starts to take over.
At least one more week probably.
But they were never going to do that Styles/Ellsworth match on tape delay, so kudos to them for coming up with a fun excuse to postpone again.
Still, as I said in my preview column from yesterday, I'll believe it when I see it.
____________________
*Miz TV with guest star AJ Styles should be a hoot.
Thank God the walking boot is off.
Where does AJ shop? I love his studded leather vest with built in hoody.
CHINFLUENZA. Gold.
I love AJ and Miz as best friends.
They're like Milo & Otis.
OH NO EXCEPT MIZ WANTS A CHAMPIONSHIP SHOT.
This could be gooooooood.
Ambrose, no! Bad Ambrose! Get out!
Not Ziggler too!
Boo Ambrose.
Boo Ziggler.
You're ruining this great thing we had.
Miz vs Ziggler is teased. We just did that for months.
Ambrose vs Miz is teased. We did that last week.
Ambrose vs Ziggler is teased. We did that in August and it kinda sucked.
LUKE HARPER IS IN THE RING AND IN THE MAIN EVENT PICTURE!
WE HAVEN'T DONE THIS YET!
____________________________
*Shane and D-Bry make a Fatal 4 Way Elimination Match for the #1 Contendership.
Ambrose vs Miz vs Ziggler vs Harper
I'm hoping one day they actually explain why people get shots at titles just because they walked to the ring at the right time.
Like, could Apollo Crews have gotten a shot if he had wandered out there?
The only guy who deserves a shot is Miz.
Ziggler just lost an IC Title Feud. Ambrose just lost his "last shot" at AJ's Title.
Luke Harper keeps losing to Kane, for some reason.
HOWEVER, regardless of the stupid reasons for the match being booked, it's going to be LIT.
It's going to be as lit as Clark Griswold's house.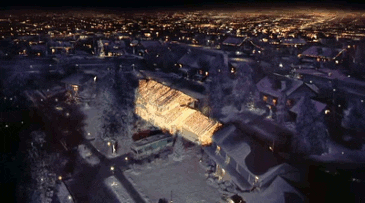 Me watching that match: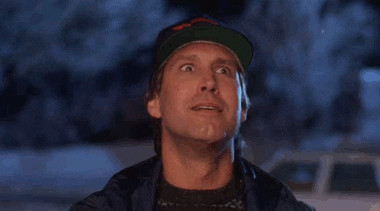 Me watching that match if somehow Luke Harper wins: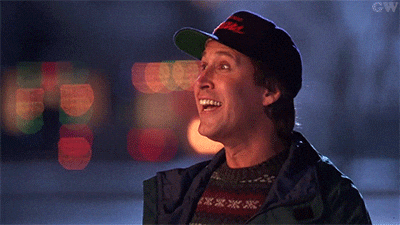 _________________________
*UGH.
I cannot tell you how many ways in which I do not care about this "Who ganked Nikki?" storyline. Nattie or Carmella, I don't care. You're taking time away from things that matter more. Like Apollo Crews and Curt Hawkins.
______________________________________
______________________________________
*What the hell, man.
Yeah.
If you're not familiar with Gabriel Iglesias's work as a comedian, my mom really likes him.
That should tell you all you need to know.
I mean, this fluffy sumbitch just busted out a Uranus joke.
__________________________
*Cena returns two days after Christmas. Now I get to use this video again.
____________________________________
*Tag Team Battle Royal. Both Team Members Have to Be Eliminated.
Simon Gotch eliminated right as the bell rings. Poor dude 
And he got his mustache waxed just for the occasion.
Gable eliminated way too early for my liking.
RHYNO ELIMINATED ACCIDENTALLY BY HEATH.
Rhyno looks like he's going to burn Heath's double wide to the GROUND.
I can't WAIT for this break-up feud.
They really let Jason Jordan look great in this match.
Even Breezey gets a chance to shine. And well deserved as well.
Slater is still so over with the fans. They love him
Konnor could be actually good, if they'd just let him. I dig his new facepaint.
But it was always going to be the Hype Bros.
It's a dumb choice, but they've been building to this for a couple weeks now.
Ryder being the winner is the right call, even if the Hype Bros are not.
The crowd popped lile crazy when he won. I honestly don't remember how Mojo was eliminated.
The Hype Bros get a quick shot at the tag titles, they'll lose and we can build toward something for The Rumble.I'm okay with this.
UPDATE: It's possible Zack Ryder blew out his knee or something at the end of this match, so I guess, no title shot for the Brothers of Hypeness?
If that's the case, I hope the team to get a one-off shot is Breezango, if only for the mic work that would build to that match.
What do the Fashion Police think of Harper's soiled tanktop?
Whatever it is, I'll bet it's hilarious.
__________________________
*THIS WOLF-CENTRIC BLACK & WHITE BARON CORBIN VIGNETTE IS (INSERT FLAME EMOJI)
PS. If you're wondering where Baron Corbin was tonight, he was at the Revolver Awards, whatever that is.
He was nominated for the "Most Metal Athlete." He won.
YOU DESERVE IT. Clap Clap, Clap-Clap-Clap.
______________________________
*Alexa Bliss's Title Reign Is Being Undermined At Every Turn
Alexa Bliss needs to be treated with more respect. I'm going to keep saying it until they start doing it.
Deonna Purazzo isn't Jane Ellsworth, but she's not worthy of a title shot, either.
Becky shows up uninvited, and demands her rematch. Alexa should not be backing down in this situation. She should be supremely confident. That should be her downfall.
Why are all heel champs automatically cowards?
Shane-o Mac comes out, makes the match.
ALEXA BLISS IS INJURED.
Taking a deliberate countout is the champion's right, and Becky beating her down after the match is just poor sportsmanship.
I hope this is one of those deals where she keeps ducking the legit  rematch until she finally gives Becky her shot, then beats her clean because she's actually really good.
_____________________________
____________________________
This Main Event, man, SO GOOD.
And it's basically like Luke Harper's coming out party. Here's a dude who's a legit 6-7 and 270 pounds and he can work with the best of them. It's disgusting that he's been booked to job out to the devil's geriatric demon. If you haven't, go back and watch this match, and just watch him. He has SO much potential. If they wanted it, he could be a main event level talent.
As an added bonus, he's basically Wacky Dean's Kryptonite.
Yeah, so you know that variation of the Wacky Clothesline that Dean does, where they're on the floor and the opponent throws him toward the ring and he hops up on the apron, swings his legs around in a circle under the bottom rope, then hops back down and clotheslines the guy?
Yeah, Luke Harper wasn't having it, and left a bootprint right in the middle of Dean's wacky face. It was heavenly.
One of the best Big Boots since the glory days of Test.
Then he nailed a sit-out powerbomb that was so beautiful you could hear angels singing Hosannahs.
Miz was eliminated first, which kinda sucked, because I really wanted to see an AJ vs Miz-at-the-top-of-his-game feud.
And then Luke Harper was taken out, by a Ziggler Superkick right into a Dirty Deeds. So at least it took a double finisher of a lot to put him away.
Miz came back out to ringside, though it wasn't clear who his real target was, but he wound up getting taken out by both Dean and Dolph on the outside.
Dolph surprised Dean with another Superkick, and got the Duke.
They met once before, back in August, and it was EXCELLENT.
It featured a bunch of great spots and a shit-ton of dramatic near falls, including the very best "Zig Zag ONE! TWO! THR-OHHH!!!" moment of Ziggler's career.
Styles can get a great match out of anyone. Put him with a guy who works his ass off and will bump to the sky like Ziggler and it's going to be a classic.
Personally, I can't wait.
December 27.
A late Christmas present for all of us.
*Let's check in on Talking Smack real quick before we go:
Until Next Time, I've Been Alex Pawlowski
and this was me when
Harper took Dean's head off with that big boot.