Welcome to the latest edition of 
OFF-TRACK with A-TRAIN
where I report on the weird and the wacky
 in the world of wrestling
(and it don't get much weirder than this, folks)
IN THIS EPISODE
A FAN SOLD SOME OF SASHA BANKS' HAIR ON eBAY
AND FIGHTFUL PLACED A BID ON IT
---
It's been pretty awesome to be a part of Fightful.com over the last year and a half, being a huge part of the site's growth until life got in the way a few months ago and I had to take a step back from my Associate Editor duties, and now watching as Fightful has taken huge strides toward being one of the most respected sites in Wrestling Journalism and Commentary.
But I have never been more proud to be a part of Fightful.com than I was this weekend.
Because someone put two strands of Sasha Banks hair on eBay and Fightful placed a bid on them. We were going to give them to a lucky Fightful fan, because we care about our community and we want to give you the very best.
We didn't have the winning bid, but that only makes me more proud. Because our site has self-control, and knows the worth of two strands of Sasha Banks' hair.
They are worth $20.
AND NOT A PENNY MORE.
Allow me to explain for those of you that missed this story.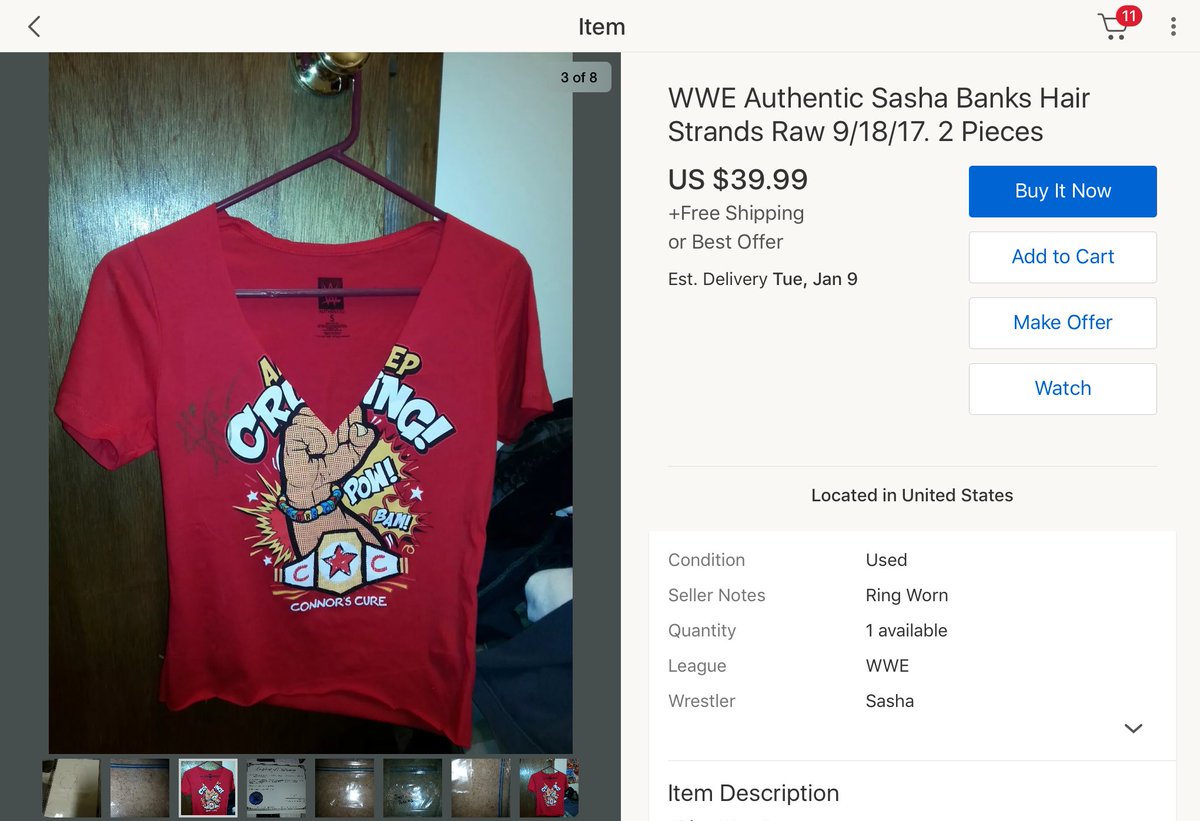 That is a picture of the listing, which can be viewed at this link.
As you can see, the two strands of hair were sold for $39.99, which is simply too much to realistically pay for two strands of hair.  That is why Fightful only offered to pay half that much. Because hey, we're not crazy.
Apparently, the seller bought a piece of authentic Sasha Banks ring-worn gear from WWE, supporting the Connor's Cure charity that is featured every September, and still on the shirt were two strands of Sasha Banks hair.
By the way, the listing makes it very clear that you are bidding on the hairs ONLY, and will NOT be receiving the authentic ring-worn shirt. (If the shirt were thrown in, we would probably consider increasing our bid.)
You can tell the shirt is authentic because the seller has a certificate attesting to the fact: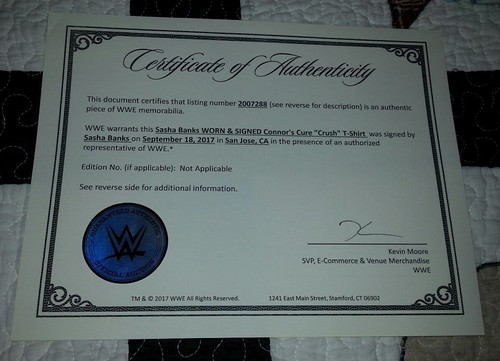 And they don't just let you print out one of those at home on a piece of stationery that you purchased at Kinko's. Plus, as you can see in the lower left corner of the Certificate of Authenticity, SVP of E-Commerce & Venue Merchandise for WWE, Kevin Moore, has a signature that would be almost impossible to forge.
The seller was gracious enough to include a picture of the hair, just so we don't have to take it on blind faith.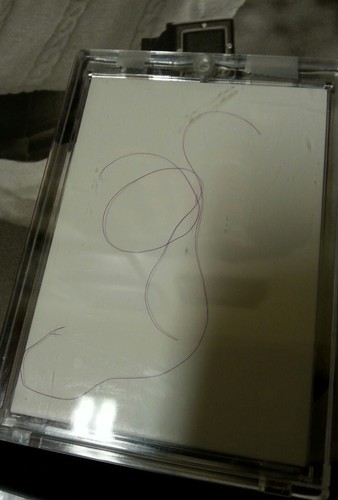 Yup, that's definitely hair, and it appears to be purple. Checks out.
And before you start accusing eBay seller "upstatesports10" of simply going down to his or her local Sally Beauty Supply and yanking a few strands of out of a purple wig, I will have you know that he or she has a 99.1% positive feedback rating on eBay, and I will thank you to not impugn his or her character.
I mean, just look at this description from the listing. You can tell from the impeccable grammar, capitalization and sentence structure that "upstatesports10" is a true professional who meticulously crafts each listing, and definitely not some fraudulent, get-rich-quick, fly-by-night operation.
*This auction is for the Sasha Banks 2 hair strands only, does not include signed tshirt these hair pieces were found enbedded in.

This auction includes two stands of purple hair from WWE superstar Sasha Banks. I found these strands weaved into the connors cure tshirt I purchased on WWE auction. I pulled them out and placed in a bag. These are from the 9/18/17 Raw episode when Sasha comes out to block Alexa Bliss from leaving the match against Nia Jacks.

This auction is for the hair strands only, not the signed ring worn tshirt.

I promise all pieces were pulled from shirt after inspection upon opening. I assure the strands belonged to Sasha Banks on raw 9/18 when she worn this shirt which can be proven by watching or viewing the authenticity of the ring worn tshirt by WWE.
You can also tell "upstatesports10" is a huge WWE fan from the way they spelled Nia Jax as "Nia Jacks."
So while Fightful was not able to win the auction for the totally real Sasha Banks hair that is not from a wig and is totally her real hair from a shirt authenticated by a certificate that can in no way be faked with a signature that is completely impossible to forge, at least you know that we tried to win and that we would have definitely given away the hair in some kind of contest or sweepstakes.
And the hair would certainly not have been kept by Sean Ross Sapp for himself, fulfilling some twisted desire. Sean would definitely not keep the hair hidden somewhere in his house, in a hiding spot that only he knows about, like in a plastic baggie, taped to the underside of the junk drawer in his garage. And you can rest assured that sometimes, when his wife is asleep, he would not sneak out to the garage and he would not take the hair out of the plastic bag and smell it, whispering to himself, half aroused and half ashamed: "It's Boss Time."
On second thought, maybe it's best that Fightful didn't win the auction.