Hello and welcome to another edition of
OFF-TRACK with A-TRAIN
where I report on how
tag team partnerships are forever
in this episode
Team Hell No Says "Hell Yes" To Getting Kane Elected Mayor
---
Kane hasn't been on WWE television in almost a year.
He's been busy running for the Mayor of Knox County, Tennessee.
And if you were wondering whether or not Glenn Jacobs, the man, has a sense of humor about Kane, the wrestling character with a fire fetish, running for elected office, I present to you his campaign logo.
So the answer to that question is "Yes."
But what kind of Mayor would Kane be, if he were to win?
Well, according to his campaign's website:
As mayor, Glenn will focus his efforts on delivering results for the citizens of Knox County. The areas below will be a major focus to help make Knox County what President Reagan referred to as "the shining city upon a hill."

Committed to keeping taxes low
Renewed focus on quality of education
Continue to attract new jobs to the area
Improve our roads and infrastructure
Full and absolute transparency
Work to create safer communities
A fresh outlook on limited government
That's all pretty boilerplate type stuff. Who doesn't like lower taxes, better education, more jobs, improved roads, transparency, and safer communities?
But it's the "limited government" deal that might be more polarizing. Glenn Jacobs is a right-leaning Libertarian, and sometimes with politicians on that end of the spectrum, "limited government" can be a code-word for "no more food stamps for poor kids." Not saying that's the case with Kane, but it's interesting to note that the most high-profile politician to offer an endorsement is Senator Rand Paul of neighboring Kentucky, who refused to vote for the Republican's recent Obamacare repeal and replace plans because NOT ENOUGH people would be kicked off of Government Health Care.
Anyway.
On the other end of the political spectrum is current SmackDown GM Daniel Bryan.
If we didn't know his political leanings from his numerous retweets of stories critical of the Trump administration, we know it from stuff like this:
Dude spends his free time making tea from tree parts because he wants to be closer to the indigenous peoples of hundreds of years ago.
Like, I voted for Bernie Sanders, and even I think that might be a bit too hippy-dippy.
Now, the really interesting thing about all this is that Daniel Bryan and Kane used to be Tag Team partners. They won the Titles, but never really got along. They went to anger management classes. You know. Just your typical WWE storyline.
But while their characters were yelling at each other and getting into arguments on TV, the two men became great friends, despite their very different ways of viewing the world.
And now, Daniel Bryan is going to appear at a campaign rally tomorrow to get his buddy Kane elected mayor of Knox County, Tennessee.
Somehow that's not the most ridiculous photo used to promote this event.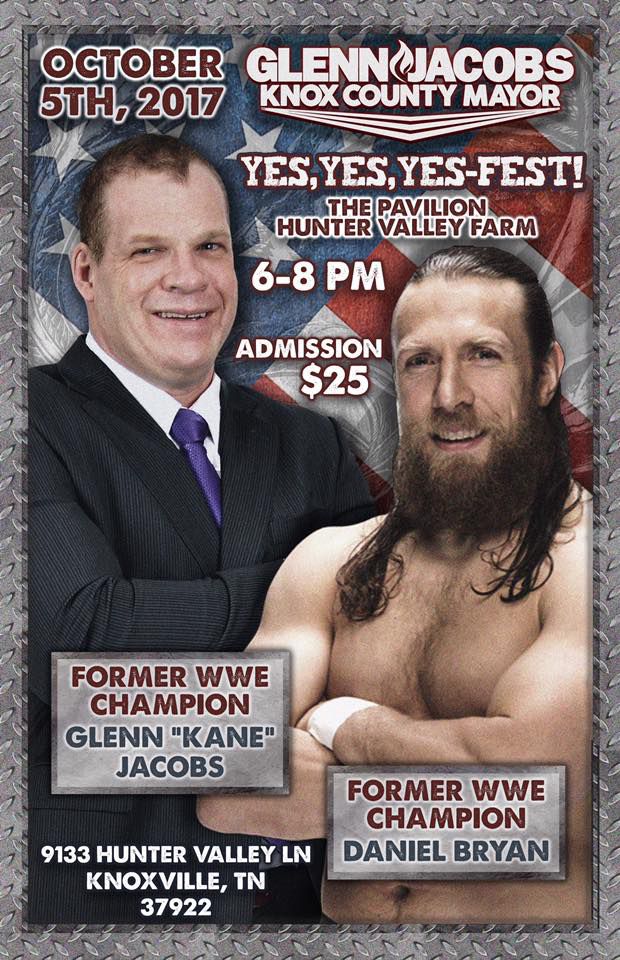 There's Candidate Glenn "Kane" Jacobs, dressed in a nice suit and tie, and there's a picture of Daniel Bryan from like February of 2015, which in case you didn't know, is not how he looks now.
If you live in the area and you'd like to attend, all the information for the event is on the Facebook page, which contains this also not-very-timely photo of Daniel Bryan:
Look, the point of all this is that it's actually pretty cool to see a guy throw his support behind his old friend in a campaign for political office even though their views might be different, he knows his friend's heart and believes he would be a good leader.
One final note: It seems as though the Yes, Yes, Yes-Fest is actually a replacement for the previously announced Big Show-berfest, and there's no indication as to when or even if that event will be rescheduled.
I sincerely hope that it is.
Mainly because I want to see what picture of Big Show from WCW 1998 they choose for the promotional materials.