...Hello And Welcome To The Triumphant Return Of
OFF-TRACK with A-TRAIN
Where I Take A Look At Weird And The Wacky
In The World Of Wrestling

In This Episode:
Bullet Club Fans Can Now Keep Dry In The Rain...
Because They Will Be In The Back Of A Cop Car
... Or An Ambulance

---
Sean Ross Sapp and I have been trying to find the perfect time to bring back these little features.
I really wanted to bring you the news that Braun Strowman is an eating fraud. Sure, his standing order at Chipotle would be enough to feed a small army, but when it comes right down to it, he doesn't show up for the big moments. A few weeks ago in Baltimore, he could barely finish one-third of a seven-and-a-half pound fish sandwich.
What a phony.
To be fair, he didn't try to hide his shame, allowing Dana Brooke to record his paltry efforts and post it to her Snapchat. I admire his transparency if nothing else.
Anyway, I wanted to report on that last week, but due to circumstances beyond my control, it just wasn't possible.
(Just like it wasn't possible for "Monster Among Men" Braun Strowman to finish even forty percent of a little Filet O'Fish.)
(Phony.)
But now I'm back.
To bring you the important news.
For example, Marty Scurll has a new piece of merch that is probably going to get a Bullet Club fan shot.
Let me explain.
If you don't know who Marty Scurll is, he's a Brit who calls himself "The Villain," currently signed to New Japan and Ring of Honor and is former ROH Television Champion. He's also got a bit of a fur coat fetish ...
... Not to mention a tiny obsession with umbrellas.
He's like a cross between a Furry, The Penguin, and a second-tier bad guy in a Guy Ritchie movie.
When he joined The Bullet Club, he had a special umbrella made for the occasion.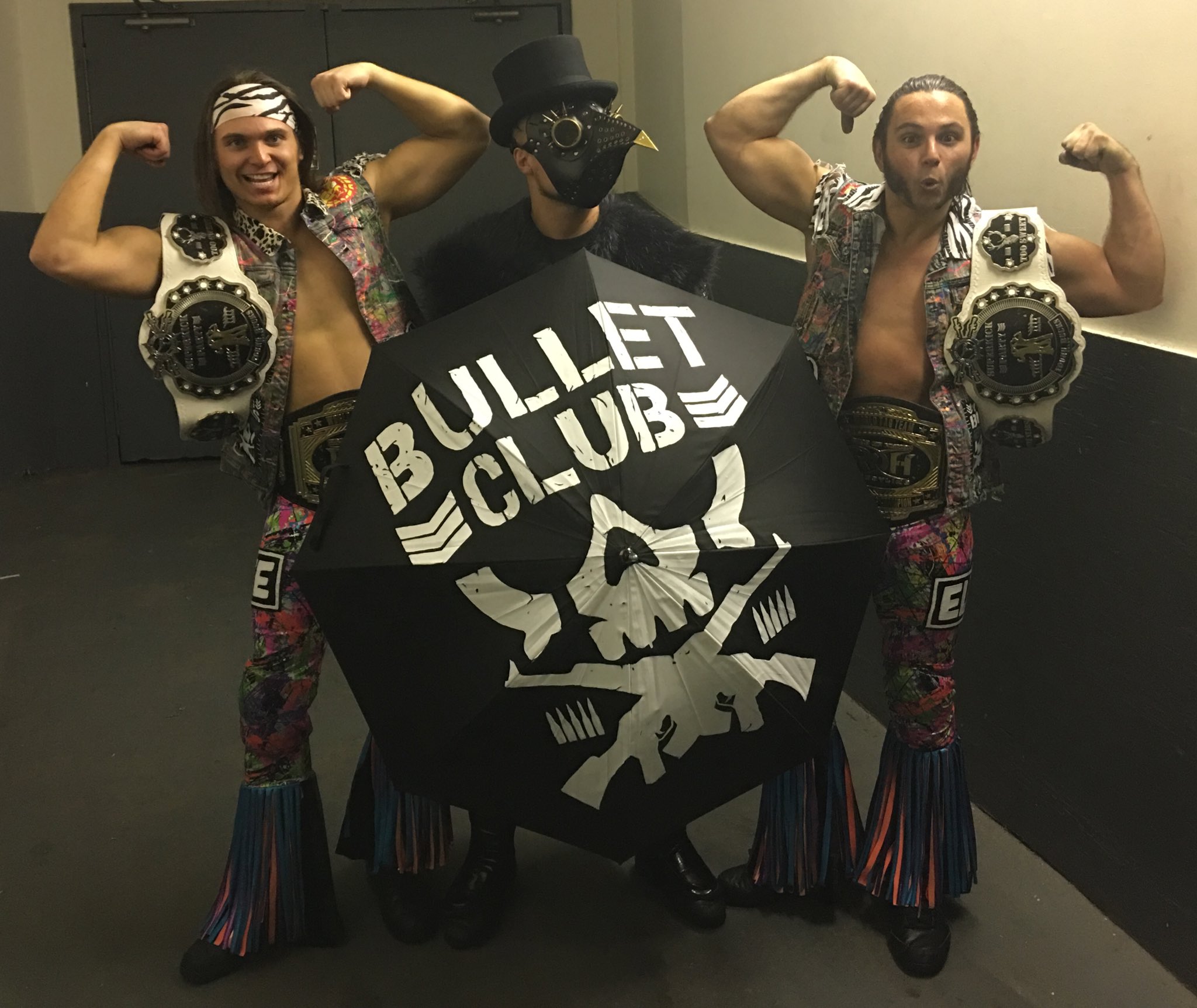 Yeah I should have mentioned that. He also wears a renaissance doctor's mask sometimes which makes him look like a bird.
His is an eclectic personality.
Now, as you might be aware, Bullet Club merch is king. Over at Hot Topic, their shirts are selling like cocaine-infused hotcakes, and Ol' Marty wants to get his beak wet too.
So the decision has been made to sell Bullet Club umbrellas.
I can only see one problem with the version they are rolling out.
See if you can spot it too.
Um...
Obviously this is just a novelty item.
Obviously.
However ...
Not to be a Debbie Downer on this whole deal, but at least in America, it might not be a smart move to walk around a city carrying an umbrella that looks like a rifle.
You know, in case someone gets the wrong idea and thinks you're preparing for a mass shooting instead of preparing for a rainy day. Now, it's true that many states in the US have "open carry" laws which means it's not unusual to see THIS in line ahead of you when you step out for lunch.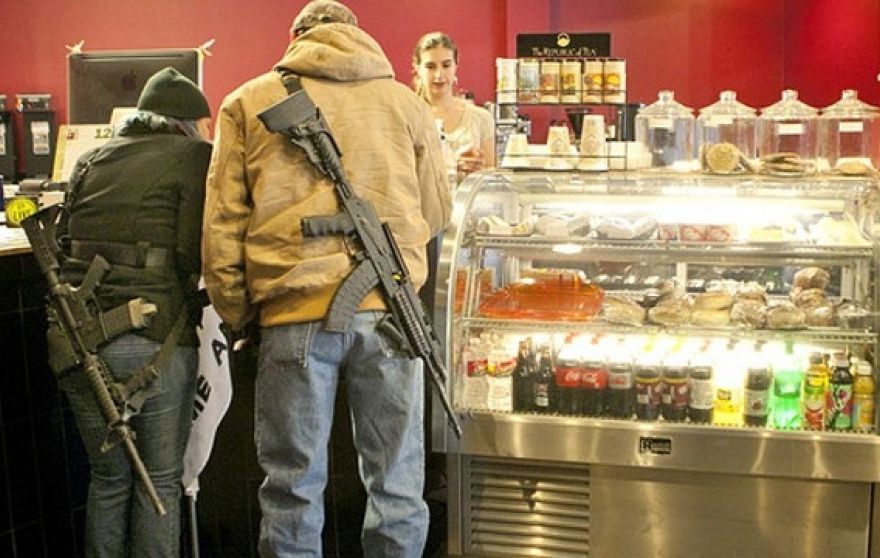 So because the above scene is just a commonplace occurrence in America, maybe no one will panic and call the cops, who will show up and shoot you on sight.
Maybe.
If your skin color is more Kenny Omega or Cody Rhodes than Tama Tonga.or Bad Luck Fale.
And definitely not if it's more Booker T or Big E.
Because open carry laws don't apply to everyone equally.
And if you don't believe the above video, there's the case of John Crawford, who was walking around a Wal-Mart carrying a toy gun that he picked up off the shelves. A bystander called it in, the cops showed up and shot him dead.
So maybe carrying around a gun-shaped umbrella isn't the best idea.
It should be noted that as of now, the Gun-brella (that's mine, I came up with that) is only available in Japan, but if it somehow makes its way stateside, someone is going to get arrested (or worse) because they watched the morning weather report and heard there was a 60% chance of showers.
There will be calls for common sense umbrella control, and from there, its a slippery slope to a national umbrella registry, and then they'll try to make laws about who can own an umbrella, or how many you can own, and then they'll try to close the umbrella show loophole. But of course, some will say that if you criminalize umbrellas, only criminals will have umbrellas. And what about umbrellas for hunting, or umbrellas for home defense?
It's a slippery slope, I tell you.