Another episode of
Off Track With A-Train
Where I take the news of the day
and put my own irreverent spin on it.
____________________________
All right, quit your complaining you whiny marks, because even though you probably hated "Bring It To The Table," the new WWE Network show that is basically ESPN's First Take for wrasslin', Brie Bella LOVED it.
But she didn't love it because Paul Heyman said that all of the fans' feelings and opinions were entirely invalid, and she didn't love it because she respected JBL's astute financial analysis.
She loved it because host Peter Rosenberg said nice things about her and her sister Nikki.
You might remember Rosenberg from his guest hosting gig at WWE TLC last month where he revealed that he was wearing Bella Twins socks.
Yeah, he's a self-proclaimed Bella super fan.
And he got called out for it by Booker T.
So perhaps it's not surprising that Rosenberg would go to bat for Brie and Nikki on his new WWE Network show, but Brie herself was so touched by this that she wants to make Rosenberg the godfather of her unborn child.
Yes, you heard that right.
And no, I am not kidding. You can watch her talking about this in the video at the top of the page or read the transcript here:
My heart was so touched when your little Bella Twins segment came on. I have to say... you just have no idea how much it means, all the nice things you always say about my sister and I, and how much you recognize all our hard work and everything we have accomplished and put into the women's division.

My sister and I, in the last decade, have really worked hard to not only contribute to the division, but also, in the mainstream world, for people to recognize the hard work and how special women wrestlers are. People don't think we feel that way, that we don't see something so special, but you have no idea. Nikki and I just, everyday we try hard to make people recognize that women wrestlers are probably the most powerful beings on Earth (honestly, we really are).

Peter, I love you. You know what? Maybe you should be the godfather of Bryan and our baby? I think that'd be amazing. We don't have godparents yet... Nikki could be a godmother, and then you could be a godfather. Yeah... I think so.
So, let's get this straight.
Brie is going to make Nikki, her twin sister, the godmother.
Checks out.
But she's going to make Peter Rosenberg, a shameless fan of hers, a guy she's met only a handful of times, the godfather.
Because she doesn't have any idea who else there is who would be an option.
She CAN'T SEE any other option.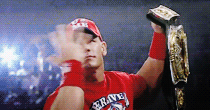 Get it?
Wonder how Cena feels about being passed up in favor of the DJ at Hot 97.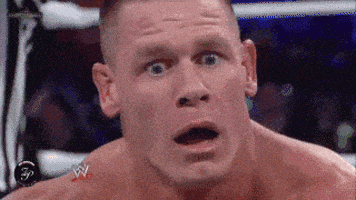 Yeah, probably like that.
Or maybe like this: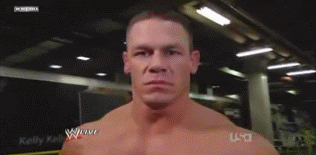 Or maybe Cena's one of those guys who doesn't want to be bothered with all of that crap.
In which case Cena might look like this: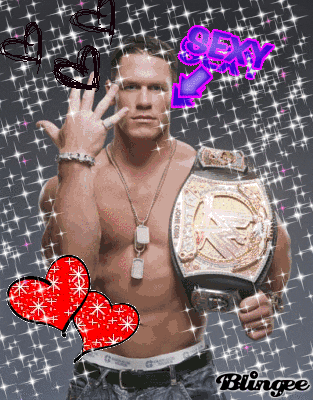 Or maybe that's just something from my old MySpace page.
Not sure.