Welcome to another edition of
OFF-TRACK with A-TRAIN
where I give my personal spin on the news of the day
In this episode ...
THE LEAST ANTICIPATED MATCH IN HISTORY
It was just added to the Elimination Chamber kickoff show, and it features these two gentlemen:
You guys!
We're finally going to get that Mojo Rawley vs Curt Hawkins match
that we've all beev wanting for so long!!!
The one we've never seen before except for that one time we did back in December but nobody cared so we all forgot about it!
MOJO vs HAWKINS.
ONE ON ONE.
FOR THE FIRST SECOND TIME EVER.
This calls for a celebration!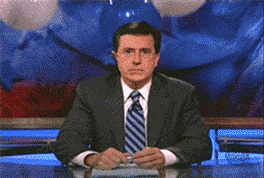 No but wait, don't you understand, they've apparently been feuding backstage for literally DAYS now!
Look!
EXCITED YET!?!?
No, but seriously, they already have seven matches on the main card, including a Tag Team Turmoil match, a handicap match and the Elimination Chamber Match itself, which is going to last a half hour by itself most likely.
They couldn't have moved one of those matches to the Kickoff-show? Like Becky vs Mickie or Dolph vs Two-Babyfaces-That-Are-So-Beloved-By-The-Fans-That-They-Cheer-When-They're-Hit-With-A-Chair?
Instead we get this thing shoe-horned in to the pre-show, Not gonna lie, I'd rather see Carmella vs Thunder Kitty again instead of anything featuring this guy:
I'm stealing my own joke from five months ago, but he looks like he just gave a rim job to the Stay Puft Marshmallow Man.
Whatever happened to his terrible Chuck Norris Joke gimmick? Did we just give up on that one?
Also, bigger question, which roll-out of a returning talent in 2016 lead to the bigger disappointment? Curt Hawkins or The Shining Stars?
It's Curt Hawkins, right?
And it's not even close, right?
The Shining Stars are over on Raw wrestling the best tag team ever, The New Day, and Curt Hawkins gets on TV maybe once a month. So the Shining Stars are more relevant than Curt Hawkins, in a landslide, and THE SHINING STARS ARE ALMOST COMPLETELY IRRELEVANT. That's how bad Curt Hawkins is.
I mean, he's by far the worst guy in this pre-show match, and the other guy is MOJO RAWLEY.
Wow.
I'm sorry.
This turned into an "I-Hate-Curt-Hawkins" column so gradually, I barely noticed, and I'm writing it.
Anyway, enjoy the Kickoff Show on Sunday, everyone!