Welcome to another edition of
OFF-TRACK with A-TRAIN
where I take a look at the off the wall stories
in the world of professional wrestling
in today's episode
EVERYBODY RUN THE CHICKENS ARE GIANT NOW
AND THEY'RE PROBABLY PISSED AT US
FOR EATING THEM ALL THESE YEARS
---
So just look at this chicken and tell me you don't think this this first step to a Planet of the Chickens type situation.
No, @LifesBook_Ceo, you're definitely no the only person wondering that.
What I'm also wondering, along with how all those steroids got mixed in with the chicken feed, is how long it's going to be before Vince McMahon signs that chicken, puts him in developmental for a while, then debuts him on the main roster when he's still too green, hides him in a heel faction for a year, then gives him a monster singles push where he fights matches against like six smaller chickens at once, and just when you think he's completely unbeatable, they feed him to Roman Reigns. 
In this case, that could be taken literally.
Seriously, this is the Braun Strowman of Chickens. 
I hope his entrance music starts with him just screaming "BUH-KAAAWWWWK!!!!!"
I want them to book this chicken against James Ellsworth, and if that happens, I've got a hundred bucks on the chicken.
I hope his finisher is the Drumstick Drop, which is like the old Hogan Leg Drop, except, y'know, he's a chicken.
They should put him in a tag team with this roided-out kangaroo. Let them go undefeated and break The New Day's tag team title reign record. 
You could call them "Evolution."
Because they are the literal, scientific evolution of their respective species.
Triple H won't like the gimmick infringement, but big deal. If he has a problem with it, he can take it up with the chicken and the kangaroo.
And Hunter don't want none of that.
But back to the chicken.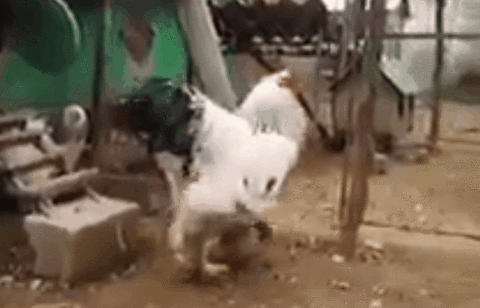 It looks like one of those weird giant Muppets that it takes two guys to operate.
That chicken should be signed by Vince immediately and debut in the Andre the Giant Memorial Battle Royal and immediately throw out both the Vaudevillains simultaneously. Then Breezango. Then Curt Hawkins. Then Mojo Rawley. Even Apollo Crews is no match for the power of the Giant Chicken. All terrible lower tier SmackDown guys in "The Andre" are sent over the top rope. Giant Chicken is starting feuds with ALL OF THEM. And also because a guy this obviously talented, with this high of a work rate, belongs on The A-Show. Tuesday nights, baby.
Finally, at the end, it's down to just Giant Chicken and Braun Strowman ... and Giant Chicken gives Braun a little nod, and backs away, does one of those little chicken hops over the top rope, ceding victory to Braun. Real recognize real, and all that. He gives the man his due respect, but there's an unspoken understanding there. One day, Giant Chicken seems to be saying to Braun Strowman, one day soon, I won't be so respectful. And on that day, Braun Strowman, on that day, you better understand.
There's a whirlwind coming, and it's full of feathers.