Welcome to another Hardy-Centric edition of 
OFF-TRACK with A-TRAIN
in which I tell WWE and Matt Hardy
to get a room already
---
So the WWE Universe Twitter account tweeted out a question today:
They asked their followers to submit their favorite match from WrestleManias 25 to 32.
One follower responded with this:
 Their retort wasn't exactly subtle:
If you don't realize why that's not subtle, take a look at this gif: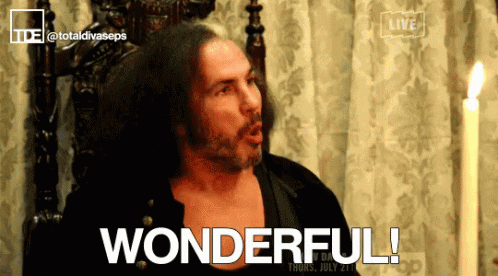 Wow, looks like it's only a matter of time before Matt Hardy responds and oh-look-he-did-already.
Jeez, guys. Stop flirting so hard.
This is is Twitter equivalent of playing footsie under the table, and everyone else at the dinner party knows they're going to hook up at the end of the night.
You don't need to pretend to be coy anymore.
If you want to wait until Sunday to announce that you're an item, that's fine, but everyone knows already. It's not exactly a secret.