The Twitter account for the Greensboro Coliseum in Greensboro, North Carolina broke some very interesting news this morning, announcing that the WWE would be resurrecting the crown jewel PPV of WCW in the place where it started.
Starrcade is back.
The event will take place on November 25, Saturday of Thanksgiving weekend.
Originally the brainchild of Jim Crockett Productions, the first Starrcade was back in 1983, and featured a main event cage match between Ric Flair and Harley Race, a clip of which you can see at the top of this page. 
To keep up the tradition and even go one better, this new Starrcade is being headlined by two cage matches, and one of them will feature the progeny of one of the original combatants--Charlotte Flair. She will face SmackDown Women's Champion Natalya "inside the confines of a steel cage." The other cage match will feature Shinsuke Nakamura vs Jinder Mahal for the WWE World Title.
WWE Hall of Famers and Starrcade alumni The Rock N' Roll Express and Ricky Steamboat are also scheduled to appear, and although this is a SmackDown event, local North Carolina boys Matt & Jeff Hardy are being advertised for the show as well.
Here is the full card.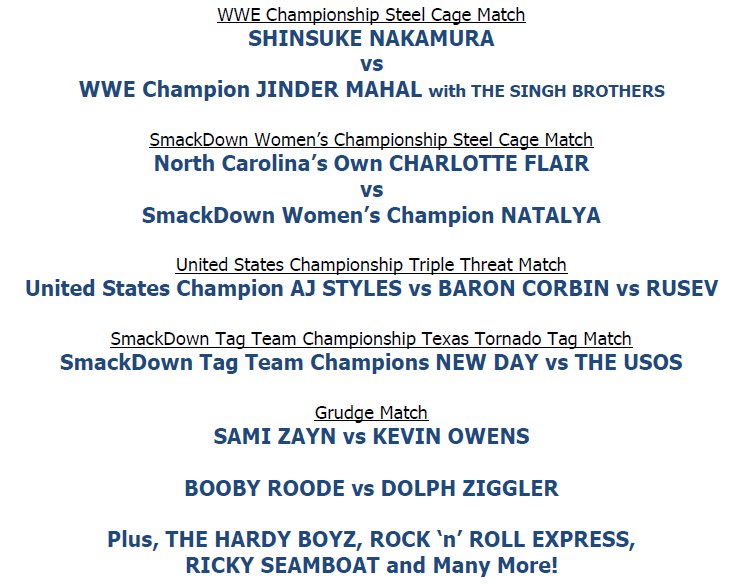 The final Starrcade was in December 2000 in Washington D.C., four short months before the demise of WCW.