Welcome to another edition of
OFF-TRACK with A-TRAIN
where I report on
HOW SLIMY AND UNDERHANDED THE WWE IS
in this episode
WWE Won't Let You See Daniel Bryan
Take A Bump While Training His Wife
Because Then You Will Think It's Possible That He Might Come Back
And They Don't Want You To Think That
Because They're Never Letting Him Come Back
And Also Probably Because "Lawyers"
---
So Brie Bella was doing a Live Stream on Instagram with her fans while Daniel Bryan was sitting with her.
They were answering fan questions, and one of them came across the scroll that they felt like they just HAD to address.
"Can you do a training video on YouTube?"
You see, Brie is training to make a comeback to the ring after giving birth to the couple's daughter Birdie. She has a target return date of early 2018, and to help her improve her skills, she's been taking some lessons from her husband, who just so happens to be one of the greatest pure wrestlers of his generation. But Daniel Bryan was forced to retire in February of 2016 due to repeated head trauma. He believes he is well enough to wrestle now, and even has doctors who will attest to that fact, but the WWE's doctor says nope, so he remains under contract as the SmackDown General Manager. He has said many times that when his WWE contract is up, he plans to go somewhere else to wrestle.
With all of that as context (that you all probably were already aware of) here is video of their answer to the above question:
So Brie made a training video to upload to her very popular YouTube Channel, but said video included footage of her delivering a dropkick off the middle rope to her husband, he took a simple back bump, and the WWE put the kibosh on that deal RRRRRRIGHT QUICK.
And if you think Brie was happy with this situation, might I direct you to this photo:
So here's the deal. 
You say you're all about concussion safety now, and you're just trying to protect Daniel from himself, but the head of your wellness policy is the sell-out that the NFL (allegedly) paid to say that CTE wasn't real and you've got the 72-year-old head of your company going out there and taking shoot headbutts.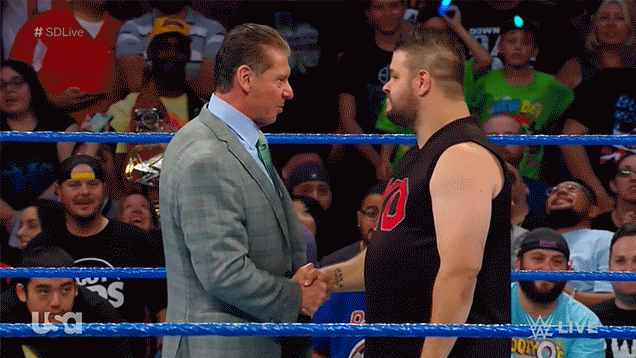 And now you're hiding footage from us that proves that the most organically popular superstar of the modern era isn't really some kind of invalid.
Look, I don't want to turn this into some kind of Bo Dallas conspiracy theory here, but if you want to start 
CONNECTING THE DOTS
here, when Daniel Bryan was last a full-time wrestler for the company, the rabid nature of Bryan's fans was really throwing a monkey wrench into their plans to crown Roman Reigns as the top guy in the company. Remember this?
Yeah, that awkward moment happened because the fans would not accept ANYONE other than Daniel Bryan winning the 2015 Royal Rumble. And then they had Roman face Bryan for the #1 Contendership the following month at Fastlane, figuring that if D-Bry could get an amazing match out of Reigns (and he did, of course), the not-yet-christened Big Dog would be seen as getting the rub from the fan favorite and they could move on to Reigns defeating Lesnar at Mania the way they had planned all along. Instead, the crowd hated him even more, and they had to call an audible with Seth Rollins cashing in the Money In The Bank briefcase in the Main Event that night.
Imagine if Daniel Bryan was cleared and wrestling right now. You think that support for him from the fans would be any less now than it was before? You think they wouldn't highjack every non-Bryan segment, boo every decision that didn't put him over? Stage social media revolts? Of course they would. And the WWE can't have that. So they keep him out of the ring, refusing to clear him.
But they also can't have Daniel Bryan going off somewhere and becoming a huge sensation for ROH or NJPW (or both) or GFW ... okay, maybe not GFW, but the WWE doesn't want that, either. So they keep him under contract as a non-wrestling talent, and ensure that no one even sees him take a back bump on his wife's YouTube Channel, because that would mean he might actually be healthy enough to wrestle. And if he's healthy enough to wrestle, then why isn't he wrestling, WWE?
Anyway, this all just hearsay and conjecture of course, but all I'm doing is just
CONNECTING THE DOTS