Welcome to a Belated Abridged Version of the
Mid-Week Wrestling Wrap-Up
This past week, you guys. I swear.
Before you ask, I haven't even had time to watch TNA from Thursday,
let alone write anything about it.
So I'm just getting a few thoughts out there about
NXT and Lucha Underground
so we can get back to square before Raw tonight
and get back on a schedule.
Cool?
Cool.
____________________________________________________
NXT
Personally, I prefer "Glorious 10."
So the episode begins with Tye Dillinger mopping the floor with Ol' Two-Headbands Angelo Dawkins, and then afterwards Bobby Roode comes out and says he's impressed by Tye and asks him to be his Tag Partner while still sort of insulting him, because, you know, it's Bobby Roode.
They're the first official entrants in the 2nd Annual Dusty Classic Tag Tournament, and if you've seen all the Teams they've announced since Wednesday, there's certainly cause for celebration.
The Revival
The Authors of Pain
Gargano & Ciampa
TM-61
Andrade "Cien" Almas & Cedric Alexander
Roode & Dillinger
Riddick Moss & Tino Sabbatelli
The Bollywood Boyz
Niko Bogojevic & Tucker Knight (who perform on the NXT House Show Circuit as "Heavy Machinery")
No Way Jose & Rich Swann (who I hope form the permanent team of "Dance Dance Revolution")
Bin Wang & HoHo Lun
Hideo Itami & Kota Ibushi
​​​​​​
HOLY CRAP. And there's still four more teams left to be announced.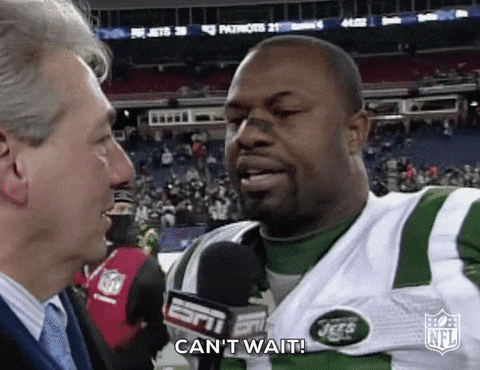 Bart Scott and I have something in common.
________________________________________________________
Samoan Joseph respects traditional Heel/Face boundaries.
Because he may be carving a warpath through the roster until Commissioner William Regal either brings him Nakamura or hands him his Title, but he's not going to attack The Revival.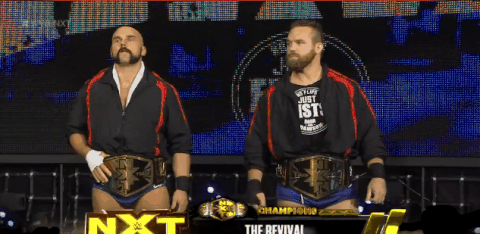 He's not a monster.
____________________________________________________
Beauty and the Beast.
Mandy Rose is what would happen if Eva Marie was blonde and could actually look like a wrestler in the ring.
"All Gold Everything" holds her own against Assassin Werewolf Ember Moon, even pulling out a reversal of a flying headscissors that's so damn perfect, I'm surprised no one's ever tried it out before. With another year and a half or so under her belt, she might be something special.
Buf for now, she's wolf food.
Liv Fast, Die Young and Leave a Good Looking Corpse
Liv Morgan is adorable, in that "3-week-old, clumsy kitten" kind of way.

Pictured: Liv Morgan.
But I wouldn't put Liv Morgan in a ring with Asuka any more than I'd put that clumsy kitten in a cage with a hungry tiger. And if I did, I'd expect basically the same result.
Asuka says no one is ready for her, and she ain't lying.
Except maybe a certain Werewolf Assassin.
Takeover Toronto can't come soon enough.
Also, there's this:
HEART EMOJI.
_____________________________________________________
I think it's pronounced PLETH-ora, Paul.
So the P.E.E.P.S. absolutely WAX two chumps, looking great while doing it. The guy that Tokka (or Rayzar, I can't keep them straight) is about to gorilla press over the top rope is NOT EVEN THE LEGAL MAN. They're in the habit now of wrecking dudes before they're even tagged into the match, and I gotta say, I love it. It's a cool new wrinkle that adds a fun layer to their squashes, in a "no one gets out of here alive" kind of way.
After the match, Paul Ellering gets in the ring, says "The first chapter was about the arrival, the second chapter is a plethora of pain, and that's all you need to know." Except he pronounces it "plethORa", which is totally wrong.
Even El Guapo knows that.
_______________________________________________________
Enough with the rehab assignments.
When major league baseball players are coming back from an injury, they go on a rehab assignment, playing in the minor leagues against slightly lesser competition until they are fully healthy and ready to resume play in the majors.
This is where Hideo Itami is. He's been taking on guys from the Cruiserweight Classic, which, I mean, I love those guys, but let's be real, they're the minor leagues. Sean Maluta, Mustafa Ali, Drew Gulak, Lince Dorado, they're all great performers in their own way, but they're not big league competition.
However, Lince Dorado does do a great sell-job of the GTS, taking the knee to the temple instead of the forehead, and then just crumpling to the canvas.
After what is hopefully Hideo's last rehab assignment, A-Double Austin Aries attacks him from behind, then when the ambush goes sour, he ske-daddles up the ring ramp with his hands raised in victory.
Heart Emoji.
________________________________________________________________________
Lucha Underground
Okay, so here's the main thing about Lucha from this past week.
Mil Muertes has some new ammo for his impending war with Prince Puma.
You see, back in early season 2, Mil Muertes and Catrina had three skull masked disciples:
They were basically glorified jobbers, but they were the Trios Champs for a little while. Then they lost a bunch of matches and just generally started f*cking up left and right, so Catrina threatened to kill all of them. Say what you will about Bobby The Brain Heenan or Mr. Fuji, as managers of heel stables, they may have been up to no good almost constantly, but they never sunk as far as attempted murder.
Anyway, the purple masked hench-mask, Siniestro de la Muerte, saw the writing on the wall, and pulled the hearts out of the other two disciples. Literally. It was on TV and everything.
As tends to happen in these types of situations, Siniestro absorbed the powers of his two murdered brothers. So now he was like one jobber with the power of three jobbers.
Last week, he lost to Prince Puma, one of Mil's greatest rivals, and he let Puma finish him off with Mil's own special maneuver.
The ultimate insult.
So Catrina finally does murder Siniestro,
Then she inhales his essence and breathes it into Mil Muertes.
Mil Muertes now has three jobbers' powers, in addition to his own superpowered bad-ass self.
Plus, I guess his mask is electric, now?
#PrayforPuma.
_______________________________
Plus, there was a pretty good 8-Person Intergender Tag Match that you can watch right here:
Also plus, Cortez Castro (aka Undercover Detective Reyes) shows up at the temple, and Dario Cueto doesn't even have him killed!
He expresses sympathy for the death of Cortez Castro's buddy Mr. Cisco, who of course, Dario beat to death with a blood-red bull sculpture. Cortez knows this, Dario knows Cortez knows this, but Cortez doesn't know that Dario knows that Cortez knows this. Does that make sense?
Anyway, Dario vows to search for "the real killers" then tells Cortez that he's got a match, right now. Against Pentagon Dark.
Pentagon wins in about 45 seconds, then breaks Cortez's arm.
If you ask me Cortez got off easy.
Then Pentagon delivers a promo where he says this:
God, I love Lucha Underground.
Anyway, the main event of the evening is two dudes fighting for the right to face that arm-breaking, no-respect-having-for-his-own-mothering sonofabitch up there, with Rey Mysterio as the special guest referee.
Dragon Azteca wins, since Chavo Guerrero thinks Mysterio is giving him a slow count, and to make sure the ref is giving him a fair shake, he punches him in the face, which always works.
Yeah, that's definitely going to make the ref count faster for you, and not the opposite of that.
Or it could lead to him punching you in the face, leading to you being beaten.
On the plus side, now you don't have to face this guy later:
Seriously, why would anyone want to fight a pissed-off ninja-skeleton? It just seems like poor life planning.
AND SPEAKING OF NINJAS.
God, I love Lucha Underground.
________________________________________________________
Until Next Time, I've Been Alex Pawlowski,
and this is me realizing that real honest-to-God NINJAS
are coming to Lucha Underground.