Here's your Fight Size Update for the evening of February 11th, 2018.
- Current SmackDown Live talent Mojo Rawley, spoke with TMZ while he was out and about and was asked about his good friend, New England Patriots TE, Rob Gronkowski. Following falling short in the Super Bowl, Gronk stated that there is no definite answer on if he will be returning to football in 2018. Gronk has been in a WWE ring before and his buddy Mojo Rawley feels that its not a matter of if, but rather when will Rob Gronkowski come to the WWE.
- Longtime friends and rivals, former RAW Women Champion's Sasha Banks & Bayley taunted one another via Twitter yesterday evening. The exchange began when Bayley stated that it was "only a matter of time" before she defeats Asuka; as on the latest edition of RAW, Bayley fell short to the undefeated "Empress Of Tomorrow". Sasha Banks, who fell short to Asuka the week prior, stated that she was going to beat Asuka, which lead the the two women having some compeitive fun with one another.
- A Twitter user captured a conversation between the newest addition to WWE's women's division, Ronda Rousey and Nia Jax. Rousey uploaded a photo on her Instagram which featured her taking down an opponent during her amateur days. Nia Jax commented that she would like to see Rousey do that to her and the former UFC Women's Bantamweight Champion provided some wise words to Jax.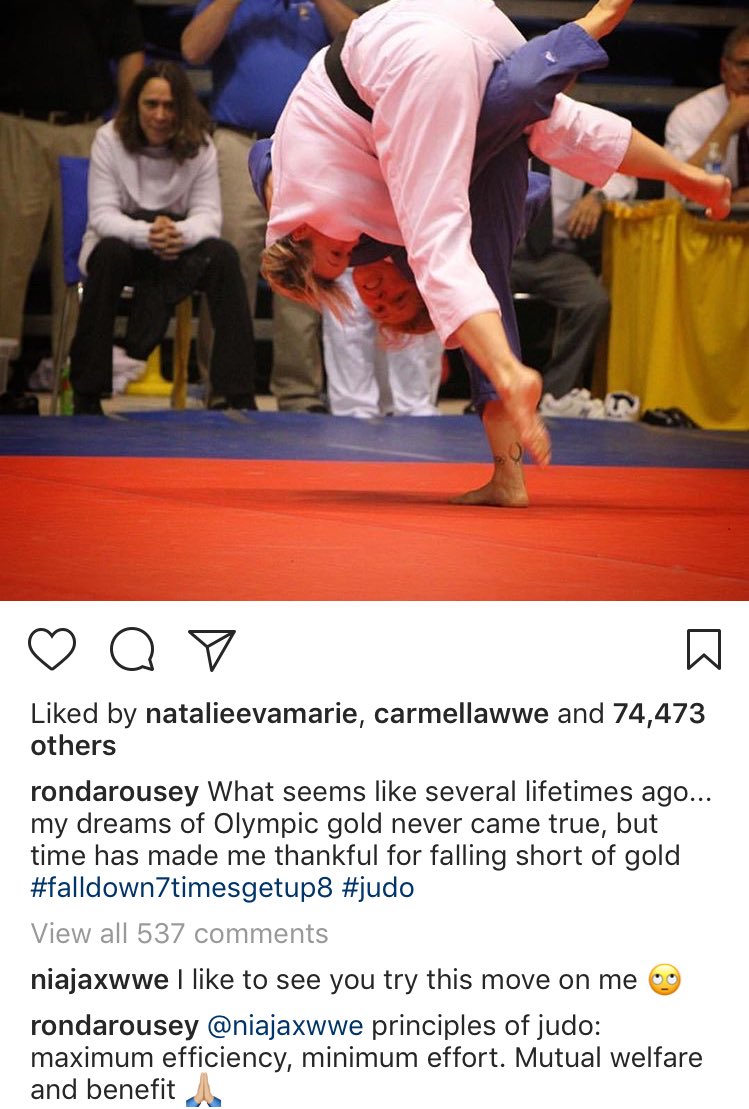 - The "Woken One", Matt Hardy, recently conducted an investigation into the Club of Balor when Hardy alerted Luke Gallows and Karl Anderson that although he & Finn are friends, Finn will not stop Matt Hardy from earning his way into the mens Elimination Chamber match on February 25th. What Matt is referring to is the "Second-Chance" Fatal 4-Way match that will be taking place on tomorrow's RAW featuring: Finn Balor, Matt Hardy, Bray Wyatt & Apollo Crews. The winner of that match will join Braun Strowman, John Cena, Roman Reigns, The Miz & Elias inside of the Elimination Chamber.
- Although the "Monster Among Men" wrecks havoc every Monday night, the big man apparently does not only have a soft side for Alexa Bliss, but for the children of the WWE Universe as well.
- WWE host Renee Young, was recently a guest on the Sam Roberts Wrestling Podcast where she went over her journey to the WWE. Click here to listen take a listen.
- Longtime Impact Wrestling staple, Jeremy Borash, was present at an NXT Live event last night in Orlando. Borash was brought in by Triple H to NXT and Borash's role has yet to have been confirmed by the WWE.
- During NJPW's 'New Beginning' show, former World Heavyweight Champion Rey Mysterio appeared on the main screen and announced that he would be challenging wrestling legend, Jushin Thunder Liger at NJPW's 'Strong Style Evolved' show in the United States on March 25th.
The "Villain", Marty Scurll, expressed his excitement for the match via Twitter.
- Rusev & Lana are ready to take on Elias & Bayley in this week's first round matchup in the Mixed Match Challenge tournament. Lana & Rusev did a parody of Elias & Bayley, as the "Ravishing Couple" are ready to crush the competition.