Welcome to another edition of
OFF-TRACK with A-TRAIN
You guys get it by now, I hope.
In this episode ...
You Probably Thought She Would Choose "Hollywood"
Today, Kendall Jenner joined the nWo Wolfpac.
Yes, in what is possibly only the second most surreal picture to come out of the wrestling world today, Kendall donned a way-too-big-for-her nWo Wolfpac shirt and walked the runway at the Michael Kors fashion show.
Here is an artist's rendering of what it might look like when she makes her actual faction debut:
No word on whether she's expressing solidarity for Kevin Nash and the boys and their struggles with the dastardly nWo Hollywood faction, or if she's just a big Aziz Ansari fan.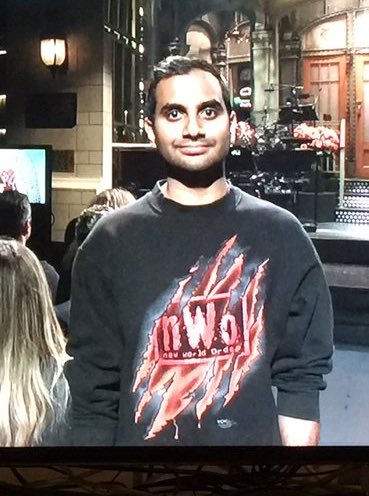 This is from his Saturday Night Live hosting gig last month.
What is the world coming to?
Although, maybe we shouldn't be so surprised.
As Scott Hall puts it:
And apparently, Konnan has invited Kendall to become a full member of the stable.
"Kendall showing love to the Wolfpac is too sweet. She just got super over with me! Wolfpac always welcomes cool members, so hit me up anytime Kendall and we'll make you an official part of the family."
2017, man. 
2017.