I'm forgoing my usual "OFF-TRACK with A-TRAIN" segment to bring you a very serious public service announcement:
Mustafa Ali is your new favorite wrestler. You just might not know it yet.
But by the end of this column, you will agree. This dude is THE GUY and WWE needs to strap a rocket to him and push him to the damn moon--starting with a victory in the 205 Live Cruiserweight Championship Tournament.
Now, there are a lot of you reading this who are tuning out immediately after hearing "205 Live" and "Cruiserweights" and I really can't help those people. Goodbye, have a nice life, you don't have to like the WWE Cruiserweights, that's certainly your choice, but just know, you're missing out on some truly great in-ring professional wrestling--especially on the new post-Enzo 205 Live.
There are even more of you, truly casual fans, who only watch RAW and the occasional SmackDown, who might not know who Mustafa Ali is. He's very rarely featured on the flagship show. But here's the thing: You already think you know who he is. If you've watched WWE programming for longer than 5 minutes, all you have to do is see his name in print, and you know he's a bad guy. An evil foreigner character--probably with some kind of terrorist gimmick.
But he's not.
He's the most pure babyface on the roster.
Figure THAT one out.
Over the past weekend, WWE came to Mustafa's hometown of Chicago and he got a hero's welcome, picked up the victory in a Fatal 4-Way and celebrated in the ring with his daughter. WWE featured it on their Twitter:
As Mustafa himself said, he's come a long way, baby.
Allow me to explain for the uninitiated. Mustafa Ali was born in Chicago to Pakistani immigrants. He is a proud Muslim, with a wife and two small children, a boy and a girl. He was a Chicago-area cop for four years. He says he joined the force because he saw the "Us vs Them" style of policing and wanted to change hearts and minds on both sides, bring people together.
This is basically the gimmick for his entire WWE persona. His Twitter bio reads "Be the light in a world of darkness."
He began wrestling at small indie shows in the Chicagoland area, without the knowledge or approval of his police bosses. He says they started to catch on when he would come to work on Monday with a mysterious black eye, like Edward Norton in Fight Club or something. When they found out, they weren't too happy about it, but he didn't stop. He loved it too much.
Then came the summer of 2016. 
The Cruiserweight Classic.
When masked Brazilian pseudo-reptile-man Zumi was unable to compete due to visa issues, Mustafa was the alternate tapped to take his place. He was one of the least experienced competitors in the tournament. This was his hype video:
Even back then, you could tell his passion for inclusivity was informing how he wanted to be seen by the WWE. But by the time he got in the ring, against future 205 Live co-worker Lince Dorado, he was firmly working heel, turning his natural quiet confidence and presenting it as entitled arrogance.
He also did this: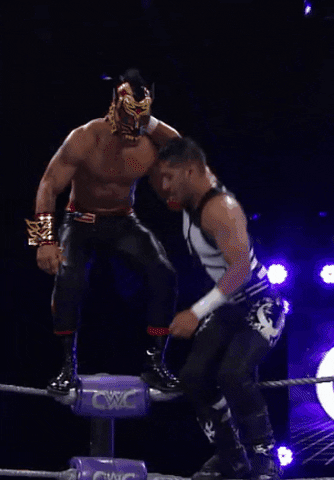 And it was right there that I became a Mustafa Ali fan.
Here he is doing that same move to Neville on the RAW after Wrestlemania 34 less than 9 months later:
Incidentally, that match was possibly the best Cruiserweight match on RAW since the re-establishment of the division. Mustafa didn't win, but he proved he could hang with the best in the world.
But I'm getting ahead of myself.
When the Cruiserweights debuted on RAW in September of 2016, Mustafa's persona was very, how do I put this? ... very Jinder-esque. He cut an in-ring promo saying that all the audience needed to be able to hate him was to hear his name. That sentiment was echoed in his first 205 Live promo video:
But, he says, he wants to prove the doubters wrong, silence the haters, make the bigots rethink their worldview. The above video was shown on 205 Live on December 7. The video below was shown on RAW on January 23rd, and features an excerpt from his in-ring promo where he thanks the fans for proving that he was wrong about them. 
And from then on, he was a true babyface, a high-flying acrobat in the ring, and a thoughtful, sensitive soul outside of it.
Watch that video and tell me this isn't the kind of role model you'd want for your kids.
Aside from his run-ins with Neville, Ali had a fun feud with Drew Gulak that progressed Gulak's "anti-high-flying" gimmick, which ended with a brilliant 2 out of 3 Falls match in July:
But he never got a real title shot, coming up just short in several #1 Contender's multi-man matches. During the Enzo Era, the WWE apparently decided there was only room for one top babyface contender and pitted Mustafa against fellow fan-favorite Cedric Alexander. 
Watch that video, watch these two performers have a fantastic improvised argument, and then tell me you don't think Mustafa Ali is one of the best "actors" in WWE.
Thankfully though, Enzo is gone from the Cruiserweight division, and on the first episode after his dismissal and abdication of the Championship, Alexander and Ali had a face vs face battle to be the top guy on 205 Live and it did not disappoint:
The two shook hands after the match, now allowed to be friends again, and their post-match backstage promo was hopefully a sign of things to come:
The refrain that Ali uses there is interesting. To paraphrase: "We went out there and we tore the house down, and now we get to rebuild it--the way it should be."
Cedric has been the defacto #1 Contender since Rich Swann's domestic violence incident in December, but circumstances surrounding an Enzo Amore injury and illness kept pushing his title shot back until Enzo was finally released after rape allegations surfaced. Cedric deserves a title run at some point, but it might be Mustafa Ali's time right now.
The new Cruiserweight Championship tournament has had a lot of great matches and a couple interesting newcomers. NXT's Roderick Strong faces Cedric in a final four matchup, and former NXT Tag Team champion Buddy Murphy faces Mustafa Ali tonight in the last quarterfinal match.
One might be tempted to think that 205 Live's new head-booker, Triple H, might want to elevate a couple of his NXT guys and make them the face of the brand, but don't count out a rematch of that brilliant Cedric vs Mustafa match.
Mustafa Ali should be the poster boy for 205 Live, and he's a sure fire way for WWE to get mainstream coverage. The Muslim son of Pakistani immigrants, an ex-cop and a devoted family man. You'd be hard-pressed to find a guy with a better story than that.
But that was the story before this past weekend, when this self-written, self-produced, self-released promo showed up on Mustafa Ali's Twitter.
Now, this promo is the story.
Watch it again.
You know you want to.
This is maybe the best promo video I have ever seen. Maybe. It's definitely in the Top 5, and it was produced by one guy, by himself with a camera on a tripod.
And I am not kidding.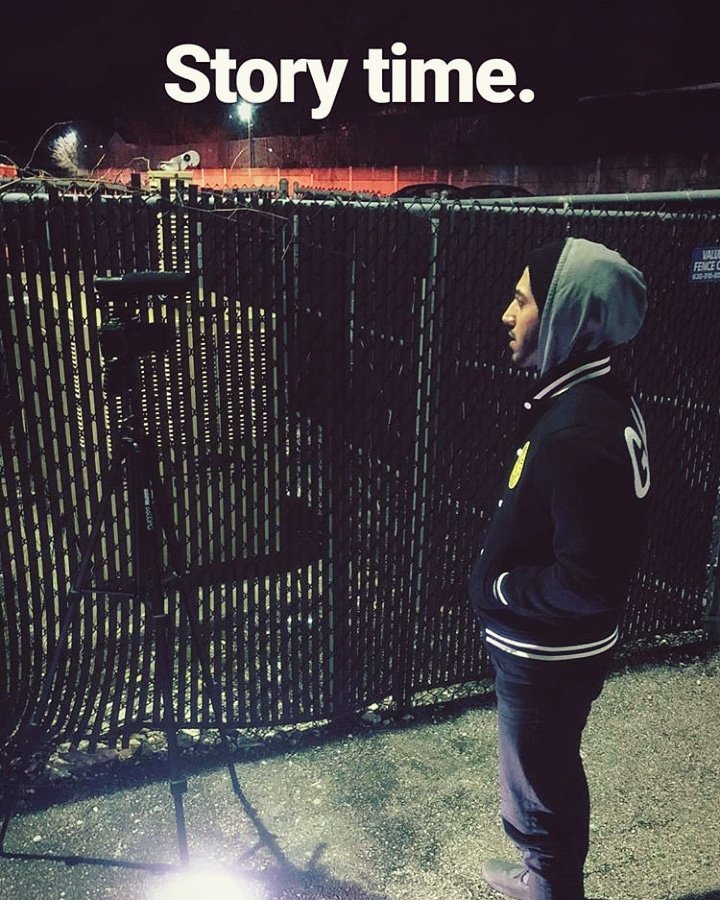 Like, if the cruiserweight division ever folds entirely, and Mustafa doesn't have a spot on the roster anymore (god forbid), they seriously need to hire this guy to write, produce and edit their video promos for them. 
It's magic.
Look at the lighting, the production values, the times when it cuts to another shot of him with the monologue turning to a voiceover narration, that shot, HOLY GOD, that shot, the extreme close-up as the car passes by him and the lights shift on his face.
The writing is brilliant: the simple, effective story-telling, how one subject bleeds into another, the final paragraph:
"What do you see when you look into my eyes, Buddy? Do you see hatred? Do you see hostility? No, man, you see something a lot scarier than all that. You see a man with purpose.

You see a man who doesn't fight for himself, he fights for them. You see a man who isn't afraid to break himself down to break down barriers.

You call yourself the best-kept secret? Let me give you my best kept secret: The most dangerous man in this world doesn't fight for himself... he fights for others."
and then, of course, the final moment, when he turns and walks away from the camera.
"GOAT."
He might be.
He just might be.
And if WWE is smart, they'll let him at least give it a shot.