Welcome to the Live Coverage for
ROADBLOCK:
END OF THE LINE
Sound off in the comments below and join our Live Viewing Party!
If you haven't yet, check out my Predicitions and Picks,
featuring a fantasy booking of the main event
that will warm the hearts of the IWC on this cold December evening.
Also, watch this, because Ana Bauert is terrific.
HERE WE GO.
Big Cass vs Rusev
Enzo and Cass come out and run their mouths for like ten minutes before the match.
This happens:
So it's gonna be one of those nights.
Cass spells "Soft" wrong, then gets in the ring and immediately starts beating on Rusev, ejecting him to the outside as we go to commercial.
After the break, Cass is still beating on Rusev, like Rusev has gotten in ZERO offense over the first three minutes of the match.
He retreats out of the ring and into the crowd, Cass follows, Rusev doubles back, sees Lana faking as though she's hurt, Rusev blasts Enzo from behind and slides into the ring.
Cass checks on Enzo, gets counted out.
WINNER: Rusev by Count Out.
That match was considerably shorter than the Enzo and Cass promo that preceded it.
It was almost entirely worthless.
They should have had a six man cruiserweight tag match instead.
I hope the show gets a lot better from here.
__________________________________
The New Day vs Cesaro & Sheamus
If you believe the bookies, The New Day is losing this one.
Wow. That would be pretty incredible.
Big E makes a "Roadblock/Cock Block" joke, Xavier Woods sings "Swing Low, Swiss Chariot," you get the idea.
Here we go, if New Day is really losing their titles here, they're gonna want to make this a classic.
Cesaro and Kofi do their duelling Monkey Flips thing to start with.
Kofi gets caught with a Sheamus clothesline from the apron, then plays face in peril with Sheasaro cutting off the ring.
At one point, Sheamus knocks Big E off the apron, so when Kofi gets to his corner, Big E's not there.
Ceasro does his pop-up Euro uppercut thing.
BIG E HAS BEEN DOWN ON THE OUTSIDE FOR LIKE TWO MINUTES.
Finally he gets up to the apron, takes the hot tag, his the Spear through the ropes, rolls Sheamus back in, hits the running splash.
Two Count.
Big E is dazed from a couple shots, Sheamus goes for a Brogue Kick, E ducks it and gets him in powerbomb position, nails it.
Two Count.
Later, Kofi tries to rescue E from a Big Swing, Sheamus goes after him, hits Cesaro by accident.
Woods hits Cesaro with an Enzuigiri, Cesaro gets Big Ending'd.
TWO COUNT.
The action is too fast and furious.
Kofi taps out to the Sharpshooter, but the ref is distracted by Woods.
Later Woods shoves Kofi out of the way, gets Brogue Kicked.
Sheamus goes to tag Cesaro, but he doesn't.
Kofi thinks he did.
Hits Trouble in Paradise on Cesaro, goes for the cover, but Cesaro's not legal.
Sheamus rolls up Kofi.
1-2-3.
WINNERS: Sheamus & Cesaro
The New Day forlornly gather together, reluctantly but respectfully give the title belts to the new champs.
Cesaro hugs them.
Sheamus grabs both belts and celebrates by himself on the turnbuckle as Cesaro goes into the crowd to celebrate.
MY GOD THEY'RE STILL DOING THE "WE HATE EACH OTHER" ANGLE THIS SUCKS.
__________________________
Backstage Interview With Kevin Owens
He's horribly insulted by Charly Caruso's insensitive questions.
Owens sees that Jericho is behind him, apologizes for what happened in the tag match back on Raw, gives Y2J a present.
It's a holiday scarf.
Jericho throws it back at Owens, walks away from him.
True Love Is Dead.
________________________
Sami Zayn vs Braun Strowman
Sami gets a few licks in, but then Braun throws him across the ring and commences the beating.
Braun has new pants.
Sami is in the ropes, Braun rushes him, Zayn pulls the top rope down, Braun goes over. Zayn tries a plancha, gets caught, dropped facefirst on the apron.
Back in the ring, Braun keeps the beatdown going, then makes a cover, but pulls Sami up at one.
He does it again, but pulls him up at two this time.
Sami keeps getting up, Braun keeps putting him right back down.
OVER AND OVER AND OVER AND OVER AGAIN.
Sami is bleeding from the mouth.
MICK FOLEY IS WALKING TO THE RING WITH A WHITE TOWEL IN HIS HAND.
MY GOD.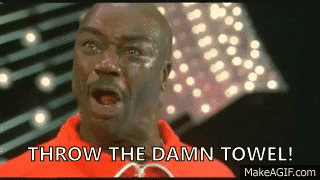 Braun tells Mick to throw it in. Sami begs Mick not to.
Sami grabs the towel, throws it into the crowd.
Braun charges Sami, Sami dodges, hits the post.
Charges Sami, Sami dodges, breaks through the barricade.
Strowman gets back into the ring at the count of nine.
Charges Sami in the corner, Sami dodges, Braun hits the post.
Sami hits a flying crossbody, Two Count.
With less than ten seconds left, Sami hits a Helluva Kick. Braun doesn't go down.
Time expires.
WINNER, BY NOT LOSING: Sami Zayn
Well, that was unsatisfying.
_______________________
Seth Rollins vs Chris Jericho
I hope this is over in five minutes.
This starts out as a real barn burner.
Headlocks and wistlocks for days.
Jericho able to take control with a missile dropkick and a back suplex.
Now he's chopping Jericho in the corner. Whee.
I am in a terrible mood.
Rollins whips Jericho into the ropes. Jericho hangs on, slides outside.
Rollins hits his knee to the temple thing off the apron to the floor, then throws Jericho into the barricade.
Back in the ring, Jericho takes advantage of the ref distracting Rollins to hit his springboard dropkick on him, Rollins is down on the outside.
Just barely beats the count of ten back into the ring.
Jericho with a super exciting chin lock.
Rollins fights out of it and runs the ropes, right into a dropkick from Y2J.
Two count.
This match sucks and is pointless and I am a grouch.
Jericho slapping a downed Rollins, Rollins starts slapping back, Jericho hits a knee to the gut.
Later, Rollins does his comeback for real, first hitting the slingblade, then a Buff Blockbuster for two.
Rollins goes for the Pedgree, Jericho back body drops him, Rollins lands on his feet.
Jericho goes for the Walls of Jericho, Rollins fights out.
But he's right back in the Walls a minute later, and is able to fight to the ropes.
Jericho gets Enzuigiri'd, Seth misses a frogsplash, Jericho hits a Lionsault.
Two count.
Is this match over yet?
They're punching each other while they're on their knees.
Rollins and Jericho reverse a Pedigree into a powerbomb into a hurricanrana into a walls of jericho.
Jericho goes for a top rope double axehandle, gets kicked a couple times for his troubles.
Kevin Owens comes down on the apron, gets hit by Rollins, Jericho rolls him up.
Two count.
Jericho yells at Owens to get away, he does, Jericho turns around into a jumping knee, he goes for a Codebreaker, it's blocked.
PEDIGREE.
WINNER: Seth Rollins
That was one of the most pointless matches I can remember on a PPV in a long, long time.
I hated it.
So far, the Tag Match and the first half of Braun/Sami are the only things tonight that haven't sucked.
_____________________________
Rich Swann vs TJ Perkins vs Brian Kendrick
Some really good cruiserweight action.
At one point in the early going, Swann hits a standing Frankensteiner ON BOTH MEN AT THE SAME TIME.
Kendrick has Swann in the Captain's Hook, Perkins pulls Kendrick off and puts him in the Kneebar, Swann hits a splash on Perkins to break up the hold.
Swann blocks Kendrick's Sliced Bread, Perkins kicks Kendrick off the apron, puts Swann in the Kneebar, Swann makes it to the ropes, but that doesn't matter, because it's a triple threat.
Someone should tell Perkins that, because he lets go.
Swann and Perkins are trading hands when Kendrick gets back in and gets double superkicked.
Swann immediately kicks Perkins in the side of the head.
1-2-3.
WINNER: Rich Swann
As Swann is celebrating, NEVILLE SHOWS UP.
HEEL NEVILLE.
This is the best thing to ever happen to the Cruiserweight Division.
It is also the best thing to happen on this PPV.
______________________________________
Sasha Banks vs Charlotte Flair
30 Minute Iron Man Match
They start out slow with a couple of tie-ups and traded headlock takedowns.
Three minutes into the match and neither competitor has really hit a move on the other.
Sasha goes for a crucifix pin, and transitions it into the Banks Statement, only for Charlotte to escape to the outside.
Five and a half minutes in.
Sasha mocks the Ric Flair strut and this pisses off Charlotte.
Sasha gets Charlotte in a sleeper with bodyscissors, Charlotte stands up and sitdown into a kind of jawbreaker.
Sasha hits her double knees off the apron spot.
Back into the ring, Charlotte gets put into the Straitjacket hold.
It looks painful,
This guy looks like this:
Sasha hits a suicide dive to the outside, then Charlotte gets rolled back in, and kicks the legs out from under Sasha on the apron, and she falls face first onto the steel steps.
Charlotte rolls her back into the ring, makes a cover for two.
She's firmly in control now, working over the champ with stomps and kicks and submission holds to the neck.
Banks fights back, hits a crossbody for two.
Charlotte gets right back in the driver's set.
HALFWAY THROUGH THE MATCH, STILL ZERO--ZERO.
Sasha almost gets a quick roll up, which pisses off Charlotte.
Sasha attacks Charlotte in the corner with slaps and stomps and running Almas double knees.
Charlotte ducks a flying crossbody, then hits Natural Selection.
TWO COUNT.
Charlotte gets Sasha in position for the moonsault, but Sasha stops her on the top turnbuckle, Charlotte slaps her, turns her around, hits Natural Selection off the top.
1-2-3.
CHARLOTTE PINFALL. 1-0
Charlotte toying with Sasha now. Sasha with a flurry of slaps, Charlotte ducks, hits a back suplex.
Two count.
9 Minutes left.
Sasha rolls up Charlotte, who reverses it, which is reversed by Sasha.
1-2-3.
SASHA PINFALL. 1-1
8 minutes left.
Charlotte gets another nearfall off a big boot, then drags Sasha over by the corner.
Moonsault! Sasha moves!
Sasha locks in the Banks Statement, Charlotte almost gets to the ropes, Sasha pulls her back.
CHARLOTTE TAPS. 2-1 Sasha
Charlotte is really pissed and super desperate now, fighting for everything she has.
Sasha's leg gets caught up in the ropes, Charlotte jumps on it.
Charlotte keeps working the knee, 3 minutes left.
Sasha won't let Charlotte lock in the Figure 4, but Charlotte keeps inflicting damage on it in other ways.
Chopblocks, kneelocks, etc.
2 MINUTES LEFT.
Charlotte locks in the Figure 4, but can't bridge into the Figure 8.
Sasha trying to fight out of it.
1 MINUTE LEFT.
SASHA IS STILL HANGING ON.
10 SECONDS LEFT.
5 SECONDS.
SASHA TAPS. 2-2
TIME RUNS OUT
The ref calls for Sudden Death Overtime.
Next fall wins.
Sasha can barely stand.
Charlotte is licking her chops.
As soon as the bell rings, Charlotte goes for the leg, Sasha rolls her up.
Two Count.
Charlotte with a Fall Away Slam.
Sasha tries a roll-up again.
Two count.
Sasha's nose is bleeding.
Sasha somehow puts Charlotte in the Banks Statement.
CHARLOTTE REVERSES IT INTO A FIGURE FOUR.
The lower half of Sasha's face is a bloody mask.
CHARLOTTE BRIDGES INTO THE FIGURE EIGHT.
SASHA TAPS!
WINNER: Charlotte
In retrospect, Sasha probably shouldn't have tapped with only two seconds left.
Oh well, hindsight is always 20-20.
________________________________
Kevin Owens vs Roman Reigns
By the way, I should mention that earlier tonight, Owens went to Jericho's dressing room, which was locked, and begged to be let in.
There was no answer, so he apologized through the door.
Still no answer, he walked away, dejected.
So Jericho was never in that room, right? And he'll somehow get involved with the finish of this match, yes?
Anyway, when Roman comes out, the boos are off the charts.
People are in a terrible mood since Charlotte won.
As soon as the bell rings, Owens rolls to the outside and takes some time to think about a friendship dissolved.
He gets back in, then right back out.
Roman follows and hits him with a few right hands, then throws him back into the ring.
Owens gets right back out, because it's very important that he look like a weakling coward so that Roman can look strong and brave by contrast.
It's like a rule or something.
Back in the ring, Owens cheapshots Reigns, then tries a headlock for a while, which doesn't matter to Reigns.
Owens gets back outside, Roman follows, throws him into the barricade, starts prepping the German announce table for a big spot later.
Back in the ring, Owens is in control for a while until Roman remembers that he's superhuman. He takes over, and Owens gets out of the ring again.
Roman follows.
Again.
This time, though, Owens whips him into the steel steps, then nails a senton off the steps onto Roman.
He rolls Roman back into the ring, two count.
Now it's time for the five minute section of the match where we think Owens has a chance.
Roman with an extended stay in Chinlock City.
Then Owens hit his fantastic Frontflip Leg Drop.
Right back to Chinlock City.
Roman stands up, Owens throws him right back down to the mat, tries for another senton, Roman rolls out of the way.
Now they're trading hands.
Roman has now completely shaken off all the damage that he took over the last five mintues.
Roman tries for a Samoan Drop, Owens slips out, hits a release German Suplex.
It has no lasting effect on Roman, because he heals like Wolverine.
He Samoan Drops Owens, then goes for the Superman Punch, but it's reversed into a DDT by Owens.
Owens hits the Cannonball, THEN ROMAN GETS RIGHT UP AND HITS THE SUPERMAN PUNCH.
Two count.
Roman puts Owens on the top rope, goes up for the Superplex, Owens knocks him back down.
SUPERMAN PUNCH TO OWENS ON THE TOP ROPE.
Roman gets up there for a Superplex again, Owens counters hit into his twisted fisherman's driver thing.
Owens gets back on the top turnbuckle, GOES FOR A SWANTON BOMB, but Roman gets his knees up.
Reigns has Owens in position for the Spear, Owens rolls out.
Drive-By. Roman rolls him back in. Owens rolls right back out.
Roman tries another Drive-By. Owens dodges, superkicks Roman. Then superkicks him again, onto the German Announce table.
Owens hits a Bullfrog splash off the barricade onto Roman. The table doesn't break.
So he tries it again. Table breaks this time.
Roman barely gets back into the ring.
OWENS HITS THE BULLFROG SPLASH FROM THE TOP ROPE.
Two Count.
Reigns right back to being Superhuman, does his Powerbomb on Owens.
TWO COUNT.
Tries for the Spear, get kicked in the teeth, POP-UP POWERBOMB!
1!
2!
Roman gets a foot on the rope.
Owens goes out to the timekeeper's area, gets his belt, was going to hit Roman with it, but the ref grabs it from him.
SPEAR FROM ROMAN.
No cover attempted.
Jericho comes running down to the ring.
CODEBREAKER TO OWENS.
WINNER BY DQ: Kevin Owens
Jericho picks up the title belt, looks at it and gives it to KO.
He smiles at him, raises his hand!
THEY"RE BACK TOGETHER AND ALL IS RIGHT WITH THE WORLD!
They walk up the ramp together arm in arm, and Rollins comes out on to the stage.
Owens and Jericho go back to the ring, Owens gets speared by Roman at ringside.
Jericho gets Pedigreed by Rollins.
Then Jericho gets SHIELD Powerbombed through the Spanish Announce Table.
Rollins and Reigns go after Owens now, up the ramp, and they Powerbomb him through the Announce Table on the stage.
They just made Roman Reigns and Seth Rollins into the two biggest heels on the roster.
They have to realize that, right?