Welcome to Fightful.com's live coverage and discussion for
Lucha Underground!!!
Join us for live coverage, and comment on our boards below, or our forums by registering for FREE at fightful.com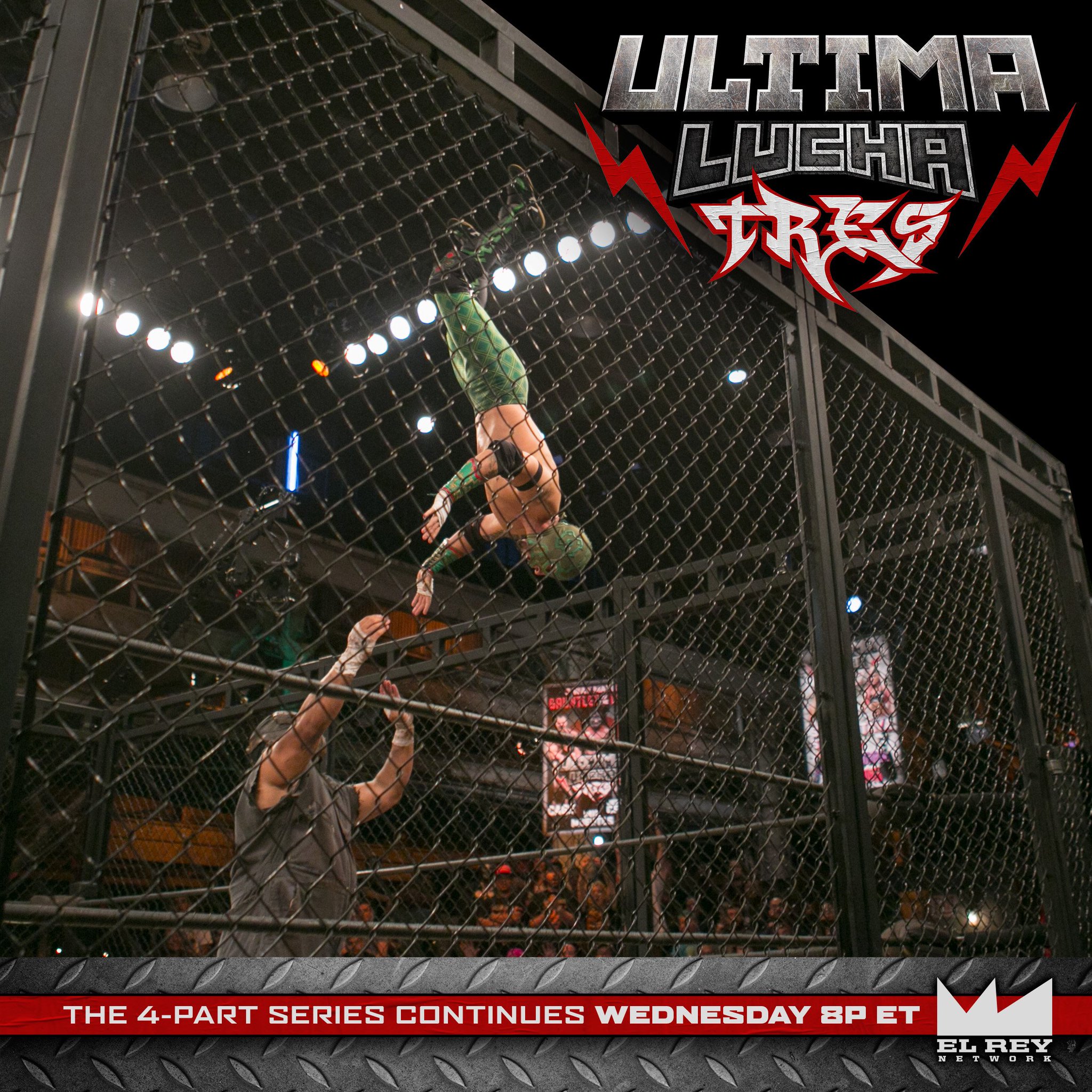 Tonight, Lucha Underground is packed full of action and matches that we have been waiting to see! A Steel Cage Match featuring El Dragon Azteca vs. Matanza, and The Gauntlet of the Gods Match featuring Cage, Jeremiah Crane and Mil Muertes, the winner taking the Gauntlet. Then we will witness Prince Puma and Lucha Underground Champion Johnny Mundo in a Title vs. Career match! This is a special 2 hour event beginning tonight at 8 EST on El Rey Network!
We start off with our Steel Cage Match! Winner is by pinfall, submission or both feet touching the temple floor. Here we go!
Matanza vs. El Dragon Azteca,Jr.
Dario escorts the monster Matanza to the ring. Azteca makes his entrance and looks ready to go! Azteca starts off strong and does a back flip off the top of the cage onto Matanza, trying to do damage early, however, it was short lived. Matanza has come back to a very one sided match. Matanza is throwing Azteca around the ring, into the steel cage, into the turnbuckle face first. Matanza just owning the ring. Azteca tries to come back with some punches, Matanza comes back and throws Azteca so hard at the ring, the cage breaks! Azteca's feet has touched the floor, he has technically won the match! Melissa announces it, however, Dario will have none of it! He changes the match rules, restarts the match and says now that pinfall or submission is the only way to win. The match restarts and the two fight outside the ring as they try to repair the ring. Azteca comes face to face with Dario and tries to get his shirt. Matanza comes from behind. Matanza picks him up and runs with him into a wall. Matanza guides Azteca to the corner of the cage. Matanza lifts him over his head and throws him back in the ring. Matanza back in the ring now as well. Matanza chokes Azteca in the turnbuckle. Then Matanza pushes his face up against the steel cage. Matanza throws Azteca across the ring. Matanza with a suplex. Clothesline to Azteca in the turnbuckle. Azteca gains some momentum but can't capitilize. During this Black Lotus comes to the top of the steel cage and cross body splashes Azteca! These two have history and Lotus has come to cost him the match. Matanza then with Wrath of the Gods finisher, cover and Matanza picks up the win!
Winner: Matanza Cueto
Dario announces his brother's victory. Dario states that it is his temple. Now Lotus hits Matanza with a low blow and comes after Cueto. She screams at him that he is a liar. Dario admits it. Matanza comes behind and gives her the Wrath of the Gods finisher. She is left lifeless in the ring.
The Gauntlet of the Gods Match- 3 way elimination
Jeremiah Crane vs. Cage vs. Mil Muertes
Catrina accompanied Mil to the ring. Will she come into play in this match? Dario comes out and says that the match has consumed the three of them. He believes only one deserves to wear the gauntlet. Dario is making the match an elimination match! Crane gets caught by Muertes, Muertes goes after Cage with clotheslines. Crane grabs Mil, gives him a knee to the face. Cage comes in with multiple clotheslines to both in the corner. Crane now with a kick to Cage. Both Cage and Mil taking boots in the corner. Cage to the outside. He gets on the apron, Crane sees it and takes him out then suicide dive by Crane to Cage. Mil is left in the ring. Cage now over the top rope onto Crane. Mil off the top turnbuckle onto both Crane and Cage. Mil rolls Cage in the ring. Mil does damage to Cage but Cage comes back with elbows. Cage goes outside the ring and sets up a table outside the ring. Crane comes and hits Cage with a garbage can, then he takes out Mil with the can as well. Crane is covered in blood from the can. Crane grabs his own table and sets it up outside. Crane looks to take Mil out with it. Crane with multiple kicks to Mil on the apron. Mil catches him on the apron and sends him through his own table. Cage comes back and tilt a whirl head scissors. Mil with an uppercut! Mil and Cage back in the ring. Mil with a cover and kick out. Cage back with a series of moves leading to a cover and Mil kicks out. Mil now outside the ring. Cage grabs Crane and tries to bring him in the ring. Crane has skewers in his hand and drives them into the top of Cage's head! Cage has skewers in the top of his head! Crane with a cover and Cage kicks out! Crane goes to the back and grabs a sheet of glass. He places it against the wall. Mil charges at Crane and runs into the glass with it shattering everywhere. Mil has blood all over his arms. Her goes for Cage and Cage slams him. He then grabs a hammer and Mil takes a hammer to the head by Cage. Cage rabs Mil and places him on the table he earlier set up. Cage to the turnbuckle. He goes to the top rope. Crane comes and pushes him off into the ring. Now Crane decides he wants to go for Mil laying on the table. Cage gets him from behind now. Cage suplexes Crane onto Cage through the table!!! Cage tosses Crane in the ring, Weapon X by Cage and cover. Crane has been eliminated! Cage and Mil will be one on one. Mil with a power slam to Cage. Mil grabs a chair, Cage back up and gives a knee to Mil and then gets him in the ring. Cage with a flying elbow, cover and Mil kicks out. Crane comes back and hits Cage with a chair even though he is out of the match! Cage with discus clothesline to Mil. Mil grabs the chair and gets Cage with a flatliner right on the chair. Cover and Mil takes the win!
Winner: Mil Muertes
Mil has won the Gauntlet of the Gods. Dario comes out with a box. Mil places the glove on his hand and slams the ring with it, the lights go down. When they come back up, King Cuerno is standing behind him. He takes out Mil and Catrina. King Cuerno is back and he grabs the Gauntlet for himself!
We go to a "documentary" flimed by Taya on Johnny Mundo. The video has Taya putting over Mundo and talks about his status and how he does it without the support of the fans. Ricky Mundo talks about how wonderful he is. Johnny says he is Ultima Lucha Tres and he will leave champion.
Lucha Underground Championship
Johnny Mundo vs. Prince Puma
This is a career vs. title match! If Prince Puma does not defeat Mundo, he will have to leave the Temple and Lucha Underground forever. Puma takes control with a lock up, then switches to Mundo. Puma takes a kick to the mid section. Puma and Mundo are going back and forth, neither able to land a hit.Then they shove each other. Puma with an uppercut, Puma with power slam, Mundo rolls out of the ring. Puma jumps out at Mundo and misses, Mundo with a huge kick knocking Puma down. Mundo with repeated hits and kicks to Puma while he is down outside the ring. Puma and Mundo go up into the crowd. Puma with a huge flip onto Mundo. They move insdie the ring. They go back and forth with small hits. Then Puma with a cutter and Shooting Star, Puma with the cover and kick out by Mundo. Puma lifts up Mundo, Mundo gets back down, Suplex by Puma, Mundo gets out of another one. Puma with a sit out power bomb, cover and kick out by Mundo again. Puma goes to the turnbuckle. Mundo is back up and hits Puma with a bunch of kicks. Cover and Puma kicks out. Mundo tries to go for Edge of the World but Puma gets out of the way. Puma with a slap and knife edge chops. Mundo gets him to the ground again and cover, kick out by Puma. Mundo with punches. Puma accidentally kicks the ref while going for Mundo. The ref is dow. Puma goes to the top rope. Jack Evans of Worldwide Underground comes out to assist Mundo while the ref is down. Now P.J. Black is out kicking Puma and setting him up for Mundo. They take turns kicking Mundo. Taya comes out with a new ref. Mundo demands the count and Puma kicks out! He is not giving up. Worldiwde now takes out the ref for not giving Johnny the win. Taya throws chairs inside the ring. Black and Puma each have one. Angelico is back! He takes out the Worldwide Underground. Mundo hits Taya with a chair accidentally. Angelico takes them all out giving Puma the break he needs. The ref is slowly getting back up! The ref is so mad at them for hitting him he dives out of the ring at Mundo! The first ref is getting back up. Puma hits Mundo and cover, Mundo kicks out! Now Ricky Mundo coes out. Angelico cheses the Worldwide Underground out of the temple. Both competitors are up. Both with right hands. Puma takes control. Mundo in the turnbuckle. Puma runs into a kick, Puma returns the kick, cover and kick out. Puma positions Mundo. He goes to top rope, Mundo back up and meets him at the top rope. They exchange punches. Mundo takes Puma down off the top rope, cover and Puma kicks out. Now Mundo positions Puma, looking for his finisher. and nails it. Puma kicks out of the cover again. Mundo goes for it again and Puma gets his knees up. Roundhouse kicks by Puma and then flying knee. Dropkick sending him close to the turnbuckle. Puma with 630! Cover and win! Prince Puma is the new Lucha Underground Champion!
Winner: Prince Puma
Puma is the first ever two time Lucha Underground Champion. Cueto comes out. He tells Puma congratulations. However, he says the night is not over. Cueto says there will be one more match! What does Cueto have in store?
Cueto announces Puma to be in the next match. Then he announces his opponent, Pentagon Dark!
Lucha Underground Championship Match
Prince Puma vs. Pentagon Dark
Both of their careers are on the line! Loser will leave the temple forever! They go at each other quick. Puma is tired still from his last match. Dark goes right away for Puma's arm and tries to break it. The trainers come out to Puma's aid. He tapes his elbow and goes right back to the match. Dark with kicks and then Puma drop kicks Dark off the apron. Puma goes to the apron and misses hitting Dark with a flip. Dark tosses Puma back in the ring. Dark gets hit by Puma, suplex, then one armed vertical suplex, Standing Shooting Star, cover and Dark kicks out. Dark back up, they exchange hits. Dark takes a kick,then a chop. Pentagon with a kick to the stomach, cover and Puma kicks out. Puma kicks Dark, then Pentagon with one of his own. Flipping pile driver by Puma, huge kick to Dark, cover and Dark kicks out! Puma moving to the top rope, still only one working arm. 630 and Vampiro pulls Dark out of the way! Dark with a kick, driver and Puma kicks out. Dark now with package pile driver and cover! Pentagon Dark is now the Lucha Underground Champion!
Winner: Pentagon Dark
Prince Puma has to leave the temple forever!. Vampiro backstabbed Puma. Vampiro inside the ring awarding Dark the championship. Vampiro was Puma's mentor. Why would he help Dark? Dark has the mic. Dark says this is his temple now. What a crazy action packed finale!
We see Puma backstage, he takes off his mask, drops it on the floor and leaves the temple.
The Gauntlet is locked in a glass case, Sexy Star is signing autographs and receives a box from a little girl who says, she hasn't forgotten about you. the box contains a spider. The Rabbit Tribe is doing their weird thing. Melissa and Fenix ride off together. Drago is still imprisoned by Kobra Moon who has a new King who chops off Pindar's head. Vampiro says he has done as his master has told him. The master says that now he can make Pentagon fall. He tells Vampiro he has done well. Matanza is still kept behind bars and Rey Mysterio pays him a visit. Cueto says he can get the Gauntlet back, Agent Winter tells him not to worry about it, he gets a pass. Cueto asks him why he gets a pass to which Winter responds "you will be dead." Then Winter pulls a gun and shoots Cueto in the stomach. Cueto gets to his phone and calls Prince Puma. He says something to him in Spanish and can't finish his thought. Is Cueto still alive? Is Rey imprisoned with Matanza? So many questions for the next season of Lucha Underground.