Welcome to the weekly Superstars Round-Up,
now new and improved.
Shorter. Sweeter. More to the point.
Because we've all got sh*t to do, amirite?
Neville battled Mr. Irrelevant (and his own irrelevance)
The Dudleys picked up their first televised win in more than two months.
On This Week's Episode:
Jack Swagger vs Jinder Mahal​​​​​​
Sami Zayn vs Curtis Axel
Let's get this over with.
---

Real American vs Fake ISIS
Yup, in case you missed Main Event, that's how Jinder Mahal is dressing himself these days.
Full on ISIS insurgent-chic.
A Canadian guy. Whose ancestors were from India. Which is 3000 miles from the nearest ISIS stronghold.
It's confounding. I really can't believe it.
Even Jack Swagger is like:
To be fair though, that's only for his entrance onto the ramp.
By the time the match starts, he looks a lot less like a terrorist and a lot more like a guy with a sparkly doily on his butt.
.
You know what a doily is, right? Those lace placemats that your grandma put out underneath the candy dish on the coffee table?
Right. One of those.
I say we start calling Jinder Mahal "Doily Butt" and see if it catches on.
I mean, Vince clearly wants us to hate him because of the not-so-subtle ISIS overtones, so let's make fun of Mahal for an entirely different reason.
Come on Superstars crowds, get a "Doily Butt" chant going, just for me.
Oh by the way, there was a match, and it was the usual Superstars trash.
Here are some highlights, in case you're interested, though I don't know why you would be:

WINNER: Jack Swagger by Submission.
Okay, so there's been some chatter about why Mahal was signed if he was just going to job to Swagger on Superstars and Sin Cara on Main Event. Why not give his spot to an NXT Call-up, like Tye Dillinger? To which I say, Why do you hate Tye Dillinger? What did Tye Dillinger ever do to you?
Look, as much as we hate it, they need a guy like Mahal around to job to guys on the undercard. I'd rather it be Mahal than a young up and comer who deserves better. Remember what happened to Tyler Breeze? He was on life support before the Breezango thing fell into his lap. Now, to his credit, he took what could have been a turd of a gimmick and he spun gold with it. But he and Fandango are consistently entertaining, and Breeze has picked up a couple wins against one half of The Usos, something that would have seemed impossible a few months ago. I don't want Tye Dillinger to have to go through that kind of crap, so I'm perfectly happy having ol' Doily Butt do the job instead.
Now if we could just get him to stop cosplaying as the bad guy in a CNN News Flash...
Mr. Irrelevant vs Curtis Axel
No, you didn't read that wrong. It's not a typo.
Sami Zayn is the real Mr. Irrelevant.
Curtis Axel was already basically irrelevant, long before the draft gave him the gimmick, so calling him "Mr. Irrelevant" is kind of redundant.
No, it's Sami Zayn who is truly immaterial, peripheral, extraneous. (Thanks, Thesaurus.com!) At least, that's how Zayn must be viewed by the people in power at the 'E. Either that or he pissed off the wrong guy.
20 days ago, he got the win in another MOTY candidate, against Kevin Owens at Battleground. I say "another" MOTY candidate, because he's already got two: one against Kevin Owens at Payback, and one against Shinsuke Nakamura at NXT Takeover: Dallas.
So why are they punishing him by having him wrestle on Superstars? And why, God, why is he not on the Summerslam card?
I'm pretty sure I already wrote about this during one of my Uncooked Raw Reactions, but if you're not going to have this guy involved in one of the top three programs in the company, then you're doing it so wrong that it needs to be repeated.
What. The F*ck. Are you doing. With Sami Zayn?
The match is not spectacular. Axel works Sami's shoulder through the whole thing, but Sami wins. Pretty standard. Here is the finish: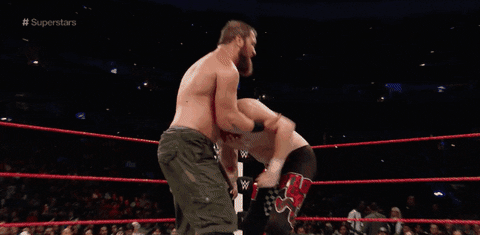 WINNER: Sami Zayn by Pinfall.
At this point, I don't care if you have Sami face Braun Strowman on the pre-show. Just get him on the Summerslam card or come up with a kayfabe reason why you're not going to.
This is getting ridiculous.
Final Verdict:
Two matches happened.
3 out of 10.
Until next time, I've been Alex Pawlowski
and this is me wondering why they're not pushing Sami Zayn.