It is the day of the show, y'all.
The Superstar Shake-Up, taking place over two nights, is the kind of thing that could be used to alter the landscape of wrestling forever, creating fresh match-ups that could carry the company to new heights.This is also exactly the kind of thing we might look back on in a few months and view as either a horrible mistake or a giant missed opportunity.
But I don't want to think about the inevitable disappointment. Instead, I want to think about the possible (albeit unlikely) awesomeness.
Get hyped, people. The SUPE-SHAKE™ is upon us, and I.
CAN'T.
WAIT.
Why? Because there are literally a trillion possibilities. I know mathematically that doesn't work out, but shut up.
Anyone can go anywhere. No one is off limits. Title holders can be moved to the other brand. Last week's new debuts could be traded.
Anything is possible.
I mean, of course it's not. Not REALLY. Roman Reigns isn't going anywhere. Ditto for Brock Lesnar. 
And even though they SAY title holders aren't exempt, there's very little chance that happens.
But with all other options open, here's who should be moving and why: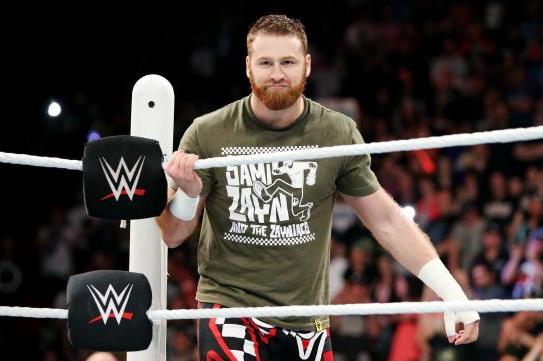 Sami Zayn to SmackDown
This one's a no-brainer.  He needs to get away from Kevin Owens, at least for a while. Baron Corbin is going to be the next IC Champ, and once he blows off Dean Ambrose, he should start a feud with Sami Zayn. Sami can make Corbin look like a true monster in their first few matches, but eventually, Sami should go over in the feud, first via a flash roll-up--with Corbin getting his heat back immediately afterwards--then, with Sami sporting taped ribs after the beatdown, he insists on accepting Corbin's rematch challenge and wins clean this time, getting a foot on the rope to break-up a pinfall after the End of Days and hitting a surprise Helluva Kick. Once he's done with Corbin, he can feud with the Miz (if The Miz is still on SmackDown--more on that in a bit) or Shinsuke Nakamura--becaause let's be honest, the Intercontinental Title picture is as high as Nakamura will go in Vince's WWE.

Kalisto to RAW
I mean, come on. This guy should have been part of the Cruiserweight Division from the very beginning. He's been doing precisely NOTHING on SmackDown, so a "demotion" to the ranks of 205 Live can't be much of a step down. Here's how they should do it, though: Neville should start his "Cruiserweight Open Challenge" on RAW, and Kurt Angle comes out to say "your opponent is the newest member of the Cruiserweights" and then we hear "LUCHA, LUCHA, LUCHA." Neville immediately backs out of the match, and it's made for 205 Live the next night, giving people a reason to tune in.
Also, it should be noted that it's only a matter of time before Austin Aries winds up as a heel, like he did in NXT, and when that happens, the 205 Lifers will need a new top babyface. And since they seem unwilling to pull the trigger on Mustafa Ali (yet), Kalisto can easily fill that void.

Alexa Bliss to RAW, Charlotte to SmackDown:
You could get this done in a straight-up trade, former champs switching brands. This would give a shot in the arm to both divisions. Alexa Bliss becomes the leader of an evil faction which includes Nia Jax and Emma. They go up against Bayley and Sasha, until Sasha turns on Bayley, revealing she's been calling the shots of the bad girls all along. Over on SmackDown, Charlotte immediately feuds with Naomi, who has said she'd welcome the challenge, eventually taking the title from her. Becky Lynch is the new top challenger, until Nikki Bella returns from her time off.

Enzo & Big Cass to SmackDown, American Alpha to RAW
American Alpha goes to RAW and gets to feud with The Revival, who should be the team to tag the titles off the Hardys. If Alpha and The Revival are allowed to have the kinds of matches they had in mid-2016 down in NXT, the main roster crowds will fall in love with Tag Team wrestling all over again.
Meanwhile over on SmackDown, the Usos can eventually put over the younger team and Enzo & Cass can become champions for the first time. But not before THIS happens:

The Miz & Maryse to RAW, Rusev & Lana to SmackDown
Look, if Daniel Bryan misses his chance to get rid of The Miz, that's a huge hole in logic that I just can't abide. However, that would mean no more Miz on Talking Smack, which would be the real travesty. You could do something where The Miz butters up Kurt Angle to get traded to RAW on Monday, then have him get traded back on Tuesday. Bryan could trade for Miz just to screw with him, get him back out of spite.
As far as Rusev goes, I don't think injured superstars are getting moved from brand to brand, so this is more of a pipe dream on my part. But I've never been shy about my love for Rusev, and a change of scenery might be just the ticket for the Handsome One. He deserves better than his treatment on RAW, and could easily prove a valuable foil for the likes of Dean Ambrose or Randy Orton.
OTHER POSSIBILITIES:
The rumors are that The New Day is heading to SmackDown, but it appears as though Kofi Kingston is legitimately injured and they've got some unfinished business with The Revival; it's a bad time to move them. Plus, with SmackDown being only a two-hour show, there's not a lot of room for random comedy promos about ice cream machines and the like. I really hope they don't do this.
The Observer also reported that Sasha Banks could move to SmackDown instead of Charlotte--or even ALONG WITH Charlotte. That second option seems counter-intuitive. These two have faced each other enough times. We've seen it. We don't need to see it again any time soon. But I could buy Sasha on SmackDown, having matches with the likes of Mickie James or Becky Lynch. Still, this would deprive us fans of the inevitable Sasha heel turn on Bayley, and I'm not okay with that. This one gets a big No from me.
And speaking of depriving us fans of stuff, AJ Styles is going to wind up on RAW. Ugh. They had him deliver a babyface promo on SmackDown last week, say that he didn't want to leave SmackDown, that it was the house that AJ Styles built and he'd be damned if anyone else came in and took over. They wrote that promo knowing full well he was going to RAW. They had him deliver it to troll us. They brought up Shinsuke Nakamura, put him on SmackDown Live where they knew we'd start fantasy booking Shin vs AJ matches, and now they're going to take that possibility from us. Because they're bullies and they laugh at our pain.
There's a silver lining, here, though. The fact that his wishes weren't respected, and he ended up on RAW anyway even after his pleas to stay on SmackDown, turrns him into a bitter, "F*ck-the-world" type heel, with zero respect for authority. He's a total loose cannon now. It's perfect. And also, now that he's on RAW, he can reunite with Gallows & Anderson, re-forming The Club. And now they can tease Finn Balor turning heel on Seth Rollins and joining up with the rest of his good brothers. Eventually, there will be dissension in the ranks and if they time it right, we can get Finn vs AJ at WrestleMania 34.
Still, would've been nice to see that Styles/Nakamura match on SmackDown Live.