John Cena is at it again.
He trolled fans last week with a picture of Kenny Omega posted to his Instagram, causing many to believe he was trying to say ... something.
I did a deep dive on Cena's prediction powers which you can check out here.
The Face-That-Used-To-Run-The-Place-Until-He-Lost-To-AJ-Styles-That-One-Time is posting more cryptic references to Kenny Omega on his Instagram.
O.
Megaman.
Get it?
Oh, John Cena. You so sly. But we see you.
We see you.
You say we can't see you.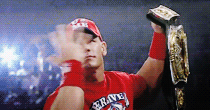 But we do, though.
We totally see you.