Ric Flair is not who you think he is.
He's got a dark secret in his past.
He didn't always want to be the 16 Time World Champion.
He didn't always want to be The Nature Boy.
Yes, there was a time when Ric Flair didn't even want to be a wrestler at all.
Ric Flair wanted to be ... A DENTIST.
That's right. Ric Flair has admitted, on his own podcast no less, that dentistry might have been his one true calling, but there might not have been enough jet flyin' or limousine ridin' involved in performing route canals and teaching children the importance of flossing.
"Believe it or not, at one time, I wanted to be a dentist," he began. "Yeah. Yeah, I don't know. It's just something that caught me. My dad was a doctor and I had to have braces and all this stuff everybody goes through. I just thought it was an interesting profession and all. Obviously, I didn't have the academics. I mean, that career choice changed after my first advanced chemistry class."
Okay, Fine. He says that's all it is, and some might be inclined to believe him, take his comments at face value.
But I know better.
There's always a different picture to every story, if we just ...
CONNECT THE DOTS.
Who else do we know who has beautifully coiffed blond locks and a closeted fascination with the dental arts?
Think hard, Dot Connectors. Someone that has an increased presence at this time of year...
Why it's none other than Hermey, the Elf. From the children's classic Rudolph The Red-Nosed Reindeer.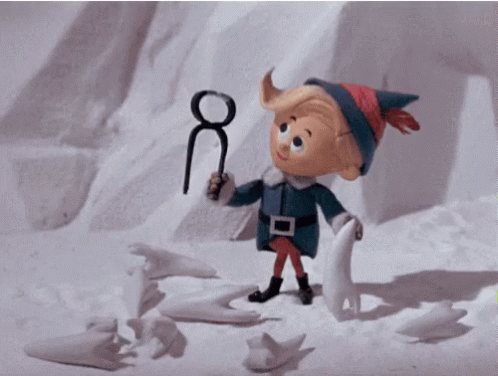 But perhaps there's more to this coincidence, this connection (of dots) than meets the eye.
Maybe, just maybe, Ric Flair IS Hermey The Elf.
Well, have you ever seen them in the same place at the same time?
Have you?
Neither have I.
That's all the evidence I need to start doing a little digging.
There are some little known deleted scenes from Rudolph that begin to show us a few things we may have missed.
For example, the trademark Ric Flair sunglasses:
They can be seen being worn by Hermey in the deleted scene entitled "Hermey's Having Some Trouble Keeping His Alligators Down."
This lost scene is where Hermey tells Boss Elf that the workshop isn't befitting an elf of his expensive taste and how making toys is hard to do while wearing a Rolex.
Another famous scene which few have ever witnessed comes as Hermey is declaring his independence and setting off on his own to make his fortune.
No one had ever noticed that in this scene, Hermey is wearing the traditional Ric Flair robe.
There's a point in this scene, as pictured above, where Hermey lets out a "Woo!" to signify that he's willing to travel with Rudolph to the Island of Misfit Toys.
It's hard to believe no one ever put two and two together and realized that Hermey the Elf and Ric Flair are obviously the same person.
Sometimes the truth is hard to accept, but the dots are there.
WE JUST HAVE TO CONNECT THEM,