Welcome to the Main Event Recap, where I watch Main Event so you don't have to.
Baron Corbin re-defined the term "Lone Wolf"

Kalisto made a good good Lucha thing

A Whole Bunch of Guys Got Put Into Mismatched Tag Teams for No Reason Whatsoever.
It's a New Era for the WWE, and that might include their lower level programming too. Whereas before the draft, there were typically four matches on an hour long program, this new episode features only two matches on a show that lasts less than 40 minutes.
I'm not going to complain.
On This Week's Episode: 
The Hype Bros vs The Vaudevillains
Tyler Breeze vs Jey Uso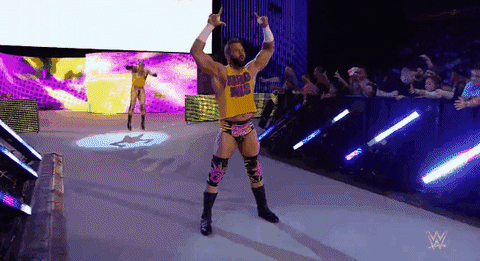 They Don't Get Hyped, They Stay Hyped.
I love these guys.  I can't help it. 
In case you don't watch NXT, Number 1--Shame on You, and Number 2--Zack Ryder has been moonlighting down there in a crazy high energy babyface tag team also featuring former NFL Pratice Squadder and actual Rob Gronkowski best friend Mojo Rawley.
He's insane, and it's awesome.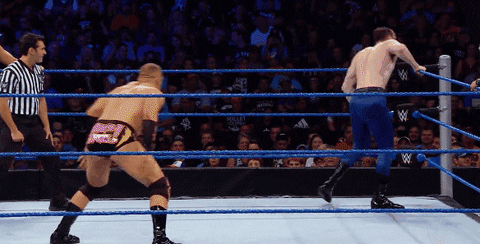 Watch him literally scare Aiden English into not getting into the ring: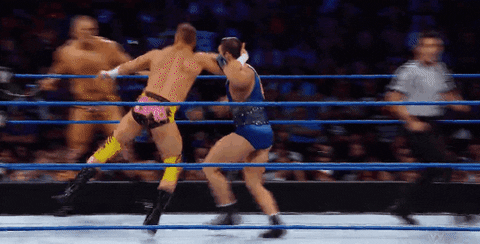 Also pictured above, some nice Hype Bros team work. I really love the way these guys work together and I'm excited to see them get some run on the Main Roster.  They never even really sniffed the Tag Titles in NXT, so it's a trip to see them so easily handle the Vaudevillains, who are former NXT Tag Champs.
Poor Vaudevillains, man. They've fallen so far in the last two months on the roster, and it's a shame since both of them are great workers, especially Simon Gotch.  Now if he could just stop getting his ass handed to him in catering.
But I do think it's possible for both these teams to have success on Smackdown, provided they're not wristlocked and suplexed to death by American Alpha.
Anyway, Mojo gets the hot tag and it's a miracle he doesn't spontaneously combust: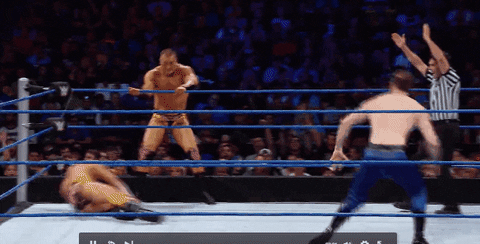 I mean, I understand that 95% of his offense is made up of shoulderblocks and flying shoulderblocks, but he connects with the crowd and I think his energy is absolutely infectious.
Of course, if he's hanging out with Gronk at those crazy hot tub parties he throws, maybe his energy isn't the only thing that's infectious. 
(Allegedly.)
The match ends with The Hype Bros double team finisher, which is just Zack Ryder putting his junk in your face and Rawley slamming you to the ground: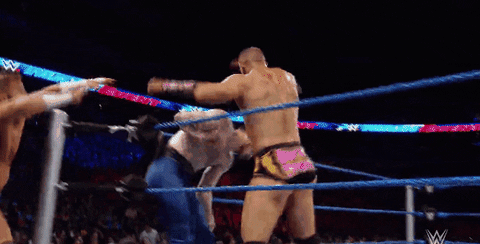 But it certainly looks like it's effective.
Welcome to Smackdown, bros. Stay hyped.
WINNER: The Hype Bros by Pinfall.
Should've ordered the extra Uso.
As Jey Uso enters, Tom Phillips says that Jimmy Uso offered to be at ringside, but Jey replied "Nope, I got this, one on one is how I like it," which objectively makes no sense. Jey Uso has never been a singles competitor, one on one is most certainly not how he likes it, that is a damn dirty lie and you know it, Tom Phillips. 
Apparently the truth is that Jimmy was nursing a minor knee injury on Tuesday. He was out there with the full roster for the top of the show on Smackdown, but he didn't work the battle royal, and I guess maybe he knee wasn't spry enough to bounce around like a jackass during his normal ring entrance, so they just kept him off the taping entirely.
Fandango, is ringside to support his partner.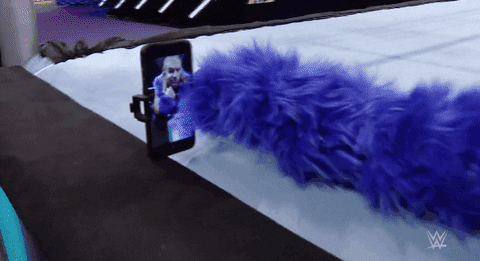 And by "support" I mean, "make it rain."  Obviously. Unity, y'all.
I want to say something: It's such a treat to watch Tyler Breeze wrestle a one on one match that lasts longer than two minutes. He consistently makes his opponent look like a million bucks.
Watch him fold up like an accordion on this clothesline.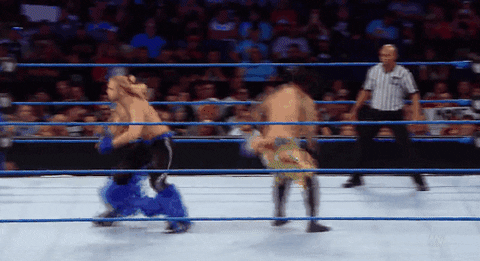 Watch him corpse on this fantastic Uso Enzuigiri.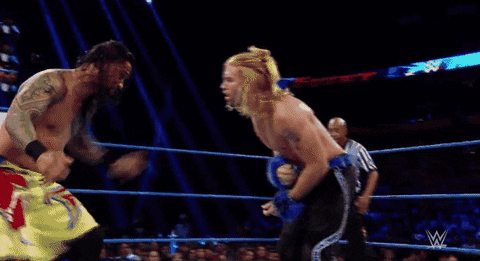 He's brilliant. I love him.
Uso pulls out some great stuff here, too. From old staples like this running plancha to the outside,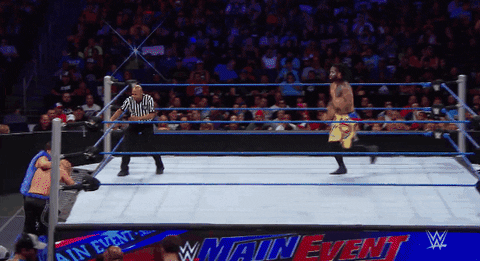 To new stuff, like this superplex counter in to a DDT on the top rope: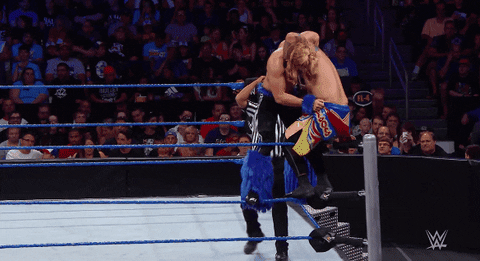 That looks like it could kill a guy. Mostly because again, Breeze takes the bump like an absolute champ.
The end of the match is great.  Breeze is set up for the top rope Uso Splash.  Uso goes for it, but Breeze gets his knees up and transitions right into a  small package, just like he did on Sunday at Battleground.  However, it looks like Uso knew to expect this, because he's able to kick out at two. That's where the fun begins: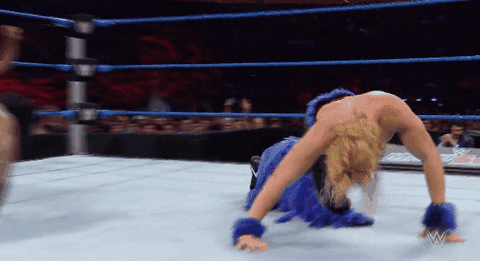 That might be my favorite sell EVER.
Wow. Just wow.
Anyway, you might have noticed that I haven't mentioned a lot of Tyler Breeze's offense.  That's because he doesn't get a lot in. But he does have a secret weapon, a move that spells instant death for all of his opponents: The Head Trap Supermodel Kick.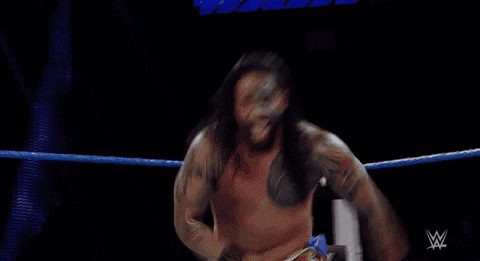 I don't even think he needed to put his feet on the ropes there.  You could have given Jey until the count of six, he wasn't kicking out of that.
WINNER: Tyler Breeze by Pinfall.
Tyler Breeze was one of my favorite acts ever on NXT.  The way they abandoned him on the main roster was f*cking UNFORGIVABLE, and I'm really happy he's got a new lease on life in this delightful tag team. He and Fandango are great together, as evidenced here and also here.
Check out this short video of Breezango hunting Pokemon and tell me its not a thousand million times better than that crap gag Golden Truth was running on Monday.
I hope they get to hold the belts for a month if only to see how they'd decorate them with pink zebra print tassels or something. 
But I also want to see Tyler Breeze get a real run as a singles competitor on the Main Roster. If you watched him on NXT, you know what he's capable of in the ring.  But it's also the little things, like how he continues to sell that superkick that laid him out, long after the match is over.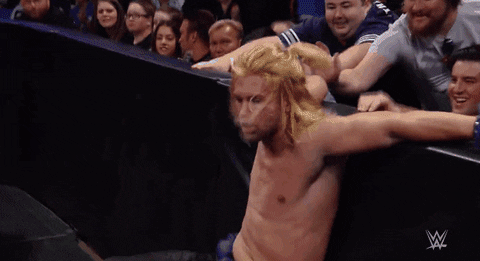 Tyler Breeze is a king, and he should be regarded as such.
Fandango knows.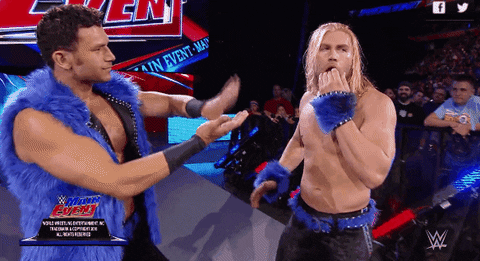 You're so money, Breezey.
Final Verdict:
We got to see the Hype Bros make their debut in impressive fashion, and we got to watch the incomparable Tyler Breeze pick up a win while legally unconscious.  I'd say that rates as at least a 9 out of 10.
Until next time, I've been Alex Pawlowski and this is me
when I see Tyler Breeze sell a superkick
like he was shot through the forehead