Welcome to the M.E.S.S. Round-Up
I watch Main Event & Superstars so you don't have to.
These are the C Shows of the WWE,
but that doesn't mean I can't try to polish these turds into some A+ level jokes.
It doesn't always work out.
Previously on the MESS: A whole bunch of stuff we had seen before or weren't interested in seeing for the first time. So, basically, your standard Main Event & Superstars.
What's interesting, though, is that I'd been complaining for so long about having to watch Jack Swagger vs Jinder Mahal every week, and they finally heard my cries for help, and moved Swagger to Smackdown away from Raw-Contracted Jinder.
Yup, whatever comes of this terrible storyline, I'm taking credit for it. For better worse or worse.
This week on Superstars
(Braun better not have to sell for this glorified jobber in a mask.)
Neville & Darren Young vs Curtis Axel & Titus O'Neil
(wait, what?)
---
The Many Faces of Braun Strowman
The top one could be a still from a movie about young Santa Claus.
The bottom one is the last thing you see before you die on a Viking Battlefield.
Truly, the man is a chameleon.
This week, Braun continues his war against Luchadors. I weep for the future of new Raw Cruiserweights Gran Metalik and Lince Dorado.
Seriously.
Anyway, this is my favorite thing that Braun does in the ring: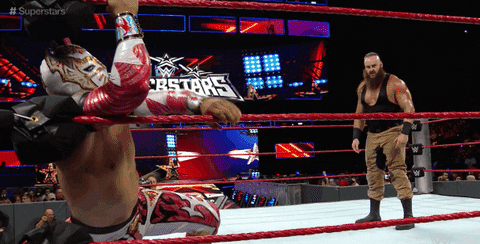 EVERYBODY COME ABOARD
THE STRROOOOOOOOOOOOOWWWTRAAAAAIIIINNNN !!!!!!!
But he's not just brute force. Watch him outsmart stupid Sin Cara: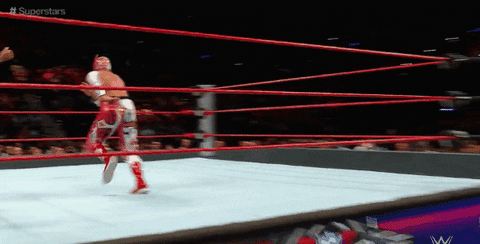 When compared to the majority of giant monster heels in the history of the 'E,
Braun Strowman deserves a damn Nobel Prize for that maneuver.
I like how he's got two big finishing moves, too.
He's got the Reverse Chokeslam, but he's also got this thing: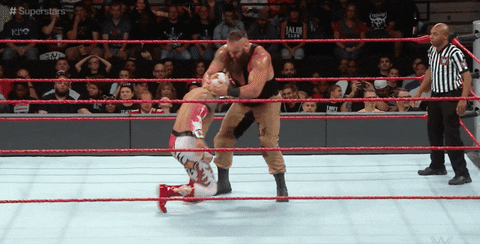 I like that thing.
And I like Braun. But I do hope they don't have him murder the entire Cruiserweight Division.
Please, Vince. Restrain yourself.
---
Someone needs to schedule Titus for a Heel Headshot photo shoot.
He looks like he's still posing for the Dad of the Year press release. Why wouldn't the photographer have him do a couple of mean faces, just in case they ever turned him heel?
Wouldn't that make more sense then having him team with Scowly Face McGee Curtis Axel and look like he's posing for a JC Penney ad?
Whatever.
So they just took two pairings that have had way too many matches over the past few weeks and turned it into a Tag TEAM Match, Playa.
Still not any more exciting.
But I'll show you what is exciting, right after the finish of the match.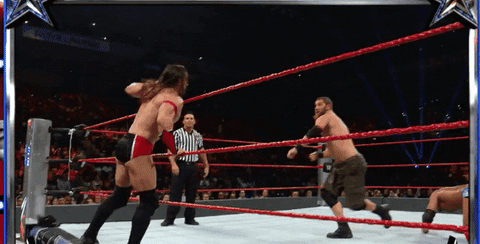 The finish is kind of boring, but just you wait.
Here is the celebration: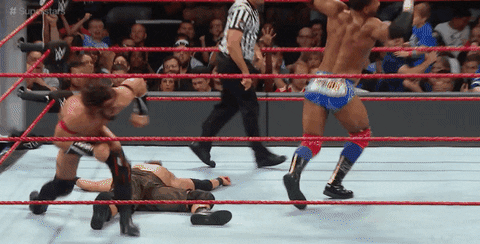 It's like they won the frigging Superbowl or something.
Someone needs to do a damn Wellness Test on Bob Backlund.
I think someone switched out his Cialis for speedballs.
---
This week on Main Event
Fandango vs Kane
The saga continues...
Jason Jordan vs Aiden English
JJ in singles action, where he was effectively buried in NXT before Gable came along.
This should be interesting.
---
Fandango does want to be a pirate.
Now, WWE is hardly ever on the cutting edge of pop culture. If something is popular, you can guarantee that the 'E will either be about 6 months late to the party, or they'll continue doing it long after it's dead.
But this might be a new record.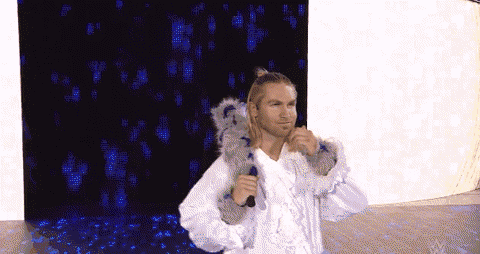 Both members of Breezango are wearing the "Puffy Pirate Shirt" from that famous episode of Seinfeld. The episode that first aired almost exactly TWENTY-THREE YEARS AGO.
Timely.
There are undoubtedly people reading this who were not even born when that episode aired, so here is a clip.
It's funny, but this is the equivalent of Attitude-Era-WWE stealing a joke from Cheech & Chong.
(Ask your Grandparents.)
The in-ring comedy generated from the shirts is gold, though, with Breeze saying that he traveled to Dubai to purchase the finest silks in all the land, and Fandango saying that he usually doesn't wear shirts, but this shirt is top notch.
This leads to them making fun of the Philadelphia crowd—by calling them "peasants" which is wonderful—which leads to Kane coming down to the ring.
More comedy ensues, with Breeze assuming that Kane wants one of these shirts for his very own, and trying to take his measurements, so that Breeze's "guy," "Miguel," can make one for him.
Fandango has the line of the night when he says "Be Careful, don't spook him. He's very Gazelle-like. Don't spook him."
And of course, Kane, Gazelle-like as he is, gets spooked, and winds up destroying both men, because (in Vince McMahon logic) if you like to wear shirts like that, you're probably gay, and gays don't fight good.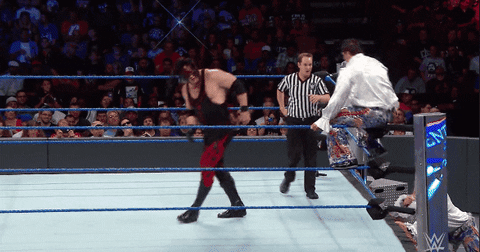 Hilarious.
So with Kane beating Bray Wyatt at Backlash and single handedly taking out Breezango, the question is who are they keeping him strong for?
My literal, honest hope is that they're building to a retirement angle featuring Baron Corbin.
But it's probably going to be something they just forget about and Kane fades into obscurity and none of this matters.
Yay!
---
Jason Jordan looks like he wants to steal your lunch money.
And Chad Gable is there to back him up. Like the Scott Farkus and Dill of the WWE.
But you're building them up so that the Ralphies of the world are supposed to love them.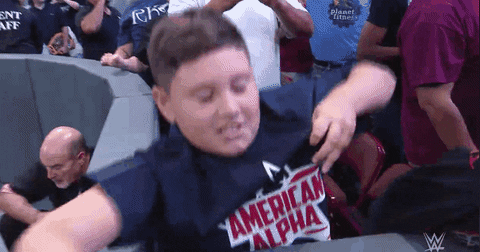 I think someone might have just shot his eye out.

Seriously, if they're going to be the Babyface, uh, Face of the Tag Division, you might want to get a shot of them where they look like the good guys.
Just as an idea, is all I'm saying.
Anyway, this match is a big ol' nothing-burger, with Aiden English taking shortcuts and working the left arm, which is kind of stupid considering I think Jason Jordan has bionic arms like Jax in Mortal Kombat.
Yeah, so that doesn't work, and then this happens: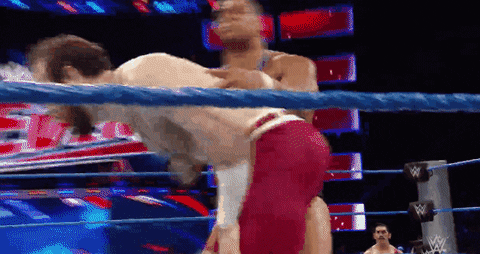 I respect them for booking a delay to the finish, but it was inevitable.

Just for a sec, though, can we talk about how Jason Jordan is a damn Suplex Cyborg?
Take a look at that finishing maneuver from a different angle:
He flips English directly over his head and never fully releases him.
He's a frigging machine.
Now if they could just choose a headshot of him that doesn't make him look like The Terminator.
I'm afraid to look into his eyes for too long, because I think they might start glowing red.
---
Until Next Time, I've been Alex Pawlowski
and this is the face I make
whenever I try on clothes at the mall.