Welcome to the Live Coverage for
Monday Night RAW.

Sound off in the comments below and
Join our Live Viewing Party!
Let's see what's happening tonight, according to the official preview on WWE.com:
Sasha Banks challenges Charlotte one-on-one
Honestly, this could wind up being entirely pointless, with a double count-out or a Dana Brooke induced DQ finish, but you never know, they did surprise us all and have Sasha win the title on Raw back in July and-- You're right, it's going to be entirely pointless.
Will Seth Rollins continue to defy Raw General Manager Mick Foley?
I mean, probably, right? They've been beating this dead horse for weeks. Why stop now?
Cesaro & Sheamus continue their tag team quest
They're just gonna have these two beat up a different set of jobbers every week while engaging in a dick-measuring contest, leading up to them taking on The New Day at Hell in a Cell, aren't they? In which case, you have to ask yourself, does any of this matter? Does LIFE even matter?
Can Brian Kendrick put himself in line for another WWE Cruiserweight Championship Match?
Funny story: Last week, The 'E was touting this match as a Championship match, then they abruptly changed it to a non-title match over the weekend. Which definitely means that Brian Kendrick is winning, which means the outcome isn't in doubt. Hooray.
Will Ashton Kutcher and Danny Masterson top "The List of Jericho"?
OH MY GOD WHO CARES.
This lady is me every Monday an hour before Raw comes on.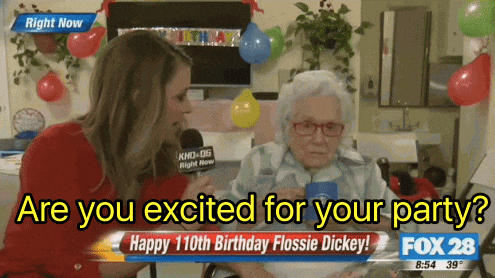 Oh God, It's Happening.
It's Really Happening.
No use in delaying the inevitable, I suppose.
_________________________________________________
They're starting off the show with Roman Reigns coming down the ramp to deafening boos and getting in the middle of the ring with a microphone, because they hate us.
Thankfully, he's interrupted by Lana.
Lana says she's out here to negotiate on Rusev's behalf. Rusev wants another rematch.
Roman Reigns lobs a few sexist insults, Lana says she and Rusev are family, he says, basically, "Shut up, little girl. Go get your husband so the men can settle things like men."
Lana gets emotional, Roman laughs at her. He really is a horrible person.
Lana tells him to go to hell.
Rusev's music hits, he comes down and they brawl. The fight ends with Rusev kicking Roman over the barricade and into the crowd.
Rusev takes the US Title and walks up the ramp, pausing on the stage to raise his arms in victory.
Reigns comes from out of nowhere and Superman Punches Rusev.
Reigns says you can have your rematch, but it's going to have to be in Hell in a Cell.
Someone please explain to me how it is possible to root for Roman Reigns at this point. Seriously. I want to know.
______________________________________________________
They run a pretty great video package about TJ Perkins and Brian Kendrick, and their match is next.
This match is non-title, so it really doesn't mean anything.
And since it's non-title, Kendrick is definitely going to win, so the outcome isn't in doubt.
So if you'd rather watch something meaningful, here's a YouTube video of people being attacked by geese:
_______________________________________________________________
TJ Perkins vs Brian Kendrick
They're pushing a new nickname for TJP: "The Fil-Am Flash" or is that "The Phil-Am Flash"?
Because his problem is that he doesn't have a nickname.
Perkins gets most of the offense in initially, but then gets caught with a big boot by Kendrick.
Kendrick, who is brilliant at finding new ways to heel, traps TJP's fingers in the turnbuckle, and stands on his wrist.
That sh*t looks painful, yo.
COMMERCIAL.
Back from the break, and TJP hits a top rope Frankensteiner out of the corner, then a running hurricanrana, then he locks in the kneebar for a hot second until Kendrick gets to the bottom rope.
The Staples Center crowd is into this match, which is good, but I can't tell if it's because TJP is an LA kid.
Kendrick is able to hit Sliced Bread, then locks in the Captain's Hook. TJP is able to wriggle out, but pretty soon he finds himself right back in the submission hold, after getting his eyes raked, and this time he has to tap out.
WINNER: Brian Kendrick.
Told you so.
_______________________________________________________
PRE-TAPED INTERVIEW SEGMENT WITH SETH ROLLINS.
Rollins says he's great.
He says that Owens had the title handed to him.

Checks out.
He says that Steph and Triple H are in on it.
Seth says if he gets his rematch, he's going to cancel the Kevin Owens Show.
Welp, that was definitely an interview that took place and was taped and then aired on TV.
It told us exactly nothing we didn't already know.
Looks like Raw is sticking to giving us terrible television every Monday.
You have to at least admire their commitment.
_______________________________________________
BRAUN STROWMAN vs JOBBER
Chase Silver is his name and he doesn't seem scared of Braun, which makes him delusional.
Braun Strowman puts this guy on the organ transplant list, because all of Mr. Silver's insides are now pulverized.
WINNER: RRRRAAAAWWWRRRR!!!!!!!!!!
Byron Saxton interviews him and sadly Braun doesn't eat Byron's face.
He says his talents are being wasted on these weak fools and that next week there better be some real competition, or there won't be a next week.
BECAUSE APPARENTLY BRAUN STROWMAN IS POWERFUL ENOUGH TO END THE WORLD.
________________________________________________________________
BACKSTAGE SEGMENT WITH BAYLEY AND SASHA
Bayley says it's really cool that Sasha and Charlotte are main eventing Raw tonight. "Trish and Lita Territory," she says.
Sasha says she's going to beat Charlotte, because we needed that explained to us.
___________________________________________________________
KEVIN OWENS RESPONDS TO SETH ROLLINS' TERRIBLY UNINFORMATIVE INTERVIEW
Owens comes out (in a suit, no less), with Chris Jericho who is carrying the list.
This is gonna be really boring, so you might want to check out for a while and watch this video of a Drunk Squirrel instead.
Kevin Owens reminds us that he was the one who injured Seth's ribs, and that he is currently the champ, because we don't see the belt draped over his shoulder.
He says that in the event of a rematch with Seth Rollins, Chris Jericho should be the special guest referee, so that we don't have a repeat of the unfortunate incident from Clash of Champions.
Jericho says that Jeri-KO should challenge The New Day for the tag titles. Non-title match first, and if they win, they get a shot at the belts.
THIS JUST GOT INTERESTING.
New Day's music hits. They come out and there's a great back and forth in which Jericho puts the members of the New Day on the list, one by one.
Owens says that the New Day jumped the shark, but Woods says that Owens looks like he's never jumped over anything in his life.
Decent Burn, right there.
New Day accepts the Jeri-KO challenge, for later tonight, I think.
Honestly that segment might have actually been more interesting than that Drunk Squirrel video.
Maybe.
_________________________________________________________________
We are shown footage of Sheamus and Cesaro arriving at the arena.
Surprise, surprise, they don't seem to be getting along.
________________________________________________________________
SAMI ZAYN vs TITUS O'NEIL
Titus has a new gimmick, apparently, something called "Titus Brand".
I'm sure this new gimmick will be very successful and not be forgotten about entirely within a few weeks.
Titus throws Sami all over the ring, then takes three moves and loses.
Clothesline, Exploder Suplex, Helluva Kick.
Done.
WINNER: Sami Zayn.
Why would you give a guy a new gimmick, then have him lose immediately in a glorified squash?
Oh, right. Because you're Raw.
_________________________________________________________________
Backstage Locker Room Segment with Sheamus and Cesaro Yelling at Each Other.
Mick Foley interrupts and tells them to get on the same page. They don't wanna.
We get it. They're a mismatched tag team. How original.
_______________________________________________________________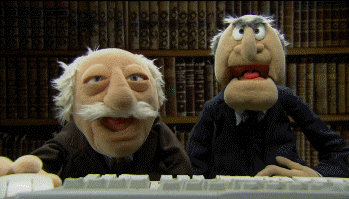 Are they serious?
GALLOWS & ANDERSON vs THE GOLDEN TRUTH
There's a clip from an earlier interview with G&A, where they call the Tag Division on Raw a "clown car full of freaks." Well, you're not wrong, fellas, but you can't seem to win a damn match when it counts so maybe zip it.
Also then they say that they're going to end the fun and games, somehow forgetting that they are like three weeks removed from a gimmick where they ran a Retirement Home called "Old Fart," and before that, they were Testicle Doctors.
Anyway, Golden Truth gets in WAY too much offense before G&A use underhanded methods to win the match, giving Magic Killers to both R-Truth and Goldust.
WINNERS: Gallows & Anderson.
_________________________________________________________________
JERICHO DESERVES A MEDAL FOR MAKING A SEGMENT WITH ASHTON KUTCHER AND DANNY MASTERSON ACTUALLY FUNNY.
But still, what the actual f*ck, WWE? Why are they even here?
Anyway, they announce that they're going to be ringside for the Jeri-KO match vs New Day, so there's definitely going to be a distraction-related finish, and New Day's going to win.
In case you don't feel like watching a match where you already know how it's going to end, here's a YouTube video of Monkey Thieves:
____________________________________________________________
IN RING SEGMENT. ENZO & CASS HATE BREAST CANCER.
There's a Susan "Certified" G. Komen joke.
That's pretty much it.
___________________________________________________________
JERI-KO vs THE NEW DAY
Woods and Big E are teaming for this one, which is rare, and therefore pretty cool.
Also Kutcher and Masterson on on commentary, so feel free to mute your televisions.
I guess they're promoting a Netflix show that they're on, which I've never heard of.
Owens and Jericho are in control for most of the early action, especially after Big E misses a charging shoulderblock and hits the ringpost.
Owens hits a cannonball in the corner, then a big running Senton as we go to break.
COMMERCIAL.
Back from the break and Xavier gets the hot tag, going nuts on Owens until getting caught with a gutbuster.
Rest hold.
Xavier tries to come back and make a tag to E, but gets leveled with a clothesline.
Jericho is tagged in, tries for a top rope superplex, but it's reversed by Woods into a facebuster, then followed up with a flying crossbody.
Two Count.
Jericho makes the tag to Owens, who stops Woods from making the tag, and DDTs him.
ROLLINS MUSIC HITS.
ROLLINS STOPS ON THE STAGE, CROSSES HIS ARMS, STILL UNCLEARED FOR COMPETITION PROBABLY.
OWENS IS DISTRACTED ANYWAY.
He gets Enzuigiri'd by Woods.
A few seconds later, Jericho has Woods in the Lion Tamer, and Rollins runs down onto the apron, distracts Jericho, who swings and misses.
E gets tagged in, grabs Jericho, and Y2J gets Midnight Hour'd.
WINNER: New Day.
After the match, Owens abandons Y2J to get Pedigreed by Rollins, because heel champs are always cowards, without fail.
I hate the way they are booking Kevin Owens right now.
HATE IT.
But what do you expect? It's Raw.
___________________________________________________
BACKSTAGE INTERVIEW SEGMENT WITH CHARLOTTE.
Charlotte firmly believes that she is going to win tonight.
Strangely enough, she thinks she's better than Sasha Banks.
Imagine that.
___________________________________________________
BACKSTAGE SEGMENT WITH SETH ROLLINS AND STEPHANIE
They don't seem to like each other very much.
Rollins says that if he doesn't get his rematch vs Kevin Owens, he's going to burn Raw to the ground.
He walks away, and Steph makes this face:
So we'll have to see what that's about later, I guess.
__________________________________________________
RICH SWANN vs TONY NESE
I won't say no to more Cruiserweights.
Swann and Nese are a really good matchup. Swann's brand of fun-loving high-flying is not appreciated by the no-nonsense Nese, and the premiere athlete really lays in some shots.
Swann hits his jumping Frankensteiner to fling Nese off the top rope, but Nese quickly recovers, and actually picks up the win!
He hits a pumphandle Michinoku Driver and gets the 3 Count.
WINNER: Tony Nese.
Listen, I love Tony Nese more than most, and even I think this was a poor decision.
You gave Swann a video package to build him up, only to have him lose?
WTF, Raw?
__________________________________________
SHEAMUS & CESARO vs TWO JOBBERS
Can they get on the same page?
No. No they cannot.
But is their dysfunction enough to cost them the match?
No. No it is not.
Something tells me I'm going to write the same thing for their match next week.
WINNERS: Sheamus & Cesaro.
______________________________________________
There's a great video package detailing the full history of the Charlotte/Sasha feud.
Then:
BACKSTAGE SEGMENT WITH CHARLOTTE & DANA TALKING DOWN TO BAYLEY.
Charlotte calls Bayley "everyone's favorite little sister", then when Bayley stands up for herself, Charlotte says "Sorry, I couldn't hear you, my TITLE BELT is talking too loud."
Charlotte heads to the ring, leaving Dana to mess with Bayley, says Charlotte's going to break Sasha in half, does her "playtime? ... is over" head pat thing, and Bayley SNAPS THE F*CK OUT ON HER, throwing her into the wall, which somehow hurts her knee.
It is announced before the match that Dana will not be ringside for this match.
(!!!)
CHARLOTTE vs SASHA BANKS
for the
Raw Women's Championship
Starts out with Sasha taking it right to Charlotte, and 30 seconds into the match...
COMMERCIAL.
THE THIRD AD BREAK IN THE LAST 10 MINUTES.
THERE BETTER NOT BE ANOTHER BREAK UNTIL THE END OF THE SHOW.
Back from the break and Charlotte has taken control, working over the bad back of Sasha Banks.
Sasha fights back with an E. Honda 100 Hand Slap and a series of flying clotherlines.
Double Knees off the Irish Whip, two count.
Running Headscissors drives Charlotte to the outside. Wreckingball dropkick.
Charlotte regains control on the outside, throws Sasha back inside.
Sasha goes up top, gets knocked down, catches her jaw on the top rope, then catches a Big Boot.
TWO COUNT.
Charlotte gets Sasha up in Superplex position, but Sasha blocks it and fights out with a headbutt.
DOUBLE KNEES FROM THE TOP ROPE.
TWO COUNT.
Sasha goes for the Backstabber, but Charlotte shakes her off to the floor.
Charlotte hits Natural Selection, but Sasha kicks out!
Sasha with an amazing transition into the Banks Statement.
WINNER: Sasha Banks!