Welcome to another edition of
OFF-TRACK with A-TRAIN
in this episode
ONE OF THESE STATEMENTS IS FALSE:
ROMAN REIGNS IS INJURED
ROMAN REIGNS HAS A MATCH TONIGHT
---
After last Monday's dastardly, horrible, no good, very bad attack by Braun Strowman (the one that launched a petition to get him fired), the WWE came out yesterday and announced that Roman Reigns had been diagnosed not only with cracked ribs and internal injuries, but also with a separated shoulder!
OH NO ANYTHING BUT THAT.
Seems like "internal injuries"--not "an internal injury" but "internal injuries" PLURAL--would be more severe, since y'know, that probably involves your vital organs and stuff. Things that are internal.
But nope. The separated shoulder was the worst part.
The headline, even:
Roman Reigns suffers separated shoulder following Braun Strowman attack

In addition to suffering cracked ribs and internal injuries at the hands of Braun Strowman during The Monster Among Men's savage assault on Monday, Roman Reigns is also recovering from a separated shoulder, WWE.com can now confirm.
Now, I joke, but a separated shoulder is anything but funny. WebMD says that a separated shoulder may heal over a period of about six weeks.
Of course, this is Roman Reigns we're talking about. His healing powers are rivaled only by those of Wolverine. Even after he's attacked by another mutant, he should be up and around in no time.
Certainly in time for their big match at Payback on April 30th.

(Pictured.)
But nope, just kidding, he's totally fine already and being advertised for this weekend's house shows, including tonight in Providence, Rhode Island.
He's right there in the promotional photo graphic:
And not only that, look who's also a featured superstar at the Live Event tonight.
Yeah. Right there in the opposite corner. Look who it is. Mr. "I'M NOT FINISHED WITH YOU" himself, Braun Strowman.
That seems like poor planning on their part, no? Shouldn't you keep your top superstar far away from the ambulance-tippingly strong bear-man who cracked his ribs, injured his internals, and (GASP!) separated his shoulder?
What, what's that I'm being told? Reigns isn't really injured? It was all a storyline to get him over as an ultimate underdog? They're trying to build sympathy in a desperate attempt to get this guy over as a babyface?
Nah. That's not possible. Why would the WWE lie to us? What could they possibly have to gain from lying about their top star's fake injuries while keeping him on the house show circuit? I mean, besides ticket and merch sales?
Next thing you're going to tell me is that Roman Reigns wasn't even in that ambulance when it was tipped over.
What's that you say? I should watch the bottom left corner of this gif and I'll be able to clearly see the shadow of Roman getting out of the back of the ambulance and running away?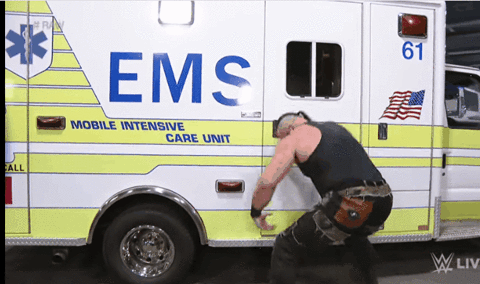 Hmmm. Curiouser and curiouser.
Next thing you'll tell me is that it's not even possible that Braun Strowman actually lifted that ambulance and tipped it over.
Come back tomorrow for my investigation into that little matter.
Oh, and if you're in the Providence area tonight, you should go watch Roman Reigns wrestle a match with cracked ribs, internal injuries (plural) and--HORROR OF HORRORS--a separated shoulder.